Hollywood Studios Fire Back at Omniverse
Hollywood Studios Fire Back at Omniverse
Studios urge the court to deny Omniverse's request for a forced mediation and a halt on discovery on a case centered on allegations that Omniverse distributed streaming TV services without authorization. Hollywood studios quickly returned serve in their case against Omniverse One World Television, opposing Omniverse's request that the California court force mediation between the two and put a halt to the discovery process.
The Alliance for Creativity and Entertainment (ACE), which is representing studios such as Paramount Pictures, Columbia Pictures, 20th Century Fox, Warner Bros. and Universal in the case, filed their opposition Tuesday. They argue that the "true goal" of Omniverse and its founder, Jason DeMeo, is a stay of discovery, and that a mediation and the move to stay discovery are likewise "premature."
ACE also countered that it is entitled to "discover the extent and willfulness" of Omniverse's alleged copyright infringement.
Omniverse and DeMeo are accused of distributing TV programming to various third-party reselling partners without obtaining the proper carriage rights. Omniverse has argued that it did so legally through a joint venture with HovSat, a private cable operator based in New Jersey that, Omniverse believed, possessed a 100-year contract with DirecTV affixed with "no limitations" with respect to US distribution and delivery method.
Part of ACE's discovery process has centered on obtaining access to a record of that elusive and magical contract. After expressing confidence to Light Reading that the purported contract would shield it from legal attack, Omniverse has since backpedaled, arguing to the court that any infringement was done "without malice or bad intent" by Omniverse while also pinning the blame on HovSat.
ACE and the Hollywood studios told the court they aren't opposed to a mediation, so long as it would be productive and come after Omniverse and DeMeo "respond to the outstanding discovery they seek to avoid, so that the information central to this action's claims and defense is known to both parties."
ACE also held that Omniverse has obstructed discovery efforts. "[I]t appears that Defendants want to hide the true facts," ACE wrote.
In its request for court intervention made on August 19, Omniverse said mediation toward a resolution is proper partly "because there is literally nothing left for litigation," as Omniverse has already shut down its streaming service and is unwinding its business.
What about this OSTV Now thing?
ACE has since countered with evidence indicating that DeMeo and a company called OmniShop Media have linkages to a service called OSTV Now that is apparently scheduled to launch in early September.
Figure 1: Still Counting It Down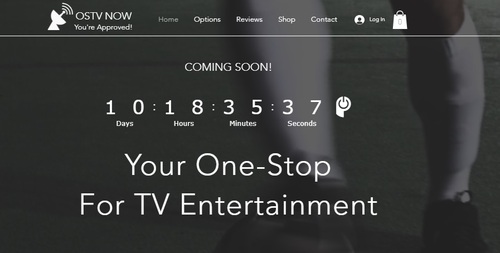 OSTV Now, a service evidently linked to OmniShop Media and Jason DeMeo, is set to launch in early September according to the online countdown. This screencap from www.ostvnow.com was taken the afternoon of Aug. 22, 2019.
"Whatever the branding, Defendants appear to be continuing their infringing practices," ACE said in its response. "These and other important facts are exactly why discovery needs to move forward."
Many details about OSTV Now, and the specific content it will offer upon launch, have not been made public. DeMeo has not responded to questions about it. The site for OSTV Now says the service will deliver more than 50 US TV channels, a DVR and multiple streams.
ACE also shot down Omniverse's characterization that there's an "impasse" regarding efforts for a settlement. Omniverse "simply stopped negotiating in good faith," ACE claimed.
That disagreement was also expressed in an email sent by an ACE lawyer to an Omniverse lawyer on August 2. "Your client … refuses to agree to any terms that would include an amount, to be negotiated, of monetary damages," the ACE lawyer wrote. "That is not an impasse, that is defendants unilaterally declining to engage in good faith in a settlement discussion … We do not see what a mediation could do to move things forward if we are unable to progress further than this on our own. In our view, the evidence of record amply supports your client's liability for massive copyright infringement."
Court records also show more than 50 requests for admission to Omniverse with respect whether Omniverse streamed content and copyrighted works, and that DirecTV never told Omniverse it could stream content obtained from DirecTV. The requests also would have Omniverse admit that it has no copy of any agreement between HovSat and DirecTV that authorizes Omniverse to stream content.
In each of those dozens of requests, Omniverse responded with the same answer: "As discovery is ongoing, Omniverse has not yet been able to locate the source of or verify the accuracy of said statements and, therefore, the information known to Omniverse is insufficient to admit or deny this statement."
Omniverse, meanwhile, has put forth a fear that a stipulated judgement and the admissions that ACE is demanding are intended for a criminal investigation against Omniverse and DeMeo.
ACE said such accusations are "unsubstantiated," noting that the studios' interest "is in obtaining civil relief in the form of an injunction and damages." However, ACE said the plaintiffs would "comply with their legal obligations to cooperate with any criminal investigation" but that they likewise have "no control over that proceeding nor are they a party to it."
The aforementioned email from the ACE lawyer sent on August 2 also points to a proposed "alternative approach" that would enable DeMeo "to make a record of his motive and reasons for entering into the consent judgment, which should be more than sufficient to address the legal concerns you have expressed."
According to court records, Omniverse claims to have sent two written settlement offers on May 31, 2019 and July 24, 2019 that were "flatly refused." Before seeking the court's help to compel a mediation, Omniverse's counsel originally proposed the mediation and agreed to pay for it in an email to an ACE lawyer dated July 31, according to court records.
Court deals Omniverse a blow
On top of the recent back and forth on the mediation and discovery issues, the California district court handling the case dealt Omniverse a blow on Wednesday (August 21) by denying a motion made by Omniverse earlier this year.
That motion sought to have any comparisons between Omniverse and Dragon Box stricken from the case, that the plaintiffs provide a more definitive statement on its complaint, and to dismiss all the plaintiffs, except the lead plaintiff, Paramount Pictures.
ACE buried Dragon Box, a former provider of streaming boxes accused of pirating and distributing copyrighted content, in a separate case that was settled in January.
Omniverse admitted that it had done business with Dragon Box in the past, but claimed that they were engaged prior to Omniverse being aware that Dragon Box was accused of content piracy. Thus, it argued, any linkages made between Omniverse and Dragon Box in the case are "scandalous and immaterial" and "cast a derogatory light on Omniverse and prejudice Omniverse in further proceedings."
In denying Omniverse's motion, the court said that details about Dragon Box being attached to the case "are not immaterial" because the allegations concern whether Omniverse willfully infringed on copyrights.
Get up to speed on the Omniverse saga:
Omniverse Begs for the Court's Help OSTV Now: Omniverse Exec Offers One-Stop Shop for TV Omniverse to Shutter Operations, Cut Ties to HovSat Not Ready for Prime Time: Omniverse Distributors Pick Up the Pieces After Pay-TV Deals Fall Apart Omniverse Drops Live OTT-TV Service for 'Single-Dwelling' Residential Subs ACE Stands By Case Linking Omniverse & Dragon Box Omniverse Halts Marketing of OTT-TV Service for Single-Dwelling Customers The Beginning of the End of Omniverse? ACE, Omniverse Slug It Out as Court Date Looms Flixon Backs Away from Pay-TV Podcast: Sprint, T-Mobile Merger Madness, Ominous Signs for Omniverse Omniverse Lawsuit Scares Off Clikia Omniverse: Deal Between Hovsat & DirecTV Has 'No Limitations' A Service Called 'Omni Go' Quietly Replaces FlixonTV Silicon Dust to Snuff OTT-TV Service Linked to Omniverse ACE Slays the Dragon Box Podcast: Into the Omniverse Who 'Owns' Omniverse's OTT-TV Customers? Omniverse CEO: 'I'm Doing Everything Literally by the Book' Is Omniverse Sourcing Video Feeds From DirecTV? Big Programmers & Studios Bring Hammer Down on Omniverse — Jeff Baumgartner, Senior Editor, Light Reading
Subscribe and receive the latest news from the industry.
Join 62,000+ members. Yes it's completely free.
You May Also Like
---