OSTV Now: Omniverse Exec Offers One-Stop Shop for TV
OSTV Now: Omniverse Exec Offers One-Stop Shop for TV
Slated for launch in early September, the new offering will include a package of more than 50 US television channels, including 'faith-based,' premium and international channels. It looks like the pay-TV world has not heard the last from Jason DeMeo.
The details are still sketchy, but the man behind ill-fated video streaming platform Omniverse One World Television is apparently working on a new OTT video offering to be called OSTV Now.
A countdown clock on a website promoting OSTV Now indicates that the service will debut early next month and offer more than 50 "top" US TV channels, premium channels, a mix of "faith based" channels and international channels, a DVR, and up to four simultaneous streams.
Figure 1: Counting It Down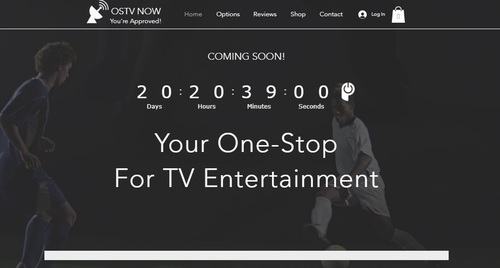 If the website countdown is to believed, OSTV Now will launch in early September.
According to the site, the no-contract OSTV Now will be pay-as-you-go and won't require credit checks, and video packages will start at $50 per month. Its tagline: Your One-Stop For TV Entertainment."
There's no mention of which individual channels will be offered by OSTV Now and what programmers or media companies have signed on to license content via OSTV Now. The site notes that the service will be available on a wide range of devices, such as Amazon Fire TV boxes, Roku players, Apple TV boxes and certain smart TVs. Access on mobile apps will also be available after customers activate a "primary approved home-based device."
Also mentioned is coming support for the TX3 Mini, an Android TV-powered streaming media player, which is being sold for $39.95.
Figure 2: Android TV Box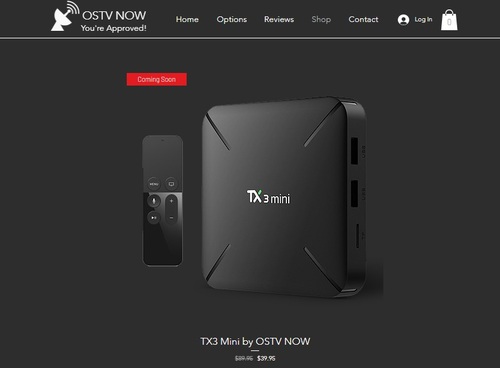 Prior to the purported service launch date, the OSTV Now site is pitching the TX3 Mini Android TV for a discounted price.
DeMeo didn't respond to an inquiry about OSTV Now or how it is marketing services from Dish and Charter (at the moment, the OSTV Now site simply notes that it's an "authorized retailer" and links visitors to landing pages for Dish and Charter/Spectrum). It's possible that this is simply online lead generation, but Dish and Charter have been asked if they have any kind of direct business relationship with OmniShop Media.
The OSTV Now site doesn't mention DeMeo by name, but DeMeo's personal website references it along with OmniShop Media, a company that apparently provides national programming syndication services, and direct response advertising and brand marketing services. OmniShop says P90X and Proactiv are among its historic clients. Also referenced is JMD Deals, a company run by DeMeo that says it provides client services across multiple areas, including mortgages, auto sales, home improvement and marketing.
Plans for OSTV Now surfaced a couple of months after Omniverse One World Television shut down operations as it continues to face a lawsuit in a California court alleging that the company was distributing pay-TV programming via the Internet without authorization. Omniverse had claimed to be in a joint venture with a New Jersey-based private cable operator called HovSat that purportedly had a long-term agreement with DirecTV with "no limitations" that, in turn, gave Omniverse and various third-party reselling partners the all clear to distribute and sell OTT-TV services.
Omniverse case not settled
That case is still pending, but Omniverse has moved to separate itself from HovSat and to blame HovSat for any alleged infringement, holding that Omniverse was led to believe that HovSat held the right to distribute and sub-distribute content.
Nothing direct from HovSat about the JV with Omniverse or its relationship with DirecTV has been filed with the California court handling the Omniverse case. So it's still not known what is or isn't in the purported HovSat contract with DirecTV as subpoenas in the case have yet to produce any records of significance earlier than 2003.
Meanwhile, Shant Hovnanian, the person said to own HovSat, is believed to be in Armenia. As such, Omniverse told the court, "It is not known if such records will be found in discovery or not."
I'd put those chances at slim to none. Shant Hovnanian was also a defendant in a US civil tax enforcement proceeding filed last fall in with New Jersey District Court involving about $16 million in alleged penalties. The court issued a default judgment against Shant Hovnanian on July 25 because he failed to answer or otherwise defend the action.
Not familiar with the Omniverse saga? These stories will get you up to speed:
Omniverse to Shutter Operations, Cut Ties to HovSat Not Ready for Prime Time: Omniverse Distributors Pick Up the Pieces After Pay-TV Deals Fall Apart Omniverse Drops Live OTT-TV Service for 'Single-Dwelling' Residential Subs Omniverse Halts Marketing of OTT-TV Service for Single-Dwelling Customers The Beginning of the End of Omniverse? ACE, Omniverse Slug It Out as Court Date Looms Flixon Backs Away from Pay-TV Podcast: Sprint, T-Mobile Merger Madness, Ominous Signs for Omniverse Omniverse Lawsuit Scares Off Clikia Omniverse: Deal Between Hovsat & DirecTV Has 'No Limitations' A Service Called 'Omni Go' Quietly Replaces FlixonTV Silicon Dust to Snuff OTT-TV Service Linked to Omniverse ACE Slays the Dragon Box Podcast: Into the Omniverse Who 'Owns' Omniverse's OTT-TV Customers? Omniverse CEO: 'I'm Doing Everything Literally by the Book' Is Omniverse Sourcing Video Feeds From DirecTV? Big Programmers & Studios Bring Hammer Down on Omniverse — Jeff Baumgartner, Senior Editor, Light Reading
Subscribe and receive the latest news from the industry.
Join 62,000+ members. Yes it's completely free.
You May Also Like
---