Huawei Promotes FlexE Standardization, Accelerating the Unification of 5G Bearer Standards

9/5/2017

Comment (0)

The topic of 5G has recently attracted much attention in the industry. Many 5G-related technologies have gradually emerged, one of which is Flex Ethernet (FlexE). FlexE is an interface technology used to implement service isolation and network slicing on the bearer network. FlexE has made rapid developments in the past two years and been widely accepted by major standards organizations. Following the adoption of FlexE as a standard by the OIF, the FlexE for IP/MPLS standard proposed by Huawei in Q1 2017 was officially initiated at BBF. In July, FlexE was again a hot topic at IETF 99 Meeting. Huawei actively promoted the progress of FlexE standardization and submitted the FlexE for IP/MPLS draft at this meeting. This draft supplemented FlexE by adding related content such as control plane and 1588v2 to it, making FlexE an E2E networking technology that drives industry development.
International Standards Organizations Make Joint Efforts to Formulate FlexE Standards
A review of the history of Ethernet development shows that the first generation of Ethernet — Native Ethernet — came into being in 1980. Native Ethernet was widely used on campus, enterprise, and DCI networks. The second generation of Ethernet, Carrier Ethernet, has been used since its emergence in 2000 and is mainly oriented to operator networks, such as carrier-class metro, 3G/4G mobile bearer, and leased line access networks. Carrier Ethernet provides carrier-class functions such as QoS/QoE, OAM, protection switching, and high-performance clocks. With the advent of the 5G era, the emergence of cloud services, AR/VR, the Internet of Vehicles (IoV), and other new services have further driven the development of Ethernet technology, resulting in the third generation of Ethernet — FlexE.
FlexE was originally a physical-layer interface standard maintained by the OIF. FlexE is widely accepted by mainstream operators and providers worldwide because its flexible bandwidth adjustment and data isolation features fully meet 5G service requirements. Standards organizations such as BBF, IETF, and ITU-T are all accelerating the standardization of FlexE. The OIF defined the frame structure of the FlexE interface for bandwidth bonding and channelization and sub-rates; BBF extended the use of FlexE interfaces to IP/MPLS networks and defined the application models of FlexE-based Layer 2 and Layer 3 services; IETF further defined network management and protocol processing based FlexE interface; and ITU-T defined the forwarding framework standard of network services. These standards organizations jointly promoted the standardization of 5G service bearing. Huawei has been actively participated in this process since the kickoff of the FlexE project at OIF and has played an important role in these organizations. In May 2016, Huawei first proposed FlexE IA 2.0, and the proposed frame structure was adopted by the OIF. In July 2017, Huawei continued to advocate FlexE at BBF and IETF and to lead industry development.
FlexE: Fully Meeting 5G Service Requirements
The ITU has defined three major 5G service scenarios: Enhanced Mobile Broadband (eMBB), Massive Machine Type Communication (mMTC), and Ultra-Reliable and Low-Latency Communication (uRLLC). These service scenarios have raised high requirements for the bandwidth, delay, and connectivity of the bearer network. How to use one network to implement differentiated bearing of services has been a daunting challenge for network service providers.
FlexE: Channelized Isolation for 5G Services
FlexE has added lightweight enhancements to Ethernet by adding a middle FlexE shim layer between the L2 Ethernet (MAC) layer and L1 (PHY) layer. The FlexE shim layer schedules FlexE client interface data to different channels through a time division multiplexing-based distribution mechanism. Consider a 100GE interface, for example. The FlexE shim layer can divide this interface into 20 channels working at 5 Gbit/s. Each client interface can use one or more channels as required to isolate services.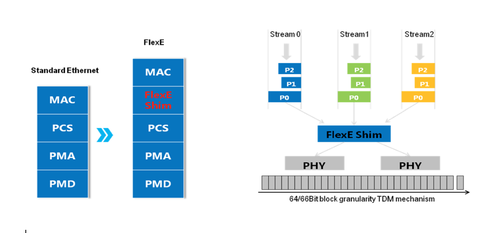 As the IP/MPLS network becomes a unified service bearing platform, we see the emergence of 2G/3G/4G mobile backhaul services, government and enterprise leased lines, home broadband, and a wide variety of other dedicated network services. To meet the differentiated bearing requirements of these services, FlexE divides network interfaces into physically isolated Ethernet channels of varying rates and uses statistical multiplexing for channelized interfaces, which realizes unified bearing of different services and reduces OPEX and CAPEX.
FlexE Bonding for On-Demand 5G Capacity Expansion
Rapid traffic growth will result in insufficient bandwidth on networks deployed at an early stage. This problem is generally solved by expanding pipe capacity through ring stacking or interface upgrading, but both of these solutions have problems of their own. Ring stacking involves multiple interfaces, resulting in wasted interface capacity and unbalanced service traffic distribution. Upgrading interface capacity results in a waste of investment in addition to requiring service adjustment and cutover. FlexE, which increases interface capacity through interface bonding, effectively solves the problem facing network bandwidth expansion. Assume that an access network initially using 50 Gbit/s bandwidth to meet 5G service requirements now needs to use 100 Gbit/s bandwidth to meet increased 5G service requirements as 5G develops. FlexE bonding only requires the addition of another 50 Gbit/s interface to upgrade the access-layer bandwidth to 100 Gbit/s. This process does not require large-scale service adjustment or cutover and therefore does not waste earlier investment.
FlexE: A New Network Slicing Technology for 5G Service Bearing
FlexE can divide a physical Ethernet interface into multiple elastic Ethernet hard pipes based on timeslot scheduling, enabling the network to have TDM-like characteristics such as exclusive use of timeslots and good isolation in addition to statistical multiplexing and high network efficiency. After FlexE divides a physical interface into different hard pipes, each pipe can use statistical multiplexing, and the services carried over these pipes do not affect each other. Compared with VPN, FlexE provides better service isolation, adding one more option for 5G network slicing technologies.
Huawei has been committed to the innovation of 5G bearing solutions since the beginning, and released the 5G-oriented X-haul bearing solution in August 2017 as an effort to work with partners throughout the industry chain to promote the standardization of 5G bearing-related technologies in international standards organizations. In the standards field, Huawei has released a total of 364 RFCs in the IETF (the most important standards organization in the IP field), and more than 400 of its standards proposals are still active today. In the 5G era, Huawei will continue to work together with partners throughout the industry chain to provide the best network experience for users and help operators achieve business success.
To promote the development of the UBB industry and explore ways to boost service growth, Ultra-Broadband Forum (UBBF) 2017, will be held from October 18 to October 19, 2017 in Hangzhou, China. This UBBF will focus on the topics of "New Growth in B2B", "Deliver the Video Dividends", " Accelerating the Gigaband Society", and "Towards the 5G Era" as well as exploring the innovation of All-Cloud Network solutions. Huawei will comprehensively demonstrate how X-Haul will help operators keep up with service requirements in the 5G era, promoting the full deployment of 5G bearer networks. For more information, please visit: http://www.huawei.com/en/events/ubbf2017

(0) |