Time for an Edge Computing Reckoning
Time for an Edge Computing Reckoning
There's still a lot of ambivalence from operators around edge computing, and the killer app for many of them is anything that helps deliver more bits for less money. Edge computing came up repeatedly at last week's Big Communications Event. Intel VP Dan Rodriguez talked about applying pools of computing resources throughout a network. Speakers on multiple panels talked about new opportunities with edge computing including smart cities and the potential for virtual reality.
But there's a big difference between talk (hype) and action, and several legitimate reasons why the latter is lagging the former. (See BCE 2018 Recap: Automation Nation & the Big Fight at the Edge .)
One thing I pressed speakers on at BCE was how operators should be thinking about adding computing resources to the network edge as they extend connectivity. To me, it makes sense that if service providers are investing in labor and equipment to improve last-mile broadband delivery, they should also be beefing up their edge computing power at the same time. But I may have underestimated the importance of near-term revenue incentives. Autonomous cars and virtual reality sound great, but we're nowhere near mass-market adoption for either application, and that means costs are going to outweigh the returns for some time to come.
Figure 1: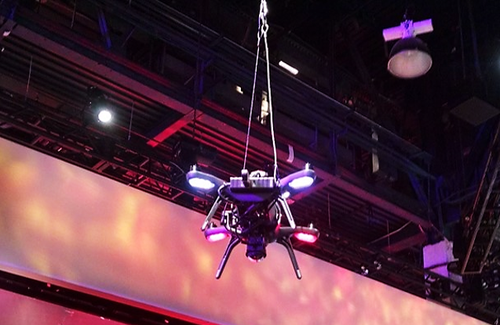 What about using drones for manufacturing and site monitoring? Or even better, what about adding intelligence to the edge of the network for better content delivery? Aren't those better short-term bets? (See Kinetic Edge Powers Flying Robots and Qwilt Marries Caching, Computing at the Edge.)
They are, but they're still not driving waves of enthusiasm from network operators, who have plenty of other priorities to tackle.
I asked the panelists in my session on distributing network intelligence what applications would justify investment in edge computing. Is there a killer app?
And Aaron Jones, a regional vice president of solutions engineering with Calix Inc. (NYSE: CALX), had an interesting answer.
The killer "app" for operators is to continue driving down the delivery cost of every bit per mile. The better service providers and their vendor partners can do that, the more likely it is that new innovations will emerge to use that bandwidth and also drive demand for computing resources at the network edge.
Killer apps and edge neutrality
Much like fixed-mobile convergence -- a technology that rose to prominence in yesteryear, but couldn't deliver a compelling business case -- edge computing is seeking an inflection point. Right now there are no moneymaking services to rationalize significant investment from network operators. But until the right infrastructure is in place, most of those services also won't develop. It's a chicken-and-egg problem that may only be solved with ever-increasing network efficiency.
Even if efficiency makes edge computing more viable, however, service providers still have another challenge to face. Except for the operators themselves, nobody's keen to have network providers own the new edge. If you think net neutrality arguments are nasty today, imagine what they'll look like if operators control both the computers that power, and the movement of data that's generated by: drones, cars, public safety systems, environmental sensors and much, much more.
EdgeConneX Inc. CIO Phill Lawson-Shanks referred to this issue at BCE by calling for the development of new ecosystems around the "micro-edge." These would include groups of organizations that invest in and develop edge systems presumably through some kind of neutral and open platform. Traditional operators will continue to own most last-mile connectivity (at least for the foreseeable future), but others will step in to help build on top of those network links.
The way I think about it, there are two critical components to edge ecosystems beyond connectivity. First there are the software platforms that will directly enable application development -- platforms like AWS Greengrass and Cloudflare Workers, but also like AT&T's Multi-Network Connect cloud platform, and even the Comcast xFi home network operating system. Note that operators are experimenting in this software space, although how those efforts will play out, and how well-accepted those platforms are likely to become with third-party partners, remains to be seen. (See Cloudflare Takes On AWS Lamdba at the Edge, AT&T's Newest IoT Strategy? BYO Network and Comcast Unlocks xFi-Powered Smart Home.)
Second, and more importantly in this context, there are the shared infrastructure systems that will make edge computing possible. Infrastructure is what network operators do, but again, as the edge develops, no one is going to want to cede all control to cable and telco providers. This suggests to me that there will have to be independent brokers; organizations that aren't serving end users directly, and are willing to manage shared infrastructure as a (more-or-less) neutral party.
I see several potential candidates, including data center operators like EdgeConneX, as well as cell tower owners and even kiosk companies that are right now infiltrating cities and connecting their "street furniture" through a variety of commercial arrangements. (See Bright Lights, Smart City: A 'Street Furniture' Exploration.)
But I don't have a crystal ball, and I don't know what other types of players in this space may yet emerge.
Want to know more about edge computing? Check out The Edge here on Light Reading.
From a broader industry perspective, part of the issue with edge computing is also understanding where the demarcation point for the edge exists. Is it at a data center? A cable node? A small cell? A home gateway? A smartphone?
Lawson-Shanks has an apt definition. He calls it the transition point between where a service is offered and where it's consumed. And by that accounting, the edge will move depending on what the service is. Right now, high-end video is one of the most network-intensive services, and the edge (i.e. where that content gets delivered from) is slowly moving further out toward the end user with last-mile caching in pay-TV provider networks.
However, plenty of content and applications still perform well when hosted (totally or primarily) in a more centralized location. These services make money, and they're continuing to drive investment. Witness the capex explosion by cloud providers just this past quarter. According to Synergy Research Group, Google, Microsoft, Amazon, Apple and Facebook together spent $20 billion on data centers in the first three months of this year.
The big question for everyone is when the equation changes. When does the most common demarcation point slide from a massive multitenant data center to a sports stadium? Or a traffic light? (See Verizon Demos 50-Meg VR App Over 5G.)
Network operators in particular have reason to be cautious about the investments they make in edge computing given the obstacles ahead. On the other hand, delaying too long is also risky.
As with most things in business -- and life -- timing is everything.
— Mari Silbey, Senior Editor, Light Reading
Subscribe and receive the latest news from the industry.
Join 62,000+ members. Yes it's completely free.
You May Also Like
---