Deutsche Telekom to Swap Startup Investments With SK Telecom
Deutsche Telekom to Swap Startup Investments With SK Telecom
DT's edge computing startup MobiledgeX and SKT's quantum cryptography specialist ID Quantique to be the grateful recipients.

Telco partners Deutsche Telekom and SK Telecom have struck a co-investment agreement that will provide fresh cash injections and Tier 1 operator support to two startups that are focused on key areas of 5G platform development.
South Korea's SK Telecom (Nasdaq: SKM) (SKT) is to invest an unspecified sum in MobiledgeX Inc. , the edge computing startup funded since the start of this year by Deutsche Telekom. SKT has previously been identified as a possible investor in MobiledgeX, which is busting a gut to attract the attention of mobile operators in the build-up to MWC 2019. (See MobiledgeX Revs Up & Shifts Into Gear and SKT in Talks With DT to Join MobiledgeX.)
The startup, which is developing a middleware platform that will enable third-party developers to run their applications on edge computing platforms, is also now at the heart of an open source effort that is part of the Telecom Infra Project (TIP) and which is being backed by DT and Intel. (See TIP Forms New Edge Computing Unit.)
Other operators have shown interest in MobiledgeX, including Vodafone and Verizon, while Telefónica has included the Menlo Park, Calif.-based startup's tech in a distributed cloud architecture initiative called CTpd. (See Telefónica Joins the MobiledgeX Fan Club.)
Now entering its fifth year, the 2020 Vision Executive Summit is an exclusive meeting of global CSP executives focused on navigating the disruptive forces at work in telecom today. Join us in Lisbon on December 4-6 to meet with fellow experts as we define the future of next-gen communications and how to make it profitable.
Deutsche Telekom AG (NYSE: DT) is returning the favor by investing the same unspecified amount in ID Quantique SA (IDQ), the Swiss quantum cryptography specialist in which SKT holds a majority stake following an investment deal struck earlier this year.
IDQ has been developing quantum key distribution (QKD) security tools for years and its products are seen by SKT and others as being suitable for the demanding security requirements of distributed cloud environments, IoT and 5G. (See Network Security: Innovation in Isolation? and ID Quantique Develops Quantum Crypto.)
It has also been developing optical instrumentation products that can be used to secure optical transport networks: The startup, SKT and Nokia recently announced successful interworking between IDQ's QKD System and Nokia's optical transport system on the SKT network.
IDQ says both SKT and DT, which have been close technology partners since early 2016, are currently "qualifying [its] quantum cryptography technologies on their respective trial networks."
Figure 1: R&D Swapshop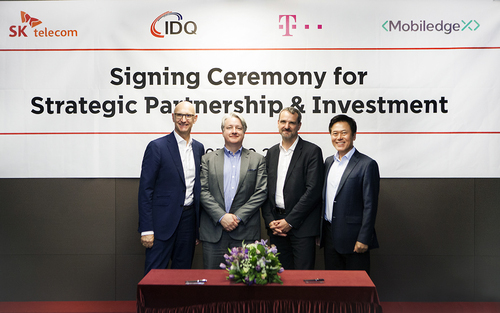 Happy to co-invest... from left to right: Deutsche Telekom CEO Timotheus Höttges; MobiledgeX CEO Jason Hoffman; ID Quantique CEO Dr Grégoire Ribordy; and SK Telecom CEO Park Jung-ho.
UPDATE: Both Deutsche Telekom and SK Telecom declined to comment on how much they would invest in the startups.
Edge computing and next-gen network security are both very important considerations for network operators as they develop their 5G strategies, but are just two of the many technology and operational process elements that make up the 5G big picture. (See Piecing Together the 5G Big Picture.)
— Ray Le Maistre, Editor-in-Chief, Light Reading
Subscribe and receive the latest news from the industry.
Join 62,000+ members. Yes it's completely free.
You May Also Like
---