Piecing Together the 5G Big Picture
The evolution to 5G is unlike any other mobile metamorphosis we have ever seen.
It's touching every part of the communications networking industry (and beyond), impacting investments, R&D plans, corporate cultures and long-term business strategies at companies that have no obvious connection to radio heads, baseband capacity or antenna arrays.
In our view, a successful 5G strategy will require network operators to address, in some way, a very broad range of technologies and processes, all of which will play a critical role in enabling them to capitalize on the full potential that a 5G deployment will offer.
All of these are pieces in the Big 5G Picture jigsaw puzzle: Miss, or dismiss, any of the 20 elements, many of which are interdependent, and the picture will be incomplete and opportunities lost. Deploy them together and there just might be something for 5G business case doubters to chew on.
What are these 20 elements? (And yes, that's a suspiciously round number...)
We'll come to each of them on page 3 of this report, and explain there why we think each of them is an important piece of the 5G puzzle, but we're talking about the likes of SDN and NFV, "anyhaul" transport, edge computing, AI/analytics, IoT and C-V2X platforms and more, as well as the 5G radio access network (RAN), 5G core and devices. Here's what our 5G Big Picture looks like: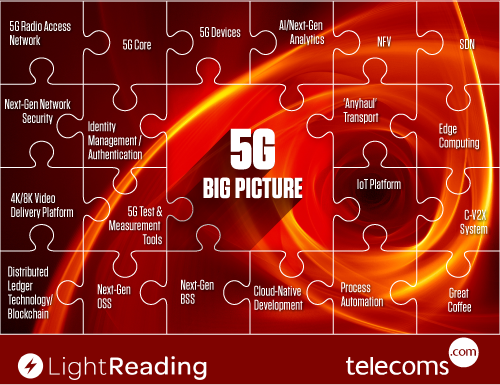 And with each of these elements ultimately playing a critical role in full 5G deployments, that, in turn, is creating new opportunities for (and threats to) the thousands of companies that are aiming to become the technology and professional services partners for the world's communications network operators. Many vendors have already shifted to a 5G-oriented strategy, one that positions them to fulfill the needs of operators in relation to one or more of the puzzle pieces: Explaining to the market, staff, partners and investors their role in 5G, and why that's important, is not so easy when there is often such a myopic view about what 5G is and what it ultimately entails.
So what are we trying to achieve with this presentation of the 5G Big Picture? It's not an attempt to explain everything about the underlying technologies or dig deep into standards developments or software code -- instead we're trying to provide a relatively simple view of how important 5G is to so many industry developments. We're also offering a brief overview that can be referenced in Light Reading's reporting and analysis of the communications networking and services market and help put "the news" in the correct context.
It might also (hopefully) prove useful to others too and generate some feedback and interaction: There's little doubt that some will find fault with our view, particularly as the elements are by necessity broad in nature, but that's a good thing -- this is a reference point for late 2018 and will evolve as the market develops. But we think we've got a decent starting point to work from here.
And to be clear -- this is just about the underlying technology elements and supporting processes that will make 5G services and applications possible: It's not an attempt to identify the resulting services themselves. That's why there's no reference to gigabit broadband, interactive gaming, automated industrial robotics or remote surgery -- this is all about the underlying and supporting tech.
It's also very broad-brush -- that's why there's no reference to specific virtual networking functions or to network slicing: these are capabilities enabled by the underlying technologies and supporting processes.
Before we get to the list of elements and provide a brief word about each of them, it's worth taking a quick look at the underlying reasons why each of these elements is an important part of the 5G Big Picture.
Next page: To enhanced Mobile Broadband (eMBB) and beyond!
Like what we have to say? Click here to sign up to our daily newsletter
One of America's most loved telecoms get-togethers, The BIG 5G Event, will be returning to Austin in 2023 to host 1,500+ telecom, cloud and technology professionals — and we want you to be a part of it!
For three days, you can meet and network with leaders from every part of the North American 5G ecosystem and hear from over 150 speakers on the hottest industry topics. To apply for your complimentary pass to the event, visit this link.
PARTNER PERSPECTIVES
- content from our sponsors