Storage services are set to become a big revenue generator for telecom operators, according to a new report from Byte and Switch, Light Reading's sister publication covering storage networking.

The report, called Storage Services Survey, is based on a telephone survey of 300 telecom operators conducted in April 2001. It was organized by Light Reading and tele.com, a trade magazine targeting carriers.

In one part of the survey, operators already deploying storage networking equipment were asked to say what proportion of their overall revenues would come from storage-based services such as disaster recovery, remote mirroring, and data center outsourcing.

Fifteen percent said storage services accounted for more than 20 percent of their revenues last year. This increased to 30 percent of survey respondents this year and 40 percent next.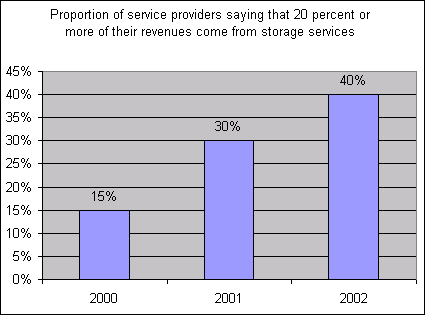 Other results indicate strong growth in the deployment of storage networking equipment in carrier networks and identify storage-based services that operators are planning to roll out.

The survey also covered the deployment of optical networking technologies in general. The full results will be published shortly on Light Reading.

— Peter Heywood, Founding Editor, Light Reading
http://www.lightreading.com