Some intriguing insights into the infrastructure being used to deploy Ethernet services are coming out of Light Reading's project to compile a global directory of such services.

Details of services offered by more than 150 network operators have already been collected. The directory, which should be going live in the coming month, will enable enterprise users to define the services they want in different locations and then get a list of operators capable of meeting their requirements (see LR Creates Ethernet Services Directory).

Those requirements include the type of infrastructure supporting the service, which can have a critical bearing on issues such as equipment costs, efficient use of bandwidth, the ability to support service level agreements, scaleability, and manageability (see Enterprise Ethernet Services ).

Analysis of the services already listed in the directory indicates the following:
Forty-two percent are based on Sonet (Synchronous Optical NETwork) and SDH (Synchronous Digital Hierarchy) infrastructure. This is hardly surprising because many carriers already have Sonet/SDH networks, and next-generation technologies have made them more data-friendly. Sonet/SDH edge equipment also has come down in price significantly, thanks to the arrival of off-the-shelf silicon (see Why Sonet Chips Are Sexy).
Sixteen percent are provided over Multiprotocol Label Switching (MPLS) backbones. In most cases, this is probably point-to-point connections using the so-called Martini RFC. In a few cases, this might be Virtual Private LAN Service. VPLS has proved challenging to implement (see VPLS: Very Painful, Long & Slow).
Thirteen percent are provided over "pure Ethernet" networks -- that is, using Layer 2/3 switches that have been adapted to make them "carrier class" by improving reliability and scaleability.
Other infrastructure options, including Ethernet over dark fiber, Ethernet over Wavelength Division Multiplexing (WDM) and Resilient Packet Ring Technology, account for 18 percent of services in the Light Reading directory.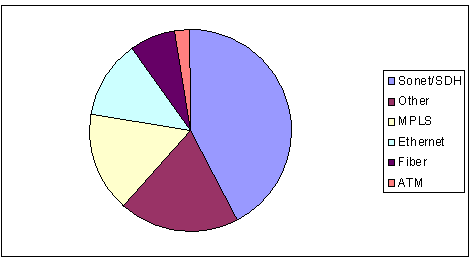 It's worth pointing out that user requirements for Ethernet services are evolving, and as a result, so are service provider infrastructure requirements. The slide below, part of a presentation given in Light Reading's Carrier Class Ethernet roadshow in China earlier this month, illustrates this.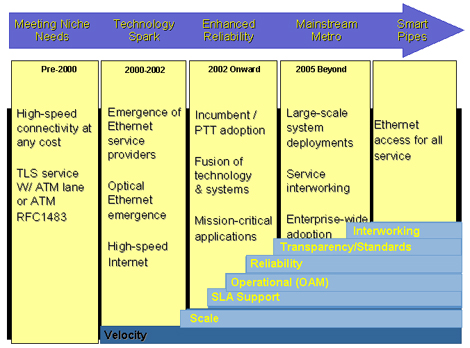 On the left hand side, it shows transparent LAN services, typically provided over dark fiber or ATM connections, which have existed for more than a decade. They met niche requirements for very high speed connections over short distances, such as between data centers in cities, where reliability was paramount and cost wasn't.

Next came the Ethernet services offered by the first specialized providers, such as Cogent Communications Group Inc. (Amex: COI) and the forerunner of Yipes Enterprise Services Inc.. Typically, they used "pure Ethernet" Layer 2/3 switches.

In the past couple of years, incumbent carriers have rolled out Ethernet services, mainly point-to-point ones over Sonet/SDH infrastructure (as Light Reading's directory demonstrates).

From 2005 onwards, large-scale deployments of Ethernet VPNs are expected, using MPLS as the core technology. Opinions differ on whether MPLS will extend all the way to customer sites, or whether carriers will use a combination of VPLS in the core, with pure Ethernet collector networks interfacing the customer.

— Nicole Willing, Reporter, and Peter Heywood, Founding Editor, Light Reading