Why Video Has the Urge to Merge
Why Video Has the Urge to Merge
Evolution Digital's angle with 'eMERGE' highlights how cable ops will blend their own TV services with premium OTT video services and other digital-only content. The rise and popularity of Netflix, Amazon Prime Video and other OTT services have caused cable operators and other pay-TV providers to embrace that change and integrate some of those services on their set-top box platforms.
There are lots of examples to point to, as it's become clear that service providers clearly understand that their customers will seek out those OTT options with or without their help.
After TiVo Inc. (Nasdaq: TIVO) blazed that path with its MSO-focused platform years ago by tying in services like Netflix, Comcast Corp. (Nasdaq: CMCSA, CMCSK) has followed with OTT tie-ins on its X1 platform, as has Altice USA with Altice One, and Dish Network LLC (Nasdaq: DISH) with its IP-connected Hopper platform. (See Amazon Prime Video to Stream to Comcast's X1 Boxes and RDK Management clears path for apps on set-top boxes.)
The baseline reasoning is pretty simple. It's beneficial for an MVPD to keep the eyeballs (and that data) on its own platform, rather than seeing customers veer off to another device to get their Netflix fix. At retail, Caavo is taking a different approach by aggregating and organizing linear TV, VoD, DVR recordings and OTT video apps delivered on set-tops, streaming devices and gaming consoles and individual apps via one, unified platform. (See Caavo's Video God Box Enters the Mainstream .)
It then follows that the blending all of those video sources onto one system has rapidly evolved from a differentiator to a must-have.
Evolution Digital LLC is now aiming to bring this must-have to the video arsenals of tier 2/3 cable operators with eMERGE, a platform/user interface that integrates an app-based, IP-delivered version of the pay-TV operator's service with premium OTT and other digital sources of content. In addition to bringing eMERGE to Android TV-powered boxes that would be managed and distributed by the MSO, it's also extending access to retail products like Apple TV, Roku players, and iOS and Android mobile devices. (See Evolution Digital Launches 'eMERGE' UI for Pay-TV Partners and New Video Options Emerge for Indie Cable Ops .)
Figure 1: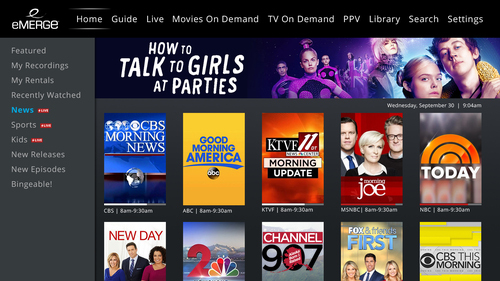 Evolution Digital believes that it's critical for cable operators to customize how content is aggregated and arranged on the home screen, whether it comes from their own TV service or from OTT sources.
And rather that going with a one-size-fits-all approach, Evolution claims its offering will allow the operator to customize the UI and what content is presented on the service "home" screen.
"A frustration [cable operators] have with going to a new UI... is that most options out there are static in their design," Brent Smith, Evolution's chief strategy officer, said, adding that eMERGE allows partners to turn some knobs and adjust which content gets surfaced and where it gets surfaced in the UI. "To us, the home screen is where the operator has a sandbox to play with."
The framework also extends search and discovery across the operator's video service as well as those coming in via OTT, rather than keeping that OTT content in separate app silos.
"We thought it was necessary to come up with a platform that allows those two worlds to blend together," he said.
Smith noted that eMERGE is in field trials and is nearing full production status. Evolution isn't identifying whose on board to roll it out, but some of its existing customers include Mediacom Communications Corp. , WideOpenWest Holdings LLC (WOW) , General Communication Inc. (GCI) (Nasdaq: GNCMA) and TDS Telecom .
Evolution Digital continues to be an advocate of operator tier of Android TV, which gives MSOs a way to complement their pay-TV apps for retail platforms with an option to provide customers an MSO-managed device that boots up to the operator's experience. (See Vewd aims to give pay-TV ops more command and control of Android TV boxes and Android TV Arrives With Evolution Digital.)
With a managed device, operators can still deliver and support some features (like transactional VoD) that might not be supported on a retail device due to revenue sharing and other potential business restrictions.
"All platforms are not equal," Smith said, believing that the Android TV operator tier option gives operators the ability to maintain parity with what they deliver on traditional set-tops, plus the ability to integrate OTT content and wrap it all into one blended interface.
— Jeff Baumgartner, Senior Editor, Light Reading
Subscribe and receive the latest news from the industry.
Join 62,000+ members. Yes it's completely free.
You May Also Like
---