Vewd aims to give pay-TV ops more command and control of Android TV boxes
Vewd aims to give pay-TV ops more command and control of Android TV boxes
Says stitching Vewd OS to devices running the Android TV Operator Tier platform enables service providers to personalize and customize the UI and pre-load apps from outside the Google Play universe. An expanding array of MSOs and telco TV providers around the globe have given Android TV the vote as they push ahead with operator-supplied boxes capable of blending their traditional TV services with OTT-sourced content.
While the adoption of the Operator Tier flavor of Android TV is enticing to some service providers, due in part to its lack of licensing fees, it leaves something to be desired in terms of the command and control those operators have with the home screen, access to viewer data and analytics, and apps they can deploy and pre-load on those boxes that fall outside the Google Play universe.
Vewd , the Oslo, Norway-based company formerly known as Opera TV that runs software on a range of smart TVs, Blu-ray players and set-top boxes, aims to extend a bridge across this flexibility gap with the integration of its new Vewd OS platform with Android TV.
Figure 1: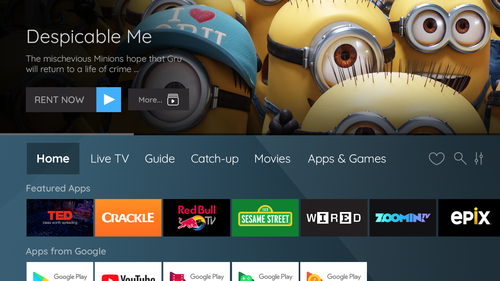 Vewd claims that its approach enables pay-TV operators to customize the interfaces and apps that they deliver on devices powered by the Android TV Operator Tier platform.
This integration marks Vewd's first product that's intentionally aimed at cable operators and other pay-TV operators.
"We started to think that the operators were at an inflection point… to enable OTT for their subscriber base," Aneesh Rajaram, CEO Vewd's CEO, said of the initiative, noting that the number of operators around the world that have selected Android TV is nearly the century mark.
However, many of the operators that jumped in early have been required to tack on other strategic requirements that an operator might need on the Android TV platform through in-house development or via third-party systems integrator or app development firms.
Rather than merely applying a new "skin" with the pay-TV provider's brand gracing the interface on those devices, they're also looking for the home screen to be exceedingly customizable and be able to link live metadata to metadata from OTT sources, Rajaram said. To enable that, service providers are likewise eager to strike their own commercial arrangements with OTT providers rather than leaning exclusively on what's supported through Google Play.
On its own, "Android TV doesn't give the operator the level of data and analytics they need," Rajaram said. "We're now giving the operators a chance to really own, control, customize and deploy the Android TV set-top box that they have dreamed about."
Using Vewd OS, Rajaram said, operators have more flexibility when it comes to preloading apps specific to the pay-TV operator's market that can be loaded on that home screen. By way of example, MVPDs are interested in brokering their own deals and integrating OTT apps from programmers that have not yet launched on Android TV through Google Play.
However, many programmers have invested in HTML-5 apps that can "easily be wrapped up as Android TV apps," facilitated by Vewd OS, Rajaram claimed.
Vewd, which will show off these capabilities at next month's IBC show in Amsterdam, has discussions underway but no commitments to announce for its new implementation for Android TV. However, Vewd's plan is to woo operators in the tier 2/3 sector and in emerging markets.
There's already plenty of activity underway in this arena. TiVo Inc. (Nasdaq: TIVO) (a long-time partner of Vewd's), Espial Group Inc. , Evolution Digital LLC and MobiTV Inc. have deployed or are developing Android TV Operator Tier products that would boot up to the pay-TV provider's environment or "hero" app. (See New Video Options Emerge for Indie Cable Ops and Android TV Arrives With Evolution Digital.)
For Vewd, the integration follows its previous work with Android TV, as its software already complements smart TV models running that platform from TV makers such as Sony and TP Vision.
It also builds on Vewd's earlier efforts in the pay-TV arena with Verizon Fios, Swisscom AG (NYSE: SCM), Sky (for its new SkyQ offering in the UK) and Tivo's various MSO partners.
— Jeff Baumgartner, Senior Editor, Light Reading
Subscribe and receive the latest news from the industry.
Join 62,000+ members. Yes it's completely free.
You May Also Like
---