 ORLANDO -- MEF 17 -- For all the hype around SD-WAN services, many network operators are just getting started rolling out their own offerings. Verizon Partner Solutions believes many of those players will be attracted to its wholesale SD-WAN offer, and the opportunity to avoid the hassle of bringing their own service to market.
Eric Cevis, president of Verizon Partner Solutions and a keynote speaker here, says Verizon Communications Inc. (NYSE: VZ)'s wholesale software-defined wide-area network solution, announced last week, will give operators a chance to "leapfrog the marketplace" and adopt a proven solution that jumpstarts their marketing.
"A lot of folks aren't as far down the road as you think," Cevis says in an interview. "What we are finding is that they feel all the work we are doing with the MEF and aligning with the standards, plus all the infrastructure investment, support, provisioning, automated systems -- we have all of that now. They are just starting and scratching the surface." (See MEF Goes Global With Its Latest Specs Effort.)
Figure 1: Verizon's Eric Cevis Delivers MEF Keynote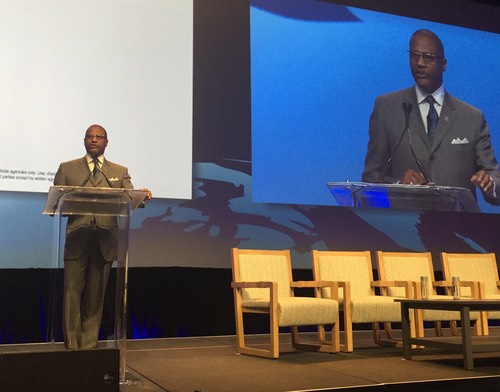 What he believes many network operators will find is that it's easier to get into the market with an SD-WAN offer, working with one of many vendors, but much harder to scale the service. That's what Verizon is stressing in its wholesale offer: a scalable service, based on the evolving standards coming out of the MEF . It's a strategy that worked well for its wholesale Carrier Ethernet business, Cevis notes, as well as wavelength services and more advanced offerings such as security. (See MEF Tackles SD-WAN Standards.)
Of course, Verizon isn't alone in the wholesale SD-WAN business. Windstream also has an offer and likely others will soon as well.
Cevis says Verizon is adhering tightly to what MEF specifies for SD-WAN, as it did in a recent white paper, because those standards are what will enable scale and interoperability and both are critical to the success of SD-WAN.
"Interoperability is the best practice to allow scale and this is going to be a scale issue more than anything else," he says. "People who are building one-off, siloed services aren't going to get those to scale." A standards-based approach also enables a faster path to automation of processes, and "that is our biggest push, particularly as we see virtualization continue to grow."
Verizon's wholesale operation is taking a similar approach in other growth arenas, including in the Internet of Things with its ThingSpace and in the Smart Cities arena, where it announced a partnership with Sacramento in June that Cevis says will be replicated with other cities. (See What's the IoT Plan, Verizon? and Verizon Takes 'One Fiber' to More Cities.)
Want to learn more about the technology and business opportunities and challenges for the cable industry in the commercial services market? Join Light Reading in New York on November 30 for the 11th annual Future of Cable Business Services event. All cable operators and other service providers get in free.
"The way we are looking at it is offering a bundle of services and options which [cities] can white label," he comments.
In his keynote presentation, the fast-talking Cevis was a big fan of MEF 3.0, the new package of global specs that the organization rolled out this week, for what he says is the opportunity to create broader interoperability faster and get the entire industry moving to deliver hyper-connectivity more efficiently.
"What we need to do is to push more standards, to move us to where we can have a single portal, a simple change and order process and usage-based billing," Cevis said. "Automating end-to-end is the only way we can scale."
— Carol Wilson, Editor-at-Large, Light Reading
Subscribe and receive the latest news from the industry.
Join 62,000+ members. Yes it's completely free.
You May Also Like
---