 Verizon's One Fiber initiative in Boston wasn't a one-off endeavor. Now that the telco has similarly teamed up with the city of Sacramento, Verizon has made it clear that it intends to pursue a model of tying fiber rollouts to aggressive small cell deployments and smart city pilot projects.
The advantage? Cities smooth the way for Verizon to install infrastructure that will be critical to future wireless revenues, and the telecom operator gets a chance to promote its Internet-of-Things technologies just as communities start to experiment with new IoT applications. (See Verizon's Boston Smart Cities Pilot Begins.)
To be sure, the cities partnering with Verizon Communications Inc. (NYSE: VZ) get a lot out of these deals too. In Sacramento, Verizon is delivering technology and services valued at more than $100 million. However, that investment is designed as much to help Verizon secure a long-term strategic advantage over competitors as it is to put the tactical pieces in place for near-term development in Sacramento.
There's also a catch, and one that crops up in almost every deal ISPs -- not just Verizon -- make with city governments. Verizon isn't disclosing when and where it will seek to install new fiber strands beyond select traffic intersections and certain key areas where it's agreed to provide free WiFi service to city parks. The telco will be "deploying hundreds of miles of fiber throughout the city," according to master services agreement, but Sacramento has limited control over how the company prioritizes deployment locations.
"At certain times in the negotiations toward the end ... they would ask and we would show them where our fiber path was going to be," says Hubert Riley, who leads government affairs for Verizon's Smart Communities practice. But he adds that the overall deployment plan is "very secretive" and anything Verizon shared with the city has to be kept confidential by city officials as well.
Welcome to the world of public/private broadband partnerships.
Figure 1: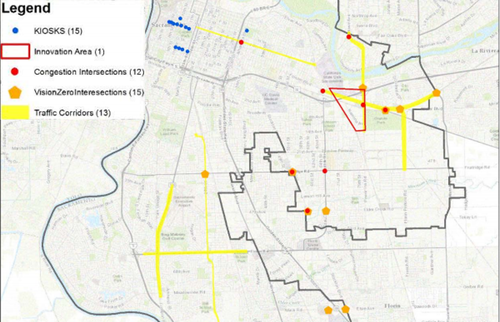 Partial map of Sacramento with an overlay of information for the smart city plan
Increasingly, cities and network operators are coming to terms with the fact that each needs something from the other. Cities need better connectivity overall, for which they're willing to exchange the preferred notion that all citizens should have access to equal service. Operators need to a way to cut through regulatory red tape so they can get the necessary equipment installed to sell more high-margin wireless services for which they're willing to exchange some of their own resources to be dedicated to civic improvement and digital inclusion efforts.
In Sacramento, the deal with Verizon came together very quickly. Riley says that when Mayor Darrell Steinberg took office in December, the new chief made clear he wanted to take calculated risks to help the city elevate its profile and attract new businesses. Steinberg visited Verizon's innovation center in San Francisco in January and sat down with Verizon's vice president of Smart Communities, Lani Ingram. Negotiations started virtually immediately with the mayor apparently telling Ingram that the city was interested in a non-exclusive deal that would have Verizon providing new broadband connectivity and helping to solve certain city challenges, and the city agreeing to ease the process of equipment installations with financial and time-saving incentives.
Verizon was game.
"The idea," says Riley of the company's approach, "was [to ask] how do we become a partner to the city instead of just going in and trying to get the best rate possible?"
Discussions continued for several months, and then Verizon announced the Sacramento partnership on June 1. The city council voted unanimously to approve it five days later.
For more broadband market coverage and insights, check out our dedicated Gigabit/Broadband content channel here on Light Reading. From a broadband perspective, Verizon secured very specific and significant benefits from Sacramento. These include 20 years of free access to existing city-owned conduit, and a waiver on attachment fees for the first 101 small cells Verizon deploys. For later 5G small cell deployments, the city has also agreed that Verizon will only have to pay attachment fees based on the California Public Utilities Commission standard, which is a lower rate than Sacramento typically charges. On the process and paperwork side of the equation, Sacramento has promised to streamline permitting for attachments to assets like municipal streetlights. And where fiber is concerned, the city has agreed to speed up approvals for right-of-way access as well. In return for these benefits, Verizon will deliver free public WiFi in select locations, host a Science Technology Engineering and Math (STEM) outreach program for students and sponsor a number of high school internships. "We're providing free WiFi to 27 city parks, and a lot of those parks will be in underserved parts of Sacramento," says Riley. Figure 2: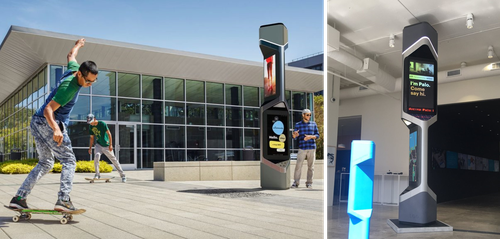 Verizon smart city kiosk pictured above, with an image from partner Frog Design on the left, and one of the kiosk in real life on the right Verizon will also collaborate with Sacramento on several smart city initiatives. It will deploy intelligent traffic capabilities at a dozen or so intersections, install 15 digital kiosks around the city and offer the local government free access to the Verizon ThingSpace IoT platform. Much of what Verizon is developing in the smart city space is still experimental, so any insights it gleans through its work with Sacramento will only serve to improve the company's strategy for smart city rollouts in other communities. And yes, there will be additional communities. Asked if Verizon plans to take its public/private partnership model beyond Boston and Sacramento, Riley says that although the details may look different, and the approach won't work everywhere, the telco has every intention of pursuing similar deals elsewhere. "It's a model that we want to use." Related posts: Unknown Document 733901 Comcast Opens Up on Smart Cities & machineQ Verizon's Boston Smart Cities Pilot Begins — Mari Silbey, Senior Editor, Cable/Video, Light Reading
Subscribe and receive the latest news from the industry.
Join 62,000+ members. Yes it's completely free.
You May Also Like
---