 Comcast first signaled its interest in smart cities when it announced trial network deployments last October based on the Low Power Wide Area Network (LPWAN) technology known as LoRa. The company has been relatively quiet on the topic since, but new details are starting to emerge both from Comcast partners and Comcast itself as the cable company plows ahead with its new subsidiary IoT business known as machineQ.
machineQ's early activities make two things clear. One, IoT is a priority for Comcast Corp. (Nasdaq: CMCSA, CMCSK), even if few know it yet. Two, everything Comcast is developing in the IoT and smart city sectors flows right back to the company's existing telecom infrastructure, and to technology ecosystems Comcast has already helped to create.
On a June day in Philadelphia...
The scene is a dark auditorium tucked away in a corner of the otherwise rowdy Franklin Institute in Philadelphia where hundreds of students are bouncing around the science center in camp programs or as part of end-of-year school field trips. Members of the LoRa Alliance are on site for the group's member meeting, and Comcast is sponsoring the event along with a co-located Smart City Summit that includes presentations by the city's mayor and CIO, IoT application companies, and of course Comcast's own machineQ.
Figure 1: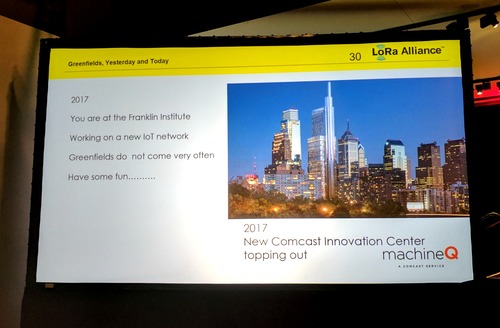 machineQ is new to the Comcast family, a product of internal business development efforts focused on the nascent IoT sector. The subsidiary seemed to appear out of nowhere last fall, but now has three trial LoRa network deployments in Philadelphia, San Francisco and Chicago, as well as champions who are ready to talk about the organization's IoT mission.
"This is really an exciting greenfield. We at Comcast like to think of having four fundamental lines of business: voice, video, data, home security. We really hope to make IoT that fifth major line of business," says Bill Ver Steeg, chief architect of machineQ.
machineQ founder and general manager Alex Khorram has done his homework. Before the business officially existed, Khorram made trips around the world to talk with other telecom providers about their own LoRa deployments, including one sojourn to South Korea where he met with executives at SK Telecom (Nasdaq: SKM), which has already rolled out a LoRa network nationally.
Back in Philadelphia, Ver Steeg explains why Comcast believes it will succeed in its own LoRa efforts. The company, he says, has a major cost advantage over competitors because of the local infrastructure and right-of-way access it already owns.
Ver Steeg notes there are two kinds of sensors that IoT applications can use: high-power and low-power ones. High-power sensors are necessary when a transmitter has to broadcast a signal over a relatively long distance to a LoRa gateway, but low-power sensors, which can be significantly cheaper, are sufficient when a gateway is nearby.
And across its customer footprint, Comcast can make sure there's always a gateway nearby.
Next page: What about those gateways? What about those gateways?
There are several ways Comcast can easily create a dense network of LoRa gateways. First it already has permission to hang equipment on utility poles, making it possible to extend an IoT network aerially throughout a customer region. Second, and perhaps more interestingly, Comcast is always installing new broadband gateways in homes and businesses. Could those gateways serve to amplify LoRa coverage as well? Figure 2: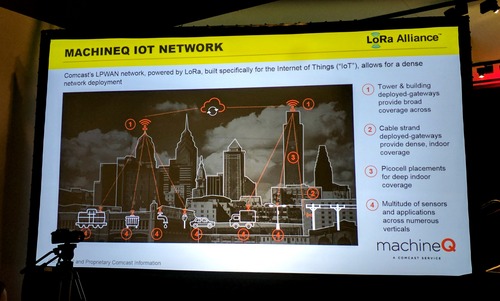 Ver Steeg says he won't pre-announce any new Comcast products, but goes on to suggest that the company will leverage whatever assets it has to get inexpensive LoRa hardware in the field. Ver Steeg also drops a hint that these LoRa gateways will hook into the RDK-B software stack, a software bundle that Comcast has championed as a common platform for consumer broadband gateways. Given that Comcast already uses home gateways to extend its WiFi hotspot network, it's certainly plausible the company is considering a similar approach with LoRa deployments. It would be a very cost-effective strategy. There's another clue that the RDK-B connection is more than just idle words in an executive presentation. Semtech Corp. (Nasdaq: SMTC), the semiconductor company Comcast has partnered for its LoRa rollouts, announced just last month that it's working with a business called pureIntegration to integrate LoRa into the RDK-B platform. pureIntegration says it's pursuing the project at the behest of "cable industry clients." Making the business case
While Comcast, through machineQ, is starting to raise its profile in the smart city sector, there are still many things it hasn't figured out yet. The network technology may be relatively easy to deploy, but what should it be used for? How should Comcast try to make money? As machineQ's leader, Khorram says his team hasn't figured out all the answers, but Comcast is giving them the flexibility to explore possibilities. "They're allowing us to play in [the space]. We don't have some of the same handcuffs that traditional players have to have," says Khorram. He points out that the right IoT business model could be selling data plans, value-added services or something else entirely. "Is it purely transport as a service," Khorram asks speculatively. "Do you want a stack solution? Okay, if it's neither, let's talk about what the neither is and what the other options are, and we're pursuing that. It's pretty cool." Meanwhile, Ver Steeg reminds the Franklin Institute audience that Comcast and machineQ don't have to solve everything on their own. In fact, in the tradition of regional cable operators, Comcast is hoping to partner closely with other companies not just to develop new technology solutions, but to extend network coverage and therefore business opportunities across a wider geographic region. "We're highly focused on multi-tenant cloud design," says Ver Steeg. "We're working to design the system so that we can federate the system with our North American brethren," making it possible to sell national access to an IoT network, rather than just localized connections. "The traditional way to do this is something called roaming," Ver Steeg adds. "We're working with the [LoRa] Alliance to further define that roaming standard. There's also some lighter-weight methods we're working on that look more like Internet-style peering, where there's [an exchange] of data traffic." He issues a call to potential network partners, saying: "To my MSO and other operator friends, seek us out on that. We're happy to talk about how we can make that work." For more broadband market coverage and insights, check out our dedicated gigabit/broadband content channel here on Light Reading. Partners are a crucial part of the machineQ equation, and a big reason the company decided to host the Smart City Summit in the first place. It may still be early days, but machineQ is already attracting interest from all over the emerging IoT ecosystem. This includes network companies as well as solution providers delivering services that range from asset tracking, to water monitoring, to waste management. machineQ is open to working with them all. Next page: At home in Philly At home in Philly
As the home of Comcast headquarters, it's no surprise that Philadelphia is one of the first locations to get a machineQ network rollout. However, the timing also works well from a Philly government point of view. The city of brotherly love is just now contemplating its smart city future, having issued an RFP for a consulting company to come in and help it define a smart city roadmap. The mayor's office expects to choose the winning bid in the coming weeks. Figure 3: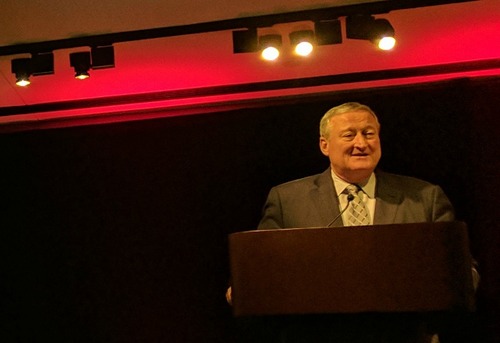 Philadelphia Mayor Jim Kenney speaks about smart cities at Philly's Franklin Institute. Ironically, the impetus for creating that roadmap came from the city CTO Charlie Brennan's attempt to clean up after an earlier citywide communications project. Philadelphia failed rather spectacularly about a dozen years ago to launch a free community WiFi service. The project wasn't sustainable, and with the network equipment now sitting idle, Brennan decided to try find a useful way to get rid it. The city released an RFI, and to everyone's shock, received 106 responding submissions. Many respondents not only had ideas for the equipment, but also proposals for smart city projects. Thus Philadelphia's smart city exploration began. "I support the smart city initiative because smart city projects will help attract people to our city," says Mayor Jim Kenney. Comcast can get behind that vision, and indeed it expects to. Unlike during the free WiFi experiment of the early 2000s, when the cable company was left on the sidelines, Comcast and the city of Philadelphia are both working toward the same goals. And while Philadelphia does business with several of the big network operators (AT&T Inc. (NYSE: T) and Verizon Communications Inc. (NYSE: VZ) as well as the local cable giant), the city and hometown employer Comcast are particularly heavily invested in each other's success. The smart cities movement represents a tremendous greenfield opportunity for them both. — Mari Silbey, Senior Editor, Cable/Video, Light Reading
Subscribe and receive the latest news from the industry.
Join 62,000+ members. Yes it's completely free.
You May Also Like
---