Panda-Monium
10:30 AM --
The Daily Yomiuri
reports on the debut of two red panda cubs that have received a very warm welcome at Chiba Zoological Park in Wakaba Ward, Chiba:
Futa, the father of the twins born on June 2, grabbed national attention for his ability to stand on his hind legs like a human.

The cubs are currently on show with their mother, Chii-chii, and are attracting a great number of visitors who want to see Futa's cubs...

Visitors to the zoo enjoy watching the cubs trot after their mother and play with each other.

The twins have not stood up like their father yet, but they occasionally rise up on their hind legs while playing, drawing cheers from the crowd.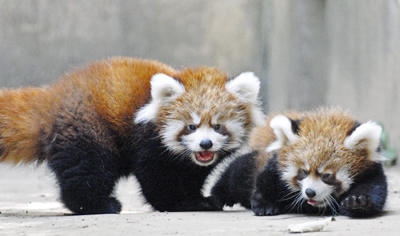 Although cute and moderately humorous,
Light Reading
remains unimpressed with these pandas, as the undersigned not only knows how to stand but has the uncanny ability, unmatched by any panda thus far, to write eloquent, witty prose.
— Red, Way Better Than Your Average, Panda
Light Reading