Infinera Hooks Up to Lumentum's Optical White Box
Infinera Hooks Up to Lumentum's Optical White Box
Systems and components vendors team up on baby step for 'open' optical networking. Eager to bask in the "open networking" sunshine that has given the switch and router fraternity a shiny new glow, optical systems vendor Infinera Corp. (Nasdaq: INFN) has teamed up with components specialist Lumentum Holdings Inc. to show how metro transport networks can also benefit from the programmable networks trend.
The two companies have been stitching together their products in Infinera's labs to show that the system vendor's existing and upcoming products can work in harmony with Lumentum's optical white box products, which were unveiled at OFC earlier this year and which subsequently landed the components company a Leading Lights award. (See Lumentum Optical Whiteboxes for Software Defined Networks, Leading Lights 2016: The Winners and Lumentum Unveils Optical Whitebox Platform.)
According to the two companies, their tests have shown that Infinera's portfolio of DWDM systems -- from its current DTN-X, Cloud Xpress and XTM product families to its upcoming Infinite Capacity Engine platform -- can interoperate with Lumentum's optical white box ROADM, which incorporates open interfaces that enable SDN management. The resulting infrastructure is suitable for metro networks and data center interconnect (DCI) deployments, according to the vendors. (See Infinera Revs Its Optical Engine.)
Figure 1: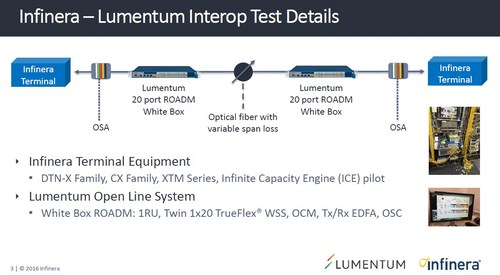 Infinera tested the interoperability of its systems with Lumentum's white box ROADM.
According to Infinera's Director of Product and Corporate Marketing, Pravin Mahajan, the tests included the "successful transmission of PIC-based superchannels and multiple modulation formats," including QPSK (Quadrature Phase Shift Keying), 8 QAM (Quadrature Amplitude Modulation) and 16QAM. "We're offering innovative ways to build networks," adds the Infinera man, who notes that both companies are members of the Telecom Infrastructure Project (TIP) that is aiming to develop more open, programmable communications networking systems. "We are collaborating on new interoperable and agile approaches to building transport networks," adds the buzzword-friendly exec. (See Facebook: TIP Will Open Telecom Hardware.)
Lumentum, too, is pumped about gaining public support for its endeavors. "We see this as a validation of our approach… and an important first step" towards open transport networks, says Madhu Krishnaswamy, Lumentum's senior director of product line management.
Want to know more about the optical networking sector? Check out our dedicated optical content channel here on Light Reading. This is obviously important and exciting for the two companies involved, but the tests have been validated only by Infinera and Lumentum. Who else will take any notice at this point? According to Mahajan, the ability to integrate Infinera's systems and Lumentum's white box ROADM is something that certain customers have been requesting. "Some customers, particularly the content providers [web services giants], have expressed a desire for this kind of solution… we're in active discussions with those kinds of companies," says the Infinera man. He also notes that a range of customers require third-party line systems to deploy alongside the system vendor's DWDM products, "so this plays to that requirement," adds Mahajan. Infinera still has its own line systems, of course, which are particularly suitable for enabling specific features such as sliceable photonics. (See Infinera Asks: Hungry for a Slice of Photonics?) So what's next? The two companies are working towards field trials with potential users and Lumentum is continuing to develop and fine tune its optical white box portfolio and make the products commercially available. It's also not limiting its test and trial activity to Infinera: "We're working with other equipment partners" on open transport architecture interoperability, notes Krishnaswamy. There's also the prospect that the two companies might offer up their combined technologies for independent testing and validation, though there are no firm commitments for that at present. Lumentum has been doing well since it became one of the JDSU spin-offs earlier this year, posting year-on-year revenue gains of 7.9% to hit $903 million for its full fiscal year to July 2. (See JDSU's Offspring Are Holding Their Own and Lumentum Reports Fiscal Q4.) Infinera, meanwhile, has hit something of a bumpy patch after a few years of almost uninterrupted financial success, having warned in late July that demand is "softening" and that the company is facing "difficult near-term revenue outlook." (See Infinera Reports Q2 and Infinera Reports Q4, Full Year 2015.) — Ray Le Maistre,

, Editor-in-Chief, Light Reading
Subscribe and receive the latest news from the industry.
Join 62,000+ members. Yes it's completely free.
You May Also Like
---