Facebook: TIP Will Open Telecom Hardware
Facebook: TIP Will Open Telecom Hardware
BCE speaker Hans-Juergen Schmidtke says Telecom Infra Project will do for infrastructure technology what OCP has done for data centers. AUSTIN, Texas -- Big Communications Event -- The Telecom Infra Project (TIP) is gaining momentum in its effort to bring the same open approach to hardware and software in telecom networks that the Open Compute Project has helped bring to telco data centers, Facebook's Hans-Juergen Schmidtke told the Big Communications Event crowd here today.
Figure 1: Facebook's Hans-Juergen Schmidtke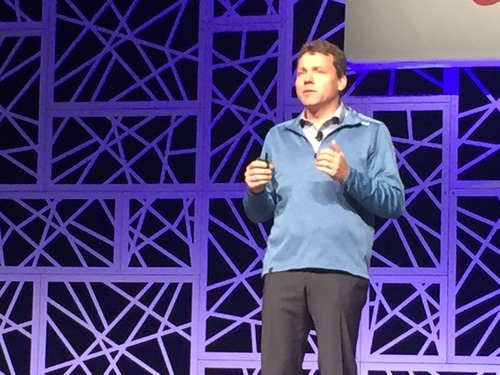 Schmidtke, who is director of engineering for Facebook 's network infrastructure, brings a telecom background to that role from his days at Juniper Networks Inc. (NYSE: JNPR) and Nokia Siemens Network. So he's aware of how things have been done in telecom in the past. As he told the BCE audience, however, that needs to dramatically change if the remaining 3 billion people who don't currently have Internet access are going to get it. And he offered a preview of one place where that change could be dramatic: As co-chair of the Open Optical Packet Transport Group, Schmidtke intends to help bring white boxes to the telecom market in the same way OCP brought them to the data center. "We are focusing on open packet DWDM [dense wave division multiplexing] and open packet transport architecture," he explained. "We look at architectures and the adoption of new innovations and technologies, to try to enable an environment that is a $10 billion to $15 billion dollar vendor revenue [opportunity] and make it possible to adopt technology much faster." Initially that will involve creating a consistent Applications Programming Interface (API) northbound from the DWDM system, something that hasn't happened as much as it could have to this point, Schmidtke said, and enabling innovation on the transponder side as well. "At the same time, the line systems are fairly commoditized," he noted. One of the group's goals is to drive these further to commoditization. Schmidtke admitted that the scope of the project ahead is significant and noted that Facebook is reaching out across the telecom industry to get as many TIP members involved as possible in the process of crafting and defining new open standards in this arena. Along those lines, he announced a new set of TIP members, joining the original partners that were announced when the organization launched earlier this year. Among the new participants are: Axiata Digital, Indosat, MTN Group, Telefonica, Vodafone, Acacia, ADVA, Bluestream, Broadcom, Coriant, Deloitte, Juniper Networks and Lumentum. (See Telecom Infra Project Announces New Members). In the same announcement, made via a blog post you can read here, TIP also heralded the formation of a board of directors and a new set of working groups. No doubt some manufacturers of optical networking gear might be discomforted by what TIP is proposing, but Facebook is hoping many of these players will join the effort in recognition of the need to break away from closed technologies that slow down innovation. Schmidtke offered some words of reassurance to the telecom network operators in the room. "We will not become a telco," he said. "We don't view ourselves as a telecom provider, but we want to help society to connect. There is a ton of work ahead of us -- this is not about getting one thing done, it is about changing the culture of innovation in the telco environment." And that is a job for the entire industry, he added. — Carol Wilson, Editor-at-Large, Light Reading
Subscribe and receive the latest news from the industry.
Join 62,000+ members. Yes it's completely free.
You May Also Like
---