Infinera Revs Its Optical Engine
Infinera Revs Its Optical Engine
Transport equipment vendor combines advances in photonics and digital signal processing to create a subsystem capable of multi-terabit 'super-channels.' ANAHEIM, Calif. -- OFC 2016 -- The battle for optical system bragging rights has been raging this week in Anaheim, with Infinera adding to the roll call of major transport systems vendors to have unveiled the latest fruits of their R&D endeavors.
In the run-up to this year's OFC, two of Infinera Corp. (Nasdaq: INFN)'s main rivals, Nokia Corp. (NYSE: NOK) and Ciena Corp. (NYSE: CIEN), announced significant product portfolio updates. (See Ciena Builds on Verizon's Metro Specs and Nokia Opens Its Optical Box of Tricks.)
Infinera's offering is also meaty. It's the funkily-named Infinite Capacity Engine -- let's call it ICE -- a four-wheel drive of an optical transport subsystem that combines advanced electronics (the vendor's next-generation FlexCoherent processor) with the latest iteration of its photonics (fourth-generation Photonic Integrated Circuit, or PIC) to offer capacity of anything from 600 Gbit/s to 2.4 Tbit/s "super-channels." (See Infinera Unveils Infinite Capacity Engine.)
That combination enables the ICE, the vendor claims, to offer a number of notable advances: it enables operators to run their networks at up to 26.4 Tbit/s per fiber over distances up to 12,000km; it offers a significant reduction in power consumption compared with rivals (more on that later); and it offers enhanced traffic management capabilities, including the "photonic slicing" and SDN support the company talked about last year. (See Infinera Asks: Hungry for a Slice of Photonics?)
The ICE also offers integrated security, with Infinera boasting it can encrypt traffic at Layer 1 on a per-service basis or per super-channel using 256-bit Advanced Encryption Standard (AES) key technology.
Something of a big deal
The ICE is a big deal, according to Heavy Reading senior analyst Sterling Perrin. "Infinera has finally announced the next-generation PIC [photonic integrated circuit] that is the follow-on to the 500Gbit/s PIC that debuted with the DTN-X launch," which was announced in late 2011. (See Infinera Intros DTN-X.)
"For years, the Infinera team was asked about when they would move to a Terabit PIC and they always said it was a market demand issue, not a technology issue. So now they've concluded the market is ready, though Infinera is also facing pressures on the competitive front."
Perrin adds: "This announcement is also notable because the next-gen FlexCoherent DSP marks Infinera's entry into 16 QAM [Quadrature Amplitude Modulation]. During the past year, competitors were more than happy to compare their 16 QAM system capacities to Infinera's available QPSK [Quadrature Phase Shift Keying], so the comparisons weren't really apples to apples. The rise of 16 QAM modulation has been a big change during the past two years, as it doubles channel capacity from 100 Gbit/s to 200 Gbit/s. So the new Infinera Engine, which combines its next-gen PIC and DSP, is now a 2.4Tbit/s combination instead of a 1.2Tbit/s PIC."
Figure 1: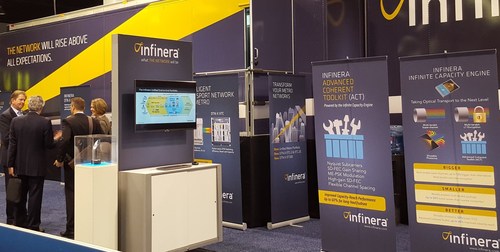 The Infinite Capacity Engine was part of Infinera's pitch on the OFC show floor.
What is it good for?
So for what applications will Infinera be pitching its ICE-based products? The primary targets are subsea, long-haul and data center interconnect (DCI). Potential customers look likely to include Interoute Communications Ltd. , the pan-European wholesale and cloud services player that is a long-time Infinera customer (and quoted in the ICE launch press release), and Telstra, which recently tested the vendor's Advanced Coherent Toolkit (ACT).
Pravin Mahajan, Infinera's director of product and corporate marketing, believes that "any customer already using a DTN-X and finding that 500 Gbit/s of capacity per slot is not enough" will be prime potential early users. (See Infinera Boasts Long-Haul Optical Network Breakthrough.)
Mahajan is keen not only to talk about the capabilities of the ICE but also compare it to a similar subsystem from its "nearest competitor," for example, claiming that it offers 82% lower power consumption and, overall, a 53% lower total cost of ownership (using a "standard" US optical transport network for the comparison).
When pressed, Mahajan named that rival as Ciena, with the comparisons being made between ICE (not yet commercially available) and Ciena's equivalent but commercially available technology.
So when will the ICE hit the market? Well, Infinera doesn't sell subsystems, so it needs to be incorporated into the vendor's existing products and, in addition, be the basis for some new ones. Mahajan says ICE-based optical transport products will be announced during the first half of 2016 but would not commit to any timescale for commercial availability.
It's only when those products hit the streets that the real impact of the ICE can be gauged and comparison can be made against offerings from Infinera's rivals. "The big proof will be in the full systems announced around the new technology," notes Heavy Reading's Perrin. "So we'll have to wait a bit before we can compare data sheets to data sheets across the different product segments," he notes.
— Ray Le Maistre,

, Editor-in-Chief, Light Reading
Subscribe and receive the latest news from the industry.
Join 62,000+ members. Yes it's completely free.
You May Also Like
---