WiCipedia: 'Build Up, Never Tear Down'
WiCipedia: 'Build Up, Never Tear Down'
This week in our WiC roundup: Uber's saving grace; 'boys will be boys'; gaming without prejudice; and more. This week in our WiCipedia roundup: Uber's saving grace; "boys will be boys"; gaming without prejudice; and more.
Interested in joining Women in Comms on our mission to champion change, empower women and redress the gender imbalance in the comms industry? Visit WiC online and get in touch to learn more about how you can become a member! If Uber ever did need a saving grace, the time would be now. The New York Times seems to think that Bozoma Saint John might just be that savior. As Uber's new chief brand manager, Saint John definitely has some rehabbing on her plate. The NY Times writes, "Ms. Saint John knows it might seem overly calculating of Uber, which has been accused of fostering a hostile work environment for women, to hire an African-American single mother to make over its public image. She doesn't care. 'To me, there's no sense of tokenism because I know I can do the job -- I'm qualified to do the job, I can do a great job. Being present as a black woman -- just present -- is enough to help exact some of the change that is needed and some that we're looking for.'" (See Uber Drains the Swamp, but Is It Too Deep?) Figure 1: Uber's Angels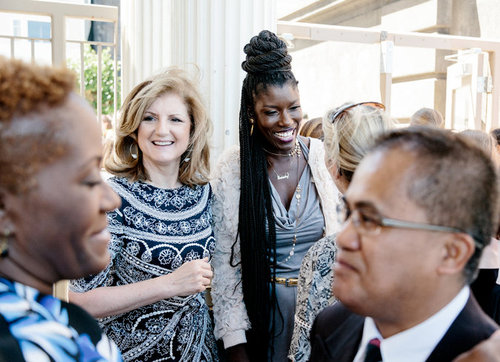 Arianna Huffington and Bozoma Saint John Non-disparagement agreements are under the spotlight this week for their part in concealing harassment situations at tech companies and venture firms. The agreements are the norm for big companies, reports The New York Times, and "have helped enable a culture of secrecy." With the incidents kept mum under law, "Harassers move on and harass again. Women have no way of knowing their history. Nor do future employers or business partners." So making the same mistake over and over again seems inevitable. Nancy E. Smith, a partner at the law firm Smith Mullin, describes the agreements as signing away your rights: "The silence sends a message: Men's jobs are more important than women's lives." (See WiCipedia: VR's 'Man-Babies' & No Watershed Moments – Yet.) Anyone following the news lately should be well aware that inequality in the workplace is a constant struggle for women, and nowhere near solved -- or so you would think. A new study has found that the majority of men think that gender inequality is a thing of the past, Women's Agenda explains. The study surveyed 13,331 adults about their views on gender at work, and "58% of US male respondents said all obstacles had been eliminated, while 38% said that only certain barriers still existed." While this isn't an overwhelming majority, it's the opposite of the results collected from female survey takers, who came in at 36% and 60%, respectively. You can see the full results of the SurveyMonkey study over at Fortune. (See Equal Pay Day: Time to Get Paychecks in Check.) Figure 2: Divided We Survey
While the women who have come out recently to tell their tales of injustice at the hands of tech companies and VCs have generally received support from their communities at large, not everyone is quite so empathetic. USA Today published an article outing men in tech who still believe in the "boys will be boys" mantra, and who don't think men who harass women should have to pay for their mistakes with their careers. Michael Petraeus, a startup entrepreneur, says, "Should [startup investor and sexual harasser] Dave McClure pay for his mistakes? Most likely yes. Should he have to step down into the shadows of the company he made? Hell no. I don't understand why a guy, who is an otherwise great businessman who helped over a thousand companies around the world, should have his professional life erased simply because he likes to sleep around." Maybe these guys need to read Entrepreneur's list of "7 Ways Silicon Valley Could Transform Its Toxic Culture," number one of which is "Get rid of bad apples." (See Hey Men of Silicon Valley, Stop Being Creepy!) The video game industry does not have a reputation for being welcoming or accepting of women, but one company is setting out to change things. The New York Times recently profiled video game streaming platform channel Misscliks about its anti-harassment and anti-sexism code of conduct. "The channel's mission is to be a diverse space where underrepresented gamers can feel safe from harassment and bullying," the article says, which isn't to say that inappropriate comments don't pop up, but unlike other gaming venues, there are repercussions for that unwanted behavior on Misscliks. The company, which is under the umbrella company Twitch and owned by Amazon.com Inc. (Nasdaq: AMZN), is the first of its kind in the video game space and is run by women. Its motto is one that we wish all tech companies would embrace: "Build up, never tear down." (See WiCipedia: Gaming the System, Bros Not Wanted & Be the Next Jane Bond and WiCipedia: The Women Helping Women Edition.) — Eryn Leavens, Special Features & Copy Editor, Light Reading
Subscribe and receive the latest news from the industry.
Join 62,000+ members. Yes it's completely free.
You May Also Like
---