WiCipedia: VR's 'Man-Babies' & No Watershed Moments – Yet
WiCipedia: VR's 'Man-Babies' & No Watershed Moments – Yet
This week in our WiC roundup: Apologies don't create change but action does; women in virtual reality speak out; how media affects girls' career choices; and more. This week in our WiCipedia roundup: Apologies don't create change but action does; women in virtual reality speak out; how media affects girls' career choices; and more.
Do you have a story – positive or negative – to share about being a woman in comms? Let us know, and take our quick survey about your experiences, right here. Anonymous submissions welcome, and the next 25 survey takers to share their email address will receive a Starbucks gift certificate! It seems all we've been hearing lately is apologies from men in tech who have really screwed up. While getting it all out in the open is a much-needed start, actually doing something about it is what's going to bring change to this male-dominated industry. A blog in Motto by Julie Horvath, an engineer who experienced and talked about the harassment she endured at GitHub several years ago, stresses not to call this a watershed moment for Uber or the industry at large. Nothing has changed -- yet. Horvath still finds her experience at GitHub impacting her life, and often receives inquires from women in tech looking for advice. But she says that real change will come when women are at the top alongside men: "Women will remain unsafe in our industry if we are kept out of board rooms and senior leadership. We will remain vulnerable to abuse, so long as we are lacking in the resources to protect ourselves from it." (See Kalanick Steps Down as Uber CEO and Uber Hopes Holder Reform Will Stop Implosion .) As male-dominated as the entire tech industry is, virtual reality (VR) takes the cake for most messed-up gender ratios. A BuzzFeed article spoke with a few women who work in the largely male sub-sector to find out what it's like in the trenches, and it's not pretty. The article specifically focused on a company called UploadVR, which had its own recent sexual harassment case. Though the case received far less publicity than Uber's, for instance, the allegations are much more graphic and disturbing. As one VR producer so eloquently put it, "This is the third time that a big VR company or person has been the scum of the earth. I love VR for its potential, but these fucking man-babies are ruining it." (See Women Who Tech Gives $85K to Female-Led VR & AI Startups and WiCipedia: Gender-Blind VR & CEO Double Standards.) Figure 1: No Girls Allowed!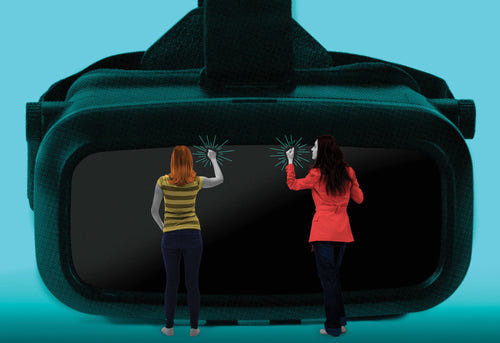 Imagine being a high school girl and seeing the headlines every day about the current political and social state of tech. Maybe you're considering a tech career yourself, but constant sexual harassment and lower pay than male coworkers doesn't sound very enticing, right? The San Francisco Chronicle explains that this was exactly Marissa Mayer's thought process when she was a teenager contemplating career choices, except instead of tech, it was medicine. Put off by the news of harassment in the healthcare industry, Mayer thought twice about her choice of industry, and chose tech instead (obviously not anticipating the current state of affairs). The Chronicle writes, "The irony is that a college-bound teen today would read the headlines and make the opposite decision -- that she would want to be anywhere but in the world of technology, where men hold the vast majority of engineering jobs and sexism seems pervasive and incurable." This is good motivation to think about how current actions impact future generations. (See Hey Men of Silicon Valley, Stop Being Creepy!) Speaking of apologies, this week brought them full-force from some big-name venture capitalists (VCs). VC Chris Sacca stated, no holds barred, "By stupidly perpetuating a culture rife with busting chops, teasing and peer pressure to go out drinking, I made some women feel self-conscious, anxious and fear they might not be taken seriously." TechCrunch emphasized the importance of change originating from VCs instead of further down the totem pole, because without VC funding, there is no product: "VCs are agents of change and innovation, investing in the future. For an industry that drives innovation -- from the internet and the mobile revolution, to self-driving cars and artificial intelligence -- we have a difficult time changing ourselves." The TechCrunch article also offered up some solid recommendations for VCs, such as increasing the number of women and other minorities in the VC industry, yet the real question is: how? (See WiCipedia: Queen of Code, Female VCs & STEM Expectations and Ellen Pao Returns to VC to Tackle Tech Diversity.) As Silicon Valley grapples for grounding amidst harassment accusations, Google (Nasdaq: GOOG) is trying to get ahead by hiring a new diversity director. Somehow the mega tech giant hasn't had any major scandals itself regarding sexual harassment or gender gaffes, and Danielle Brown, previously Intel Corp. (Nasdaq: INTC)'s diversity chief, is joining to make sure that stays the case. USA Today reports that Google aims to close its gender and race gaps, which are overwhelmingly male and white. Brown is a relative newcomer to the diversity field, and the hope is that she will bring a fresh perspective to a problem that is getting really stale. (See Google Shares Gender-Blind Pay Policies and Cisco Spent $2M to Close Minor Pay Gaps.) — Eryn Leavens, Special Features & Copy Editor, Light Reading
Subscribe and receive the latest news from the industry.
Join 62,000+ members. Yes it's completely free.
You May Also Like
---