WiCipedia: Best Places to Work & Restroom Lines Tell All
WiCipedia: Best Places to Work & Restroom Lines Tell All
This week in our WiC roundup: VC sees a slow influx of women; new tech hubs offer jobs but no minority takers; the best companies to work for in 2018; and more. This week in our WiCipedia roundup: VC sees a slow influx of women; new tech hubs offer jobs but no minority takers; the best companies to work for in 2018; and more.
WiC online and get in touch to learn more about how you can become a member! With the recent (continued) focus on the lack of women at major industry events, we thought this article from Tech.co about the ever-available women's restrooms at conferences was rather topical. The author equates the busyness of restrooms at events to a "Bechdel test" to see if there are too many men, or too few women, in attendance. Anyone who has attended tech events is far too accustomed to the long line for the men's restroom while the women's restroom remains spotless and line-free, often the reverse of real-world public restroom situations. The article takes this seemingly trivial indicator as a much larger marker of the dearth of women in tech: "The tech industry may be all about looking towards the future, but the future will only make progress if we remember those voices in the community that haven't been heard in the past or even -- as any conference's empty women's restroom will attest -- in the present." (See WiCipedia: The Women Helping Women Edition and WiCipedia: Brotopia Shocks, Revolar Protects & CES Disappoints.) Figure 1: Sometimes You've Just Got to Skip the Line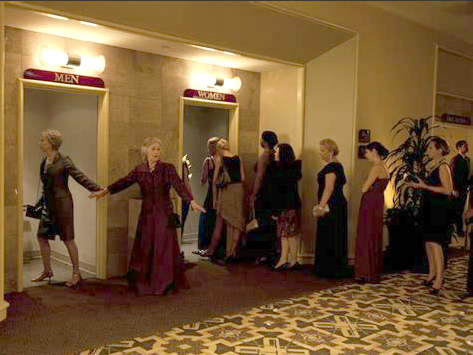 (Source: USA Today) While venture capital (VC) is still mostly male dominated, women are making some headway in the industry. A report from WRAL TechWire says that since 2010, the growth of women making VC deals has grown by billions of dollars per year, particularly in software, telecom and Internet deals. There has also been a surge in female-led VC firms and diversity-first VC firms, with millions invested in their success. Also in the VC world, Venture Beat explains that Y Combinator (YC) software engineer Cadran Cowansage has started an online platform called Leap for women and by women. Leap will function as a social networking site and will focus on issues that have affected women in tech as of late. "So far, Leap has amassed more than 1,500 members in private beta. From founders to designers, marketers, software engineers, and VCs, females in tech are beginning to share technical articles, startup questions, job opportunities, career connections, parenting issues, and discussions about sexual harassment." WRAL TechWire explains that YC has also always been a socially concious company: "Y Combinator [has] long-standing tracking of investors with a history of poor conduct within its network, sometimes called the 'Silicon Valley blacklist.'" Check out the video below for more info on where women stand in VC -- and where we need to go. (See WiCipedia: Queen of Code, Female VCs & STEM Expectations.)
(Source: WRAL TechWire) Great Place to Work has released its report for the best companies in tech to work for in 2018. Out of nearly 80,000 companies, 40 were selected and divided into two groups, one for large companies and one for small to midsized companies. To select the companies, staff members answered a survey of 50 questions about their work environment. While the results apply to all workers, there's a heavy emphasis on diversity of all kinds and the ability to "be yourself" at work. This is particularly important, because according to Great Place to Work, "Up to 30 percent of tech workers feel they can't be themselves at work. That feeling reduces employee innovation, effort, and retention." You can check out the full list of winners here. (See The 2018 Best Workplaces in Technology.) Top execs at Google (Nasdaq: GOOG) and Apple Inc. (Nasdaq: AAPL) were both in the news this week for opposite diversity happenings. Over at Google, mid-lawsuit, reports say that Google is equally discriminatory to both the under represented and majority alike. Urs Hölzle, Google's senior vice president of technical infrastructure, said, "If the majority of your coworkers are Nazis, it is better if you don't know about it," according to a memo former engineer Cory Altheide released Thursday, Business Insider reveals. Over at Apple, CEO Tim Cook responded to a cold-email from female high school student Rebecca Kahn, which led to a phone call about how to increase diversity in tech. As a result, Apple and the National Center for Women & Information Technology (NCWIT) announced Innovator to Innovator, a partnership program that matches girls interested in tech careers with Apple execs for mentorship, Refinery29 explains. We love the initiative that Kahn took and the action that it spurred for Apple. (See WiCipedia: Google Sued Over Gender Pay Disparity and WiCipedia: Apple's Diversity Dilemma & Women Have Tech Edge, Study Finds.) Sometimes we forget there's a tech world outside of Silicon Valley, and it's doing remarkably well. The Pacific Northwest, home to rainy skies and Amazon HQ, has seen huge tech booms in recent years, yet a report from Paysa, via Crosscut, has found that it's mostly men who are flocking to Seattle and beyond to fill the jobs. In fact, nearly 81% of the "tech migrators" were men. This has created a backlash towards the big companies that are hiring these men who have been accused of discriminatory hiring practices. Over in Utah, or "Silicon Slopes," as it's known in the tech community there, tech leaders say business is booming, but they don't have enough workers living there, particularly minorities, to sustain business. The Salt Lake Tribune says there are many jobs to fill, and plenty to go around. Carine Clark, CEO of Banyon, a patient experience company in Utah, said, "I'm worried about diversity. We do not have enough. Companies with diverse teams are better ... And we don't have enough women in tech, in leadership positions ... It's not a gender issue. It's a business issue." (See WiCipedia: From New Zealand to the Silicon Prairie & Beyond.) — Eryn Leavens, Special Features & Copy Editor, Light Reading
Subscribe and receive the latest news from the industry.
Join 62,000+ members. Yes it's completely free.
You May Also Like
---