AUSTIN, Texas -- Big Communications Event -- Open source can help telcos become "nimble," and shed their history of "wait and see," James Feger, CenturyLink VP of network virtualization, said here Tuesday at Light Reading's Big Communications Event (BCE).
"The power of open source is it allows telcos to be more nimble, rather than the wait-and-see attitude we've traditionally been viewed with," CenturyLink Inc. (NYSE: CTL)'s Feger said, speaking on a panel about open source in telecom.
Indeed, innovation rather than cost savings are the main reason to adopt open source, noted Csaba Kiss Kallo, head of connectivity, mobility and security portfolio at Vodafone Ireland. "'Free' is not the main reason we go after open source. The reason is agility -- the benefits you get from an ecosystem and development, those thousands of software developers who've put their knowledge together and developed something that can be used by everyone in the community," he said. (See Vodafone Prioritizes Automation as Efficiency Bolsters Margins.)
But for open source to succeed -- and for vendors to succeed providing open source technology -- vendors need to change their business model, away from selling boxes and toward licensing intellectual property, Kallo said.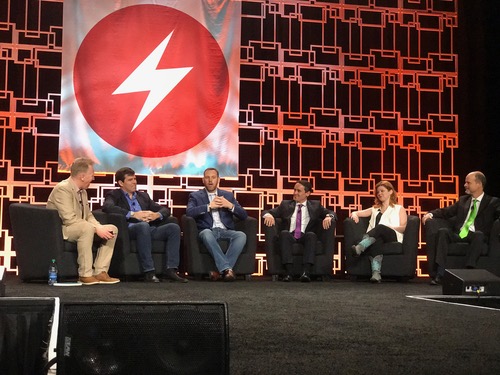 Is open source fit for carriers?
The panel was basing its discussion around a particular definition of open source and limiting the focus to the use of open source software in the telecom domain:
"Open source" -- where software code is developed by a community that is strictly managed by an independent central manager (individual or company) under some sort of license terms, so that "rogue" code can be intercepted (to avoid innocent or deliberate bugs), and scheduled releases are made available to participating and/or paying users.
The discussion kicked off with an echo of a controversial keynote by Light Reading founder Steve Saunders at last year's Big Communications event, during which he suggested that open source had held back progress and innovation in the telecoms sector. (See Order From Chaos: The Steve Saunders BCE Keynote.)
Moderator Ray Le Maistre, Light Reading's editor-in-chief, asked panelists whether open source software is unsuitable for telcos, and whether they should be sticking with specs defined by standards bodies.
Jim Fagan, Telstra director for global platforms, defended telco open source as an innovation driver. "It's clearly for the telco domain," he said. "If you look at the evolution of open source over the last 20 years, it's been the driver of a lot of the technologies we've seen today." That includes cloud. Open source is particularly powerful in network abstraction and orchestration, including legacy technology.
"To say that [open source] is not relevant and useful in the telco domain is not true, and anyone who does have that approach will fall behind," he said.
"We've hidden behind this concept of standards -- standards development and standards deployment," Feger said. Standards made sense when telcos weren't themselves participants in software development, and left that process to vendors. "We were taking what was available to us." Now, service providers are more software development focused and need a new model.
"I definitely disagree with the idea that open source is not suitable for telcos," Kallo said. Telcos did not participate in open source in the past because telcos eliminated their developers and software departments, and therefore they could not participate. But that's changing, as everything on the network gets virtualized. Software is playing a key role, and communications service providers need to change their operations and approach to software, and build up their software development.
Next page: Community care