 "People's republic" is an obvious red flag when used with zeal in a country's official name, and "democratic people's republic" is an even bigger one. Chances are it's a police state whose ruler has all the popular appeal of scabies. There's now a similar convention in telecom, where "open" has suffered years of abuse at the hands of various industry groups and companies.
Intel has gone even further with "FlexRAN," its reference design intended for open and virtual radio access networks. The allusion to flexibility might as well be some poor attempt at ironic humor, like a Tiny Tim nickname for the classroom giant, because FlexRAN works only with Intel's own hardware, creating the "lock-in" that open RAN and virtualization are supposedly trying to end. Unable to run the technology on its own chips, rival AMD has described FlexRAN as like having a car without the keys.
Figure 1: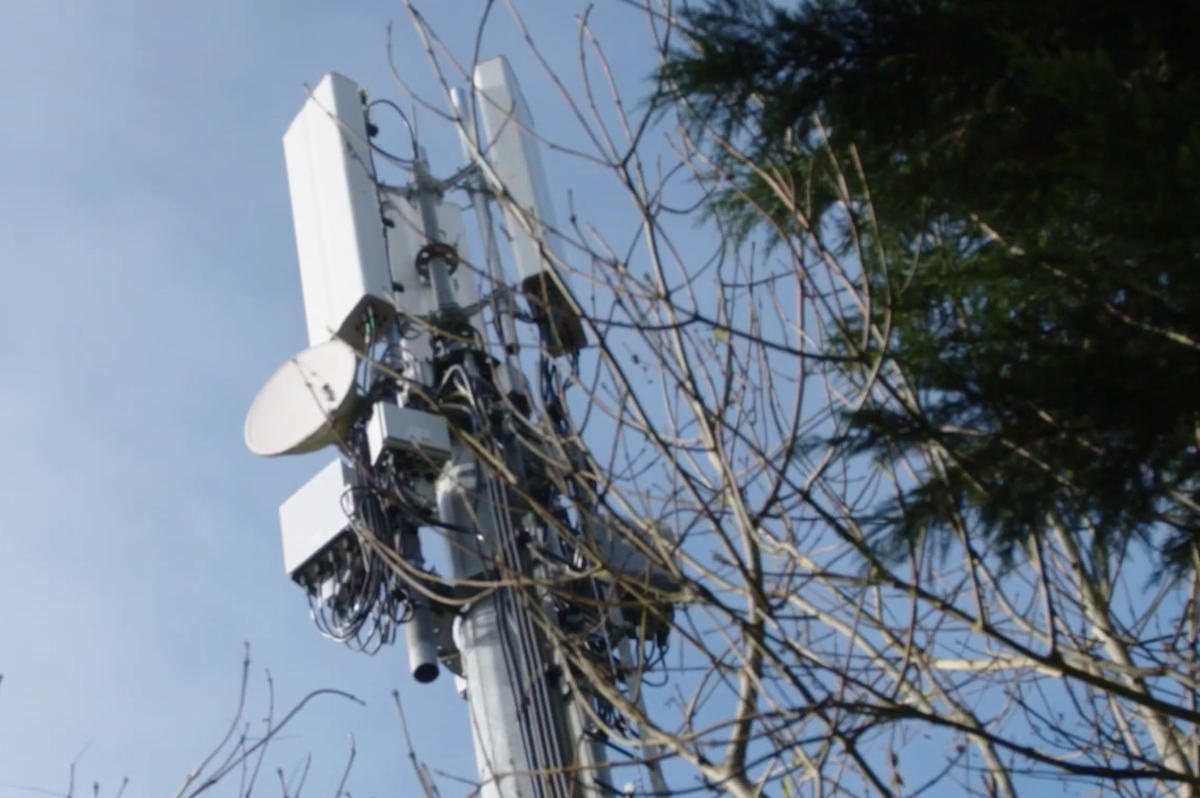 An open RAN site put together by Vodafone in the UK.
(Source: Vodafone)
All this probably sounds very harsh on open RAN, an attempt to inject some competition into the sector by making it easier to combine different suppliers at the same mobile site. One thing the geopolitics and supply-chain chaos of recent years has done is show just how exposed telecom is to a few critical companies. Oligopolies are rife, and there is sometimes even less choice than that. A single Dutch company (ASML) provides the world's most advanced chipmaking tools. A single Taiwanese one (TSMC) makes most of the world's most advanced chips. Efforts to change any part of this surely deserve praise.
But the open RAN community has done a poor job of facing critics head-on. Parts of it have reacted to negative commentary like a petulant child rather than a serious grown-up willing to accept and respond to feedback. It overplays the victim card, often depicting Ericsson and Nokia as the enemy when open RAN is purportedly about cohabitation with rivals. It's sometimes more secretive than its name implies, too. Vodafone has been very upfront about its rollout in the UK. But Virgin Media O2 refused to say how many sites it will build when it announced its own plan last week.
Costly and uncompetitive RAN

Above all, it has failed to convince the industry and investor community it is a fix for the big problems it originally identified. A bold claim made years ago was that an open and virtual RAN would cost far less to build than a traditional one. But data recently shared by EdgeQ – a chips start-up founded by Vinay Ravuri, a former Qualcomm executive – shows that common, off-the-shelf server equipment featuring Intel's Xeon-branded parts costs more than twice as much as equivalent proprietary kit supplied by Ericsson or Nokia (Intel chose not to comment).
Nor has open RAN overcome skepticism it will boost RAN competition. The rationale is that open interfaces aid specialists, previously excluded from deals because telcos were forced to buy everything from one big vendor. That part is accurate. What's doubtful is that each of these sub-sectors of the RAN will be able to support a bigger number of players than you see in today's all-inclusive RAN. If any of them can't, operators would still be reliant in some area or areas on what could be called an oligopoly.
The issue was identified in a recent white paper from Omdia, a Light Reading sister company. It notes that "while network disaggregation will lead to a higher number of players at system level, specific subsystems or 'layers' in the network may in the meantime see a relatively small number of highly specialized players and a relatively high level of concentration."
Although not identified in the Omdia paper, the worst culprit is on the semiconductor side. Leaving aside FlexRAN, Intel this year boasted a presence in 99% of all virtual RAN deployments. Ravuri scoffs at this because open and virtual RAN still accounts for such a tiny share of the overall RAN market. But if choosing these technology options meant relying on Intel in the future, the industry would have a problem.
Figure 2: Global data center CPU market revenue share by vendor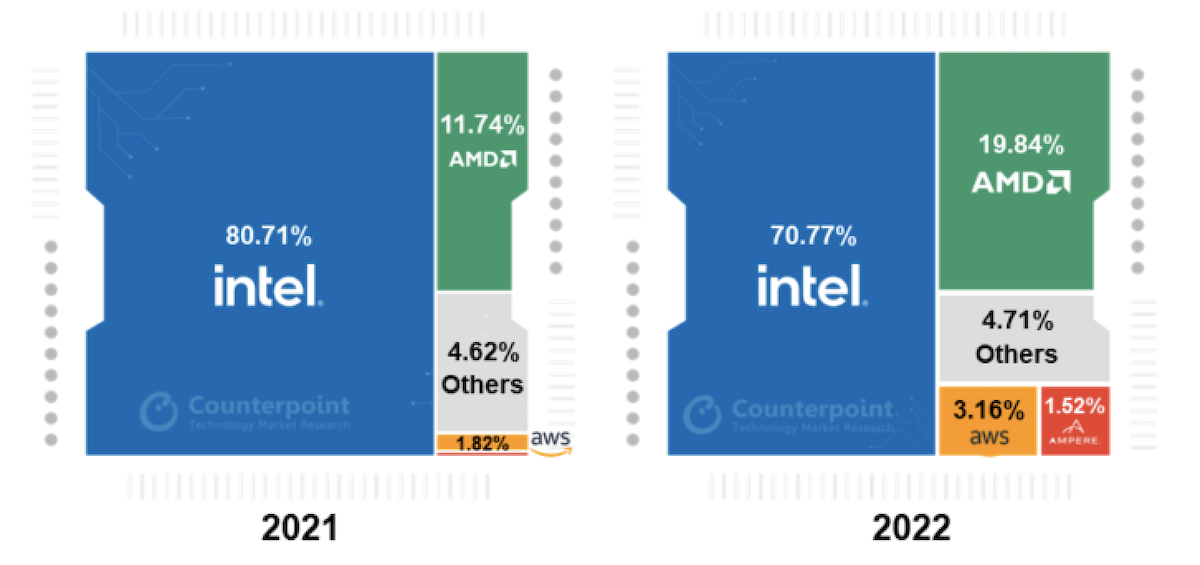 (Source: Counterpoint Research)
Alternatives are now emerging, and they include EdgeQ as well as better-known chip companies like Marvell, Nvidia and Qualcomm. But most of them are focused on Layer 1, the part of the RAN software stack responsible for baseband processing, where Intel's general-purpose equipment is widely acknowledged to be unsuitable (even Intel recognizes the need here for some kind of hardware acceleration).
Far less attention has been given to RAN Layers 2 and 3, largely because no one doubts general-purpose processors are up to the task. But the only big alternative to Intel here is AMD, and it uses the same underlying x86 architecture. Last year, Intel served about 71% of the market for general-purpose central processing units in data-center servers, while AMD's share was about 20%, according to Counterpoint Research.
Choice minus diversity equals trouble

To complicate matters, numerous senior technology executives within telcos do not envisage hosting a bigger number of vendors with the transition to open RAN. Some have said this while requesting anonymity. One who made on-the-record comments about the subject is Howard Watson, the chief security and networks officer of the UK's BT. "I think it's good to have greater choice but that doesn't necessarily mean we'll have a van with six different vendors' worth of spares in it," he told Light Reading at Mobile World Congress this year. "There is an operational inefficiency that comes from that."
Hence, perhaps, a recent push for diversification by former specialists. Mavenir, a US company originally focused on software, now makes radios and does systems integration, marketing itself as an "end-to-end" supplier, for instance. Bar Intel and server partners, it appears to be the only open RAN supplier to Virgin Media O2, as well.
By turning Mavenir and others into mini versions of Ericsson and Nokia, this diversification has some negative consequences for open RAN. For starters, it means those companies are no longer specialists, which means their investments have to be more thinly spread, which will ultimately make competing against RAN giants with big research-and-development budgets even harder.
Second, in a RAN market not expected to grow (outside China) for several years, it puts these companies up against a larger number of players than they would probably face in one specialist area. That's fantastic for telco chief technology officers who share Watson's view that greater choice is desirable. But it seats more suppliers at a table where the meal is no bigger. Either some go hungry, or everyone makes do with less. And thinness eventually drives consolidation – at least, it always has in the past. If anything makes open RAN different, it has not been adequately explained.
In the case of Virgin Media O2, the advantage of using open RAN is being able to change one part of the network without swapping out the entire system. In future, the operator could theoretically ditch some of Mavenir's radios and introduce Nokia instead (assuming the vendors can put any differences aside). What might prompt change is Nokia devising a more sophisticated radio, one Mavenir struggled to match. But this would increase the number of vendors in the mix and risk the "operational inefficiencies" cited by Watson.
Figure 3: Share price movements of Ericsson and Nokia this year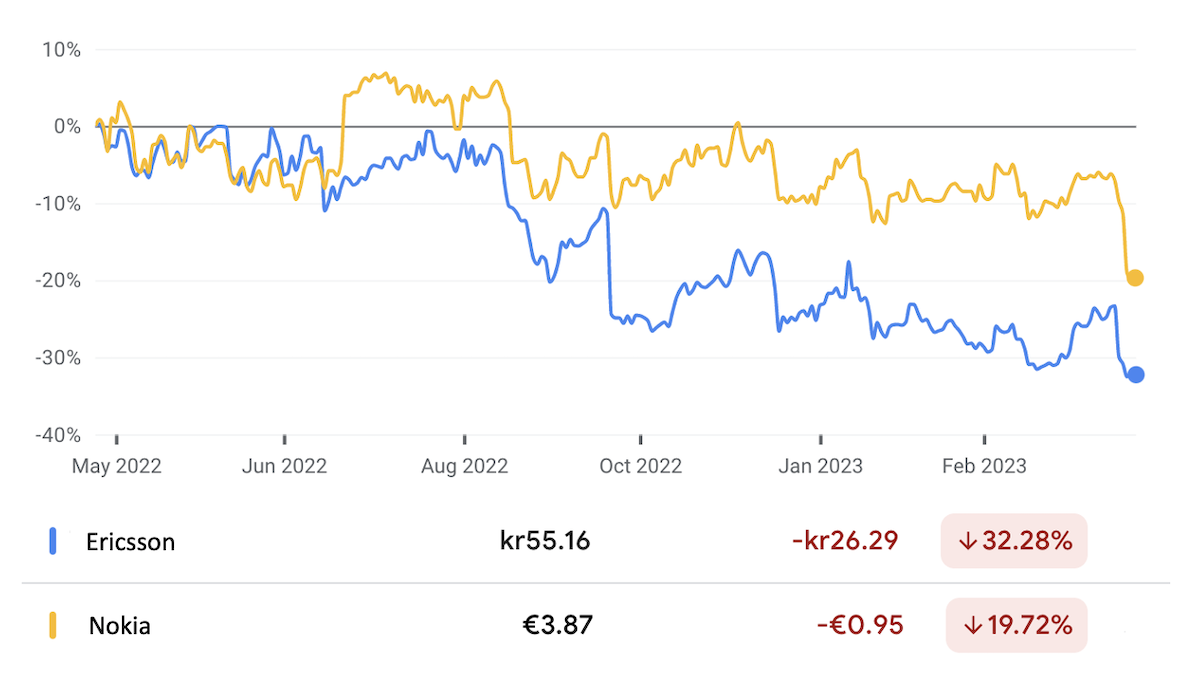 (Source: Google Finance)
Its advocates occasionally insist open RAN has already produced a more diverse market. But it's hard to agree. The technology still accounts for a single-digit percentage share of the total RAN market, thanks mainly to greenfield rollouts by Japanese and US firms. Its appearance has coincided with Huawei's eviction from western countries and the fading of Ericsson and Nokia in China. Perceived as the biggest winners so far, Fujitsu, NEC and Samsung already existed as RAN suppliers and have arguably been helped more in brownfield deployments by the sunsetting of older generations than by any open interface. Nor does an initial surge propelled by government enthusiasm prove something is sustainable.
A relatively safe bet is that open interfaces will eventually be included in mobile standards, baked into the technology from the outset. Analyst firms will be able to justify today's most optimistic forecasts (if anyone bothers to look back) by arguing that an open RAN doesn't have to be a multivendor one. But there is nothing intrinsic to open RAN that makes it technologically better. If it merely generates nice-to-have but largely unnecessary interfaces, leaving telcos served by a few big suppliers, it will have fallen well short of its goals. In the absence of compelling arguments to the contrary, that currently seems the likeliest outcome.
Related posts:
— Iain Morris, International Editor, Light Reading
Subscribe and receive the latest news from the industry.
Join 62,000+ members. Yes it's completely free.
You May Also Like
---