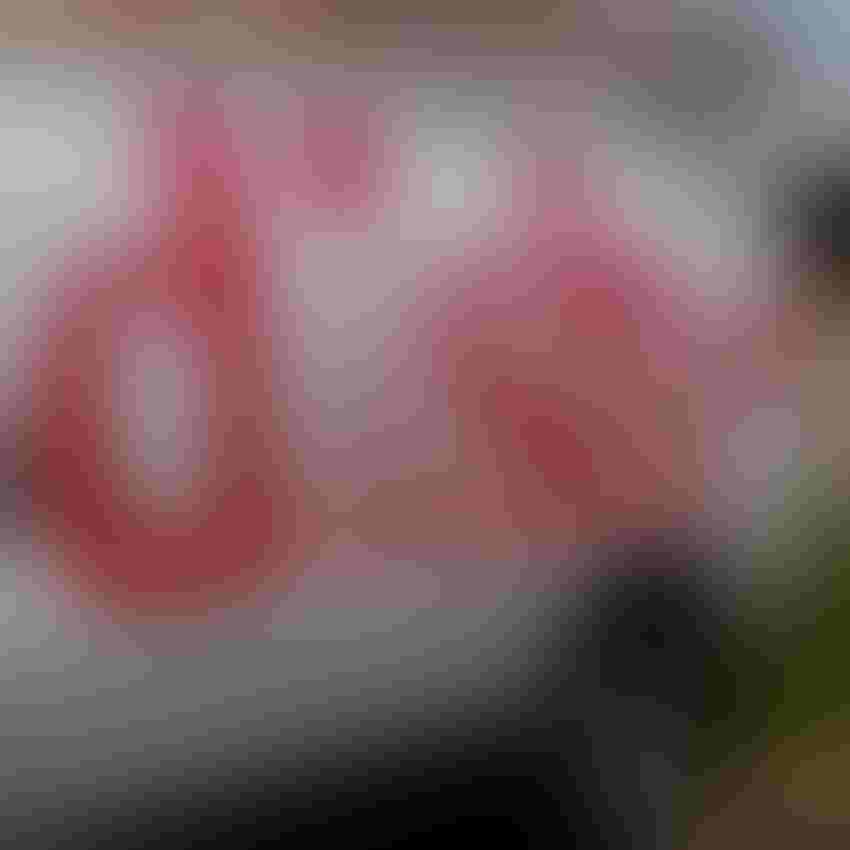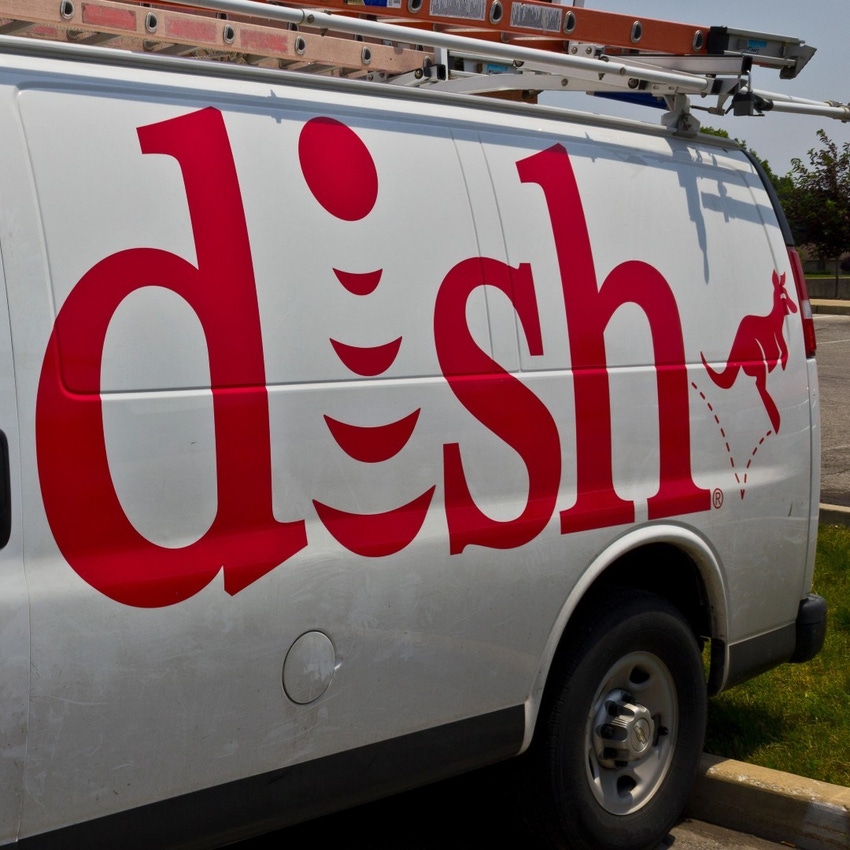 Marc Rouanne took an electric scooter with a top speed of 15mph from his Austin hotel to the Big 5G Event, arriving without signs of injury or trauma. Dish Network, his employer, goes in for similarly unconventional modes of transport, running traffic over a software-based network hosted in the cloud and supported by a legion of vendors. But unlike its chief network officer on his breezy ride through the streets of Austin, Dish has been wobbling.
Its immediate target is to cover 70% of the US population – some 230 million people – with a new mobile network by June. Designed architecturally by Rouanne, this "open" radio access network (RAN) is highly unorthodox. Operators usually buy all the RAN products at one site from a single vendor, relying on customized hardware and their own premises. Dish is mingling suppliers, putting software on Intel's general-purpose processors (GPPs) and entrusting much of its estate to the public cloud of Amazon Web Services (AWS). Building a nationwide US network from scratch would be hard enough. Dish is doing it with largely unproven methods.
Figure 1: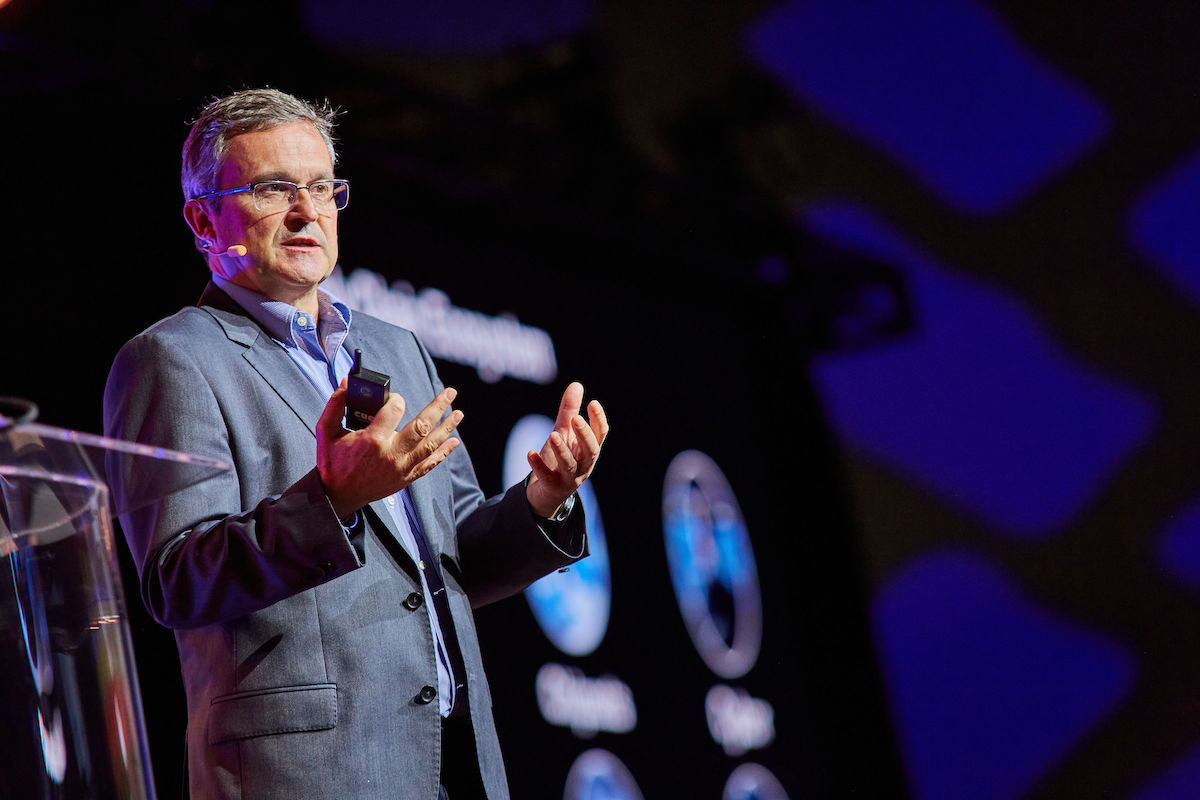 Dish's Marc Rouanne addresses Big 5G Event attendees in Austin.
(Source: JLeitner Photography)
Losses at the mobile network business nearly quadrupled last year, to more than $810 million, and S&P has warned investors that Dish will have to raise more capital to fund rollout beyond the 70% target it is supposed to reach next month. The company's long-term debt has already soared from about $14.1 billion at the end of 2019 to roughly $21.5 billion today and Dish has invested about $30 billion in spectrum licenses alone. Failure to hit coverage targets could lead to regulatory fines.
Rouanne's broad message is that Dish's costly project will eventually pay off, justifying the decisions he made. To observers, perhaps the biggest concern relates to systems integration. Traditionally, this would be handled by a vendor such as Ericsson or Nokia before a fully functional product arrives on the telco doorstep. Having brought the activity in-house, Dish must now ensure lots of disparate voices harmonize like the best-performing choir.
Vendors galore

Yet Rouanne is handling the effort with a team of just 50 people, and he doubts this will grow to more than 200 as the network is further deployed. Declining to share numbers about operational efficiency versus a traditional telco, he describes the team size as a "proxy" for cost. "That is radio and core and cloud and stacks and chipsets. Everything," he told Light Reading after his e-scooter ride to the Big 5G Event. The comparison he makes is with the overall operations department inside a typical rival. "A large operator is in the 2,000s."
There is also an industry misunderstanding about Dish's role, he said. "When we say systems integration, people think IT systems integration, and when you do complex IT systems integration, you are writing software." Instead of producing reams of code, Dish merely stitches together technologies developed by third parties. Thanks to application programming interfaces (APIs) that have been opened, the job is relatively easy, insists Rouanne. "I would rather look at it as service integration or network integration. It is very light."
The vendor call-up list is long and growing, but not all suppliers are being used. Dish has married RAN software from Mavenir (hosted in central and distributed units) with radios developed by Japan's Fujitsu. And while South Korea's Samsung is also in the RAN mix, Rakuten-owned Altiostar (now branded SymRAN) has been tested but not deployed. To avoid overreliance on Intel for chips, Rouanne is now eyeing other silicon options.
"Accelerator cards are bringing a lot of diversity," he said when quizzed about the lack of Intel alternatives. Plugged into standard servers, these cards would handle the Layer 1 or baseband part of the RAN software stack, reducing the need for a powerful Intel chip. "You could have Marvell or Nvidia or Qualcomm on Intel," said Rouanne. "I can turbocharge each of my sites with one of them."
Right now, though, Dish is not running any of its RAN software on the Graviton chips that Amazon has developed using blueprints from UK-based Arm. "We don't have it yet," confirmed Rouanne. "But it's part of the things we are testing and that we can do." A Graviton move would be significant, creating a GPP rival to x86 – the architecture adopted by Intel and AMD – for perhaps the first time ever in the RAN.
Figure 2: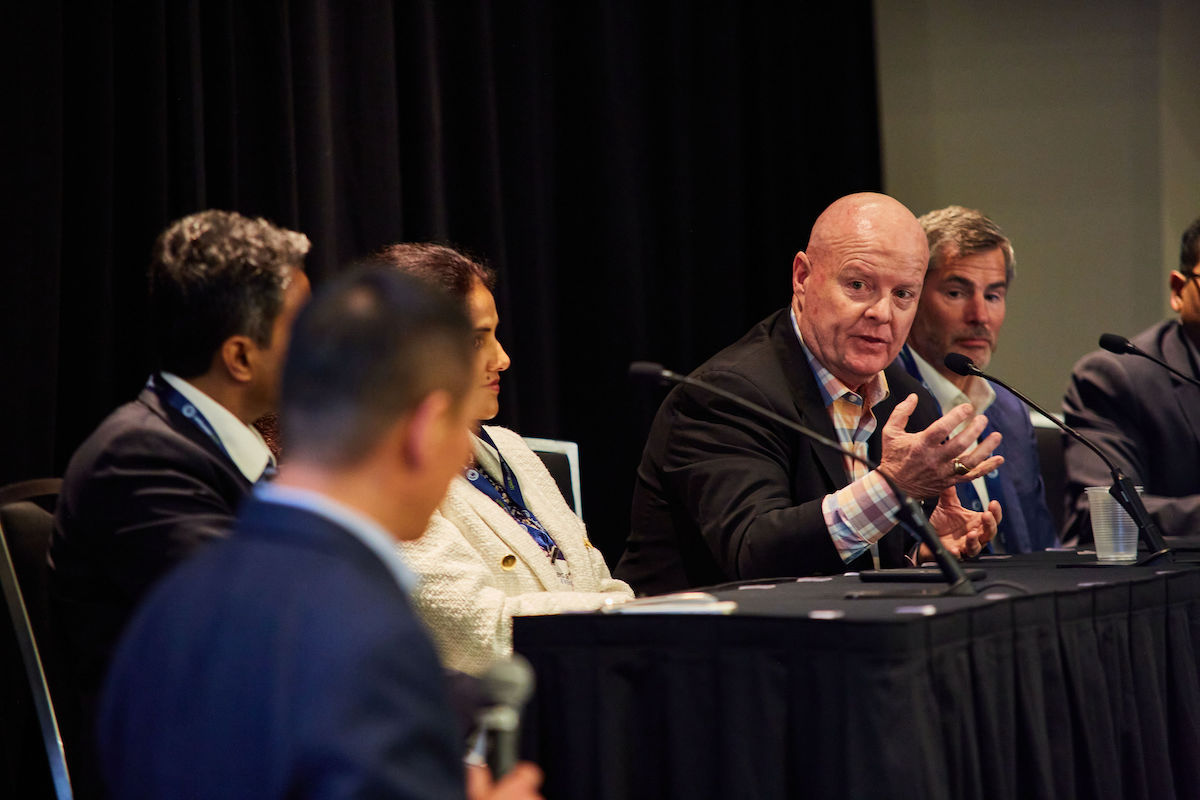 Ronny Haraldsvik of Cohere, a vendor Dish is testing, speaks on a panel in Austin.
(Source: JLeitner Photography)
In the baseband area, Rouanne concedes that classic x86 servers gobble more energy than traditional appliances, estimating the difference at between 30% and 40% on a like-for-like basis. He expects Intel GPPs combined with accelerators to be more power-efficient than traditional baseband in future. But he doubts this will have much impact. Baseband accounts for a relatively small fraction of total energy use by the RAN, according to the Dish executive. Up to 90% is generated by the radios themselves.
Hence a new focus on the RAN intelligent controller (or RIC), a kind of app store for network management. By deploying apps that can dynamically power down the network when traffic is light, Rouanne believes he could feasibly cut this energy use in half. For spectrum efficiency, he is currently testing an app built by Cohere Technologies, which claims it can double capacity on existing radios.
Cloud concern

If Intel is perceived as one potential chokepoint, heavy reliance on AWS would seem to be another. Still in the mix, however, is a private cloud built by VMware, which supports the Layer 1 software in distributed units. Most of those are located at radio sites, although Rouanne thinks about 20% of the final tally will be centralized at aggregation points, depending partly on the availability of dark fiber, which Dish buys mainly from Zayo. A smaller number of AWS facilities host the central units, responsible for processing at Layers 2 and 3.
This means the RAN software stack is currently divided between AWS and VMware clouds, but Rouanne denies there is an additional overhead. He has previously talked up VMware as a possible "abstraction layer" for porting software to another cloud platform. But with the speedy adoption of Kubernetes – an open-source tool for managing containers, the building blocks of cloud-native software – he doubts VMware is still needed in that role.
Figure 3: Dish Network's share price ($)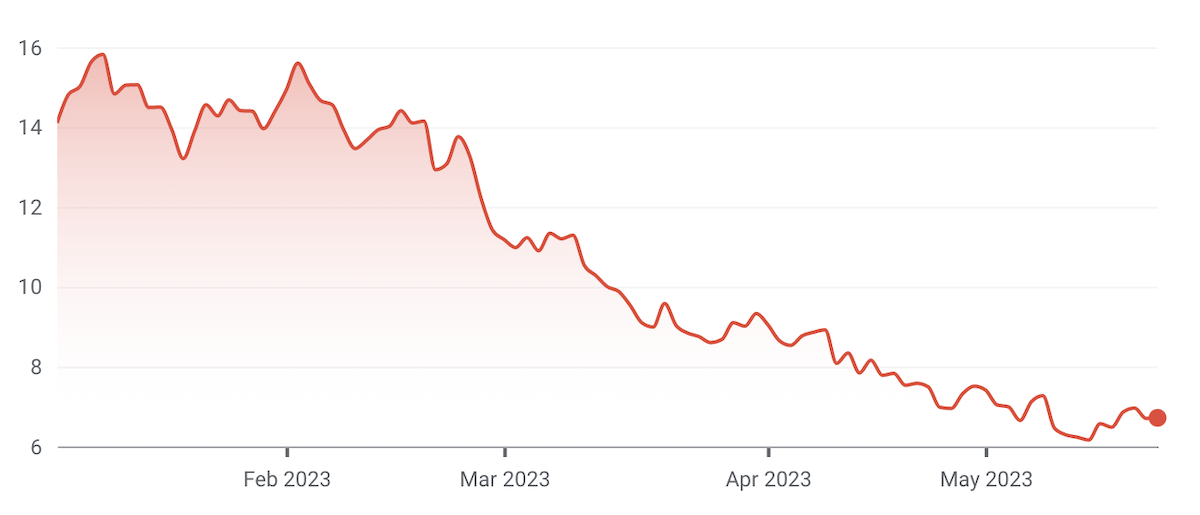 (Source: Google Finance)
"The development of cloud-native software has been much faster than I expected," said Rouanne. "VMware is kind of an addition layer if you want to use legacy software and then you can virtualize it. But once it's cloud-native, you can put it on Kubernetes directly or on bare metal. We are 100% containerized."
Dish thinks it will need at least 15,000 sites to cover 70% of the US population. It has started work on more than 18,000, it said in its most recent quarterly filing with the US Securities and Exchange Commission. But the number will grow dramatically as it turns attention to less densely populated communities, and there is speculation it may seek to extend deadlines.
"I don't want to underestimate," said Rouanne when asked about the difficulty of covering 75% of the population by 2025. The journey ahead certainly looks far more hazardous than a daytime e-scooter ride through downtown Austin. If Rouanne can do more on energy savings, operational efficiency and proving open RAN measures up, Dish will have a much better chance of avoiding a nasty tumble.
Related posts: Dish eyes major energy savings thanks to RIC Could Dish try to push out its 2025 buildout deadlines? Open RAN players race to fill their 'brownfield' gaps Dish's 'pause' looms over cell tower industry Dish pledges to slow 5G network spending this year
— Iain Morris, International Editor, Light Reading
Subscribe and receive the latest news from the industry.
Join 62,000+ members. Yes it's completely free.
You May Also Like
---