Nortel Networks Corp. (NYSE/Toronto: NT) has revised revenue figures for its enterprise business, in a puzzling move that raises questions about the company's plans for its enterprise gear (see Nortel Makes Revisions).

Nortel just started breaking out enterprise revenues in its 8-K form filed with the U.S. Securities and Exchange Commission (SEC) on October 22, 2002. That form lists revenues for the past year sorted into the following newly defined segments: wireless networks, enterprise networks, wireline networks, optical networks, and other.

Today's restatement subtly reallocates sales figures between enterprise and wireline networks. The end result is that enterprise seems to have a stronger track record of year-over-year growth, although sales have been down this year along with every other area of Nortel's business.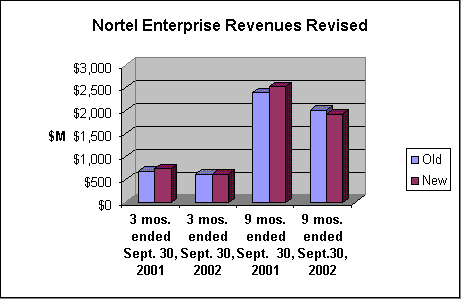 Nortel refuses to comment on the reasons for the revision. But it comes on the heels of a major push the company's made to stake its claim in the enterprise space, first by establishing a totally separate enterprise division, then raising the profile of its enterprise-oriented voice-over-IP products (see Nortel: It's Enterprise VOIP!).

The emphasis had at least one analyst buzzing about a possible sale of the enterprise division last month (see Plastina Out in Nortel Reshuffle). The requirement that separate accounting be implemented for the enterprise segment seems to bolster that notion. After all, why would Nortel be so intent on breaking out its enterprise numbers and getting them just right? Could a sale be in the works?



It might be fun to think so, but others aren't jumping to that conclusion. "It's not obvious that they're preparing for a sale from these numbers," says Steve Kamman of CIBC World Markets. He admits he's puzzled by it all, though: "The segmentation's changed a couple of times. You have to take each set of numbers on its own. We're not quite sure what to do with this."

Another source says it's a mundane problem with Nortel's bean counters. "This has happened before," writes one Canadian equity analyst who asked not to be named. "[An] internal accountant misunderstood where a particular product line fit in when restating old results."

— Mary Jander, Senior Editor, Light Reading
www.lightreading.com