Facebook Flexes Networking Muscles
Facebook Flexes Networking Muscles
Facebook is bulking up its network to meet bandwidth demands of its hungry, growing user base. AUSTIN, Texas -- Big Communications Event -- Faced with increased demands from its hungry user base, Facebook is bulking up its networks and working with partners to extend Internet access to every faraway corner of the Earth.
Facebook users burn bandwidth like crazy. The company started in 2004 exclusive to Harvard University students -- it had a scant 1,200-1,500 members in February 2004 -- and has exploded to nearly 2 billion monthly active users as of March 31, 2017.
Meanwhile, the media format of Facebook content changed, from text updates at first -- with insignificant bandwidth requirements -- to photos, and now video, with augmented reality and virtual reality coming in the near future, said Hans-Juergen Schmidtke, director of engineering, at a presentation at the Big Communications Event last week.
Moreover, people update Facebook more often than they used to, Schmidtke said.
Figure 1: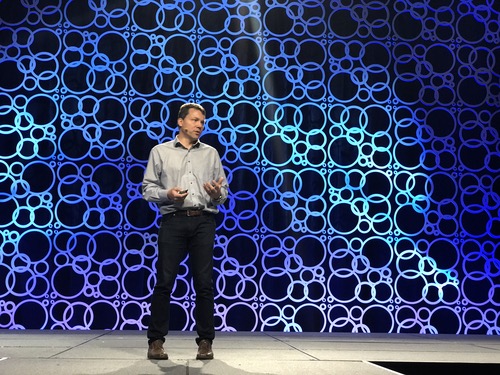 Facebook's Hans-Juergen Schmidtke
To meet the demands for network, compute and storage, Facebook has announced nine big data centers around the world. An individual building in one of these data centers contains as much floor space as the Empire State Building, and each data center typically has more than one of these buildings.
Facebook isn't just working on increasing bandwidth. It's also working on reaching out to more users, which means connecting more of the world to the Internet.
Schmidtke showed a world map of Internet connectivity. The lit-up parts have wireless access, the dark areas don't:
Figure 2: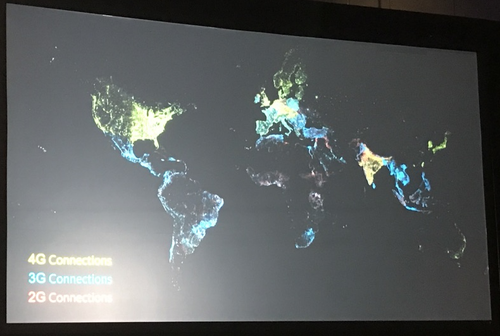 Global connectivity
Large parts of the world, including much of Asia, Africa and interior South America, are dark.
To further map the extent of Internet disconnectedness, Facebook is using AI knowledge to infer population density from satellite imagery. Facebook believes 4 billion people on the Earth lack Internet access, out of a total population of 7 billion.
For an alternate statistic: Internet World Stats says Internet access is available to 3.7 billion people, 49.6% of the world's 7.5 billion population as of March 25.
Mark Zuckerberg, chairman, CEO and co-founder of Facebook, has talked at length about his humanitarian mission for extending Internet to the poorest people in the world; he cites statistics showing Internet access helps lift people out of poverty and improves quality of life.
Facebook's Internet access program has proven controversial; it provides free Internet access to Facebook itself and partner sites, while charging for access to other sites, creating an unfair competitive advantage for Facebook and its partners, critics say. (See India Deals Death Blow to Facebook's Free Basics .)
Increasing Internet access is not just a humanitarian mission for Facebook. Increased Internet access creates a business advantage. The service has already signed up pretty much everybody on the planet with Internet access who's ever going to join Facebook, and Wall Street demands continued growth from tech companies. That means Facebook needs to get existing users using it more -- which it's doing -- and also get more people on the Internet, to fuel growth.
Fiber is most effective for point-to-point high-bandwidth connections, Schmidtke said. Facebook is also looking at wireless, primarily in the millimeter wave spectrum, using technologies such as Multiple Input and Multiple Output (MIMO) antenna and its own Terregraph and ARIES. (See Facebook Debuts Terragraph & ARIES to Extend Wireless.)
Facebook is working with Airtel and other partners on a 770km build in north-west Uganda to create an effective backhaul system to connect 3 million people. (See Facebook, Airtel to Set Up 20K WiFi Hotspots in India.)
Facebook is building open source communities to drive down the cost of data center and networking equipment using open source design. The Open Compute Project (OCP), launched 2011, is developing compute, storage and networking technologies for the data center. (See Open Compute Project Hits Critical Mass.)
Can Google make the grade as an enterprise cloud provider? Find out on our special report: Google's Big Enterprise Cloud Bet. And the Telecom Infrastructure Project (TIP), founded in February 2016, includes a collection of 450 telecom companies, including some of the largest in the industry, working on access, backhaul, and core and management. (See Facebook: TIP Will Open Telecom Hardware and Major Telcos Join Facebook's Open Compute Project.) One of TIP's groups is working on people and process for change. "Transformation of an industry is not just a technology issue. It is also -- for sure and maybe predominantly -- a people and processes issue," Schmidtke said. The group deals with the elements of change and how network operators should deal with them. TIP Ecosystem Acceleration Centers connect entrepreneurs and investors to work together on infrastructure. Participants include SK Telecom in Seoul, BT in the UK and Orange in France. The UK acceleration center alone raised $170 million from the public and private sector. Related posts: Facebook Hires Top Tesla Exec for 'Building 8' Lab Microsoft, Facebook Building Transatlantic Cable Zuckerberg: Facebook Must Stop Nations 'Building Walls' — Mitch Wagner
Editor, Enterprise Cloud News CALLING ALL CLOUD, NFV AND SDN COMPANIES: Make sure your company and services are listed free of charge at Virtuapedia, the comprehensive set of searchable databases covering the companies, products, industry organizations and people that are directly involved in defining and shaping the virtualization industry.
Subscribe and receive the latest news from the industry.
Join 62,000+ members. Yes it's completely free.
You May Also Like
---