Microsoft, Facebook Building Transatlantic Cable
Microsoft, Facebook Building Transatlantic Cable
MAREA 'will be the highest-capacity subsea cable ever to cross the Atlantic,' Microsoft says. Microsoft and Facebook plan to build a subsea transatlantic cable designed to support cloud apps, with construction starting in August and finishing up 14 months later, in October 2017.
"The new MAREA cable will help meet the growing customer demand for high speed, reliable connections for cloud and online services for Microsoft, Facebook and their customers," Frank Rey, director, global network acquisition, Microsoft Corp. (Nasdaq: MSFT) Cloud Infrastructure and Operations, said in a blog post Thursday.
The cable will serve demand for high speed, reliable connections for Microsoft cloud services including Bing, Office 365, Skype, Xbox Live and Microsoft Azure.
Microsoft says MAREA "will be the highest-capacity subsea cable ever to cross the Atlantic," with eight fiber pairs and 160 Tbit/s initial estimated design capacity. The cable will span 6,600km and be the first to connect the US to southern Europe, running from Virginia Beach, Va. to Bilbao, Spain and network hubs in Europe, Africa, the Middle East and Asia.
Figure 1: Undersea Path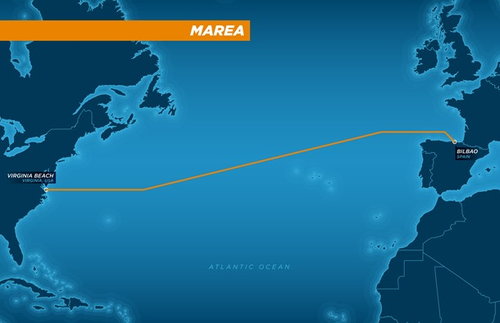 Image: Microsoft
The MAREA route is south of existing systems that primarily land in the New York/New Jersey region, to help ensure more resilient and reliable connections, Microsoft says.
"Microsoft and Facebook designed MAREA to be interoperable with a variety of networking equipment. This new 'open' design brings significant benefits for customers: lower costs and easier equipment upgrades which leads to faster growth in bandwidth rates since the system can evolve at the pace of optical technology innovation," Microsoft says.
That strategy echoes the approach Facebook uses for data center hardware, co-founding the Open Compute Project to develop open source datacenter hardware for compute and networking. (See Major Telcos Join Facebook's Open Compute Project and Open Compute Project Hits Critical Mass.)
MAREA will be operated and managed by Telxius, Telefónica SA (NYSE: TEF)'s telecoms infrastructure company.
Microsoft says it has invested $15 billion in its cloud infrastructure, with 32 Azure regions planned and 24 generally available today.
A year ago, Microsoft announced a deal with Hibernia and Aqua Comms to connect North America to Ireland and then on to the UK. The company also joined a consortium with China Mobile, China Telecom, China Unicom, Chunghwa Telecom, KT Corp. with TE SubCom as the cable supplier, to connect North America to Asia in the New Cross Pacific Cable Network.
Want to know more about the cloud? Visit Light Reading Enterprise Cloud.
The partnership between Microsoft and Facebook took "longer than I expected" to materialize, says Heavy Reading analyst Dan O'Shea. Facebook previously invested in a Pacific Ocean cable, as has Google.
Hypercloud providers, such as Google, Facebook and Microsoft, are looking to invest in this technology to "get better capacity pricing for the increasingly massive amounts of their traffic moving between locations all over the world," O'Shea says. The cable will also increase the hypercloud providers' control over capacity management, disaster recovery and overall security. (See Subsea Market Lures New Cast of Characters.)
"The subsea market traditional has seen consortia and partners team up to build cables rather than a single company going it alone, so seeing two Web giants pair up for this project is not surprising in that context," O'Shea says.
— Mitch Wagner,
, West Coast Bureau Chief, Light Reading.
Subscribe and receive the latest news from the industry.
Join 62,000+ members. Yes it's completely free.
You May Also Like
---