Arista Challenges Cisco on Campus Networks
Arista Challenges Cisco on Campus Networks
Arista is extending its Cognitive Campus strategy with networking technology gained from its recent Mojo Networks purchase. Arista says: No more BMOC for CSCO. Arista unveiled the fruits of its Mojo Networks acquisition Tuesday, promising a unified datacenter-to-campus-to-cloud networking architecture that slashes cost and difficulty compared with incumbent Cisco's patchwork approach.
The new products and services extend a strategic direction Arista Networks Inc. launched in May, which the company calls "Cognitive Campus." Arista is looking to bring the principles of cloud networking, which the company has implemented in the data center, to the campus.
Arista applies a standards-based networking architecture, replacing specialized equipment with equipment based on a single architecture. And where Cisco (and other competitors -- but mainly Cisco) use different operating systems, management stacks and APIs in different parts of the network -- even different standards for WiFi and hardwired campus networks -- Arista applies a unified architecture throughout, Jeff Raymond, Arista VP of EOS product management and services, tells Light Reading.
Figure 1: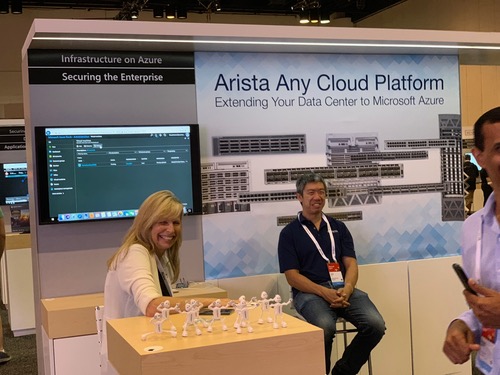 Arista at Microsoft Ignite last month. They seem to be enjoying themselves.
Now entering its fifth year, the 2020 Vision Executive Summit is an exclusive meeting of global CSP executives focused on navigating the disruptive forces at work in telecom today. Join us in Lisbon on December 4-6 to meet with fellow experts as we define the future of next-gen communications and how to make it profitable.
Automation is another big part of Arista's strategy, Raymond says. Overall, the result is drastically reduced operating expenses, faster time to making network changes, improved reliability and performance, and improved security, Raymond says.
To extend that strategy, Arista acquired Mojo Networks -- its first acquisition -- in August, and now it's unifying Mojo technology with Arista's existing products and services, the company said Tuesday. (See Arista Finds Its Campus Mojo.)
Arista is extending its CloudVision network management service to provide visibility into wired and wireless campus networks, as well as introducing Arista Cognitive WiFi, based on Mojo's previously shipping wireless access point, to improve performance, reliability and security for campus WiFi networks.
With the extended CloudVision, network operators will be able to use a unified user interface for wired and wireless networks over the campus, data center and cloud, as well as using data repositories collected over the entire network to improve performance, Raymond said.
CloudVision gains device inventory and analytics, to enable operators to keep track of Internet of Things, mobile, desktop and other endpoint devices, as well as routers and switches, Raymond said. After taking an inventory of the network, CloudVision provides analytics to find unusual traffic patterns that might identify a security breach, Raymond says.
And Mojo is bringing its cloud-managed WiFi access points to Arista networks. The business is going after large campuses and large enterprises -- as opposed to small and midsized businesses, or big, distributed enterprises, like a fast food chain. Mojo access points are built with a three-radio architecture, one more than the two radios standard in most access points. No, this isn't a "these go to 11" strategy; while the first two radios provide access, as they do in most access points, the third radio provides telemetry
The third radio watches patterns of wireless traffic. For example, if a large number of people congregate in a single location, the Mojo technology will detect the crowd and change the network on the fly to accommodate changes in user density. Additionally, the three-radio architecture provides full-time intrusion detection. And the third radio acts as a simulated client to anticipate possible problems and self-test the network for improved performance, said Rick Wilmer, Arista general manager of WiFi business and Mojo's former CEO.
Mojo provides an API-based architecture to allow third parties to customize solutions where needed; for example, Comcast uses Mojo to provide a customized wireless solution, Wilmer said.
Arista's big competition here is, as Raymond notes, Cisco -- specifically Cisco's Meraki business unit. And it's not just in wireless and on campus; Cisco is Arista's biggest competitor overall. Arista has managed to succeed against the much larger rival by keeping a focus on one market -- high-performance data centers. It remains to be seen whether this new extension onto the enterprise campus builds on that strength, or pushes Arista too far leaving Cisco still on top as Big Man on Campus (BMOC).
Related posts:
— Mitch Wagner




Executive Editor, Light Reading
Subscribe and receive the latest news from the industry.
Join 62,000+ members. Yes it's completely free.
You May Also Like
---