It is probably way too early to hail the end of the downturn in the network infrastructure market, but data released today shows a significant growth in contract announcements over the past six months.

According to research firm Allied Business Intelligence Inc. (ABI), the total number of publicly announced contract awards for wireless networking equipment has shown a consistent upturn since February this year.

"There are definitely more contracts being signed," Edward Rerisi, director of research, tells Unstrung. "There is still strength in 2G and 2.5G markets, since carriers worldwide are still extending their networks for capacity in more mature market areas but also for coverage in some of the emerging areas. Many contract awards originate from emerging markets."

The graph below indicates that the majority of network growth stems from continuing demand for second-generation GSM (General System for Mobile Communications) and GPRS (General Packet Radio Service) networks.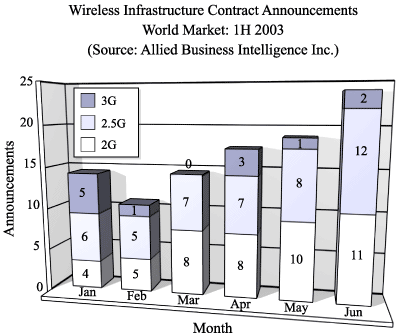 Rerisi expects this scenario to change dramatically in the next few years, as carriers ramp up rollout of third-generation W-CDMA (Wideband Code Division Multiple Access) networks. "In the short term, W-CDMA will represent less than about 15 percent of all network spending -- hardly enough to get equipment vendors excited this year. However, over the next few years, this spending will accelerate, expanding to more than half of the overall market. Future strength in this market lies in the 3G, W-CDMA segment."

Such predictions echo previous Unstrung Insider forecasts on the inevitable migration to W-CDMA networks (see W-CDMA: When, Not If).

Despite his findings, the ABI man is keen to stress that this is no clearcut evidence of an imminent market recovery. "Declaring an end to the downturn by extrapolating these trends over the last six months would be imprudent," he warns. "There is still considerable uncertainty in the market. Nothing will change overnight. Equipment spending will grow very slowly over the next few years."

— Justin Springham, Senior Editor, Europe, Unstrung