The FCC is scheduled to vote on an NPRM today that if enacted (and it will be) will start the wheels turning on an effort to repeal the Open Internet Order that was passed in 2015. Much has already been written on the surrounding issues, but it's worthwhile revisiting a few of the important ones here.
First, although the topic is referred to in shorthand as net neutrality, there are actually two components to the Open Internet debate.
One is the issue of whether Internet service providers block, throttle and/or offer paid prioritization for the delivery of content. On that front, many ISPs say they support net neutrality provisions and agree that those behaviors shouldn't be tolerated. Others say the first two shouldn't be allowed, but that paid prioritization could enable new business models.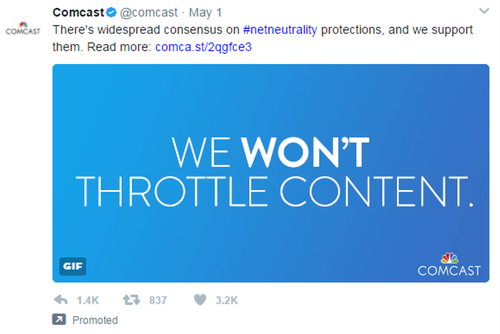 Regardless of where service providers come down on those net neutrality provisions, however, the other component of the debate -- namely the reclassification of ISPs as Title II common carriers -- has drawn even wider industry condemnation. The country's largest ISPs are determined to return to a less stringent regulatory framework where broadband is classified as an information service rather than a utility telecom offering. The hitch is that the Federal Communications Commission (FCC) doesn't have jurisdiction to impose net neutrality rules if it doesn't also regulate ISPs under Title II.
In short, net neutrality and Title II classification go hand in hand. At least under current law.
The second issue to be aware of is that a vote by the FCC today doesn't mean the Open Internet Order will or won't be repealed. It is only the very first step of a long process that will ultimately have to be taken up by Congress, or re-litigated in the courts with proof that the situation has changed since the last time the courts heard the Open Internet case.
Third, the fight over net neutrality has jumped into high gear again, and nobody is likely to back down in the coming months. ISPs are taking out ads to promote their side in the debate. Researchers are putting out reports on both sides of the argument, attacking or defending the idea that the Open Internet Order has been bad for the broadband business. And of course, there's the John Oliver effect. The HBO comedian and rabble-rouser is once again mobilizing the masses to fight against an FCC repeal. And where John Oliver goes, many consumers follow.
For further reading on the topic, see the many, many articles we've written here at Light Reading in the last two years. There are sure to be more to come.
Further reading:
— Mari Silbey, Senior Editor, Cable/Video, Light Reading