NEW YORK – Light Reading staffers are now comfortably ensconced in cubicles at their palatial new worldwide headquarters in lower Manhattan.

The address is well known in telecom circles: 32 Avenue of the Americas, the landmarked AT&T Building.

"It's great. From up here on the 21st floor I can hock a loogie that will kill a small animal," says Stephen Saunders, president and co-founder of Light Reading. "As far as office moves go, I say 'mission accomplished.' "

So does this mean we've just become your average cube monkeys? Far from it -- the 8,000 square foot, custom-designed space on the 21st floor includes a sweeping 180-degree view of lower Manhattan, including the Hudson River, the Brooklyn Bridge, and the Statue of Liberty.

The LR-specific plans were drawn up by architects TSC Design Associates, the project completed by Cresa Partners, contracting courtesy of Lewis & Kennedy. The dominant colors are Accessible Beige and Fireworks Red.

Also in the works: Light Reading's television studio, where more LRTV content will be produced. The office also includes a high-tech network of flat-panel video screens for your LRTV viewing.

Editorial monkeys are enclosed in a bullpen built with a Herman Miller Ethospace full glass partition (in case they fling poo).

Of course, we've brought along our happy tropical fish tank. All but one survived the migration. Remington Eel, the snowflake moray eel is now, like Light Reading, nearly six years old. Also, for those of you who hadn't noticed, Light Reading is now owned by CMP Media LLC, a division of United Business Media. (SeeCMP Acquires Light Reading.)

So let's stop bragging and let the photos speak for themselves.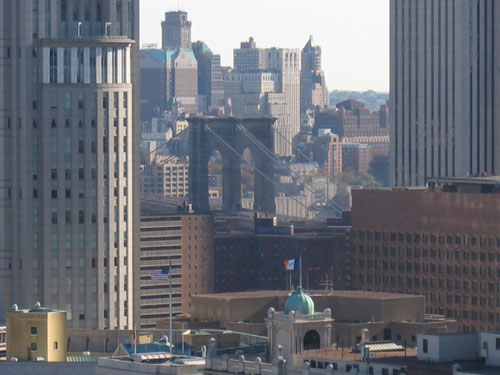 Those wishing to check out the office while they brief us on industry action -- or even dish a little dirt -- are of course welcome to visit (but please call before you come!).

— R. Scott Raynovich, US Editor, Light Reading