SAP's Prime Directive: Aggressively Cloud-Agnostic Strategy
SAP's Prime Directive: Aggressively Cloud-Agnostic Strategy
In contrast to competitor Oracle, SAP offers multi-cloud portability for infrastructure-as-a-service (IaaS). LAS VEGAS -- SAP TechEd 2017 -- SAP is looking to differentiate from the competition by pursuing an aggressively cloud-agnostic, open source strategy, letting enterprise customers run SAP platforms and applications on their favorite public clouds.
Also: Björn Goerke, chief technology officer and president of the SAP AG (NYSE/Frankfurt: SAP) Cloud Platform, is a serious Trekkie.
Goerke took the stage for Tuesday's conference keynote wearing a Star Trek uniform, in character as Captain Kirk, on a surprisingly faithful reproduction of the Enterprise bridge set from the 1960s TV show. Other executives, also in costume as Star Trek characters, took the stage to demonstrate new SAP technologies.
SAP tied together the Star Trek theme with support for public cloud and open source. SAP Cloud Platform previously supported Amazon Web Services Inc. and beta for Microsoft Corp. (Nasdaq: MSFT) Azure. This week, the company introduced public beta support for Google (Nasdaq: GOOG) as well
Figure 1: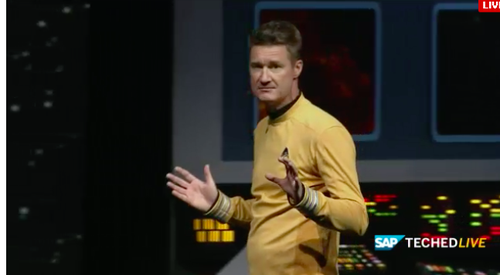 SAP'S Björn Goerke, a big nerd.
SAP also runs its Cloud Platform in its own data centers, with new ones announced this week in Toronto and Moscow, and expanding into the Amazon Web Services data center in Sao Paolo, planned for 4Q 2017.
As for open source: SAP is a platinum member of the Cloud Foundry Foundation, which provides a platform for application portability across clouds. SAP joined the Open API Initiative and this week joined the Cloud Native Computing Foundation, whose projects include Kubernetes, as a platinum member.
SAP extended cloud support to developers who work in the company's legacy ABAP language, launching ABAP in SAP Cloud Platform, allowing ABAP developers to write code that runs in the cloud, with integration into Github.
SAP introduced SAP S/4HANA Cloud SDK running on SAP Cloud Platform, to allow partners to build applications running on SAP's flagship S/4HANA ERP system on SAP Cloud Platform. The Cloud SDK will be the main tool allowing partners to customize ERP apps running in the cloud for individual companies and industries.
And SAP announced the express edition of SAP HANA platform, a streamlined edition of the company's flagship database, is available on the Microsoft Azure Marketplace, Huawei Cloud, Google Cloud Launcher, Docker Store, as well as SAP Store.
Earlier this week, SAP launched Data Hub, to allow enterprises to store data in the cloud, on premises, or on the edge, but centralize management. Data Hub fits the theme of SAP allowing enterprises to store data and software where it suits enterprise business needs. (See SAP Launches Data Hub: Leave Your Data Where It Is, Centralize Management.)
Keep up with the latest enterprise cloud news and insights. Sign up for the weekly Enterprise Cloud News newsletter.
SAP's software provides platform-as-a-service (PaaS) that runs on either the company's own infrastructure-as a-service or third-party clouds including Amazon, Microsoft, and now Google.
"Our strategy is to go multi-cloud and add value on the PaaS layer," Dan Lahl, SAP product marketing vice president, tells Enterprise Cloud News. "Where we will make our money is where we have always made money, which is the business process layer."
SAP uses Cloud Foundry as the enabling layer to run SAP's PaaS on AWS, Azure and Google, Lahl says. SAP also uses Kubernetes and Docker for portability. "That's why we're supporting open source. Why do we want to develop all that stuff on our own?" he said.
SAP's multi-cloud strategy is in contrast to competitor Oracle Corp. (Nasdaq: ORCL), which runs its own IaaS and PaaS. Last week, Larry Ellison, Oracle chief technology officer, co-founder and chairman, called a last-minute press conference to announce a new "self-driving," automated version of the company's database, available on Oracle's own cloud. Ellison spent much of the press conference talking about how much less expensive Oracle cloud is than AWS. (See Oracle's Ellison: We'll Beat Amazon Cloud Pricing by Half.)
Other SAP competitors include Salesforce.com Inc. and Workday , which provide limited IaaS options compared with SAP.
For an enterprise application company like SAP, it makes sense to be IaaS-agnostic, Josh Greenbaum, an independent enterprise applications analyst, tells Enterprise Cloud News. "The important thing for SAP is they're pushing all three of them" -- AWS, Azure, and Google, Greenbaum says. "Let customer choice define your platform."
— Mitch Wagner




Editor, Enterprise Cloud News
Subscribe and receive the latest news from the industry.
Join 62,000+ members. Yes it's completely free.
You May Also Like
---