SAP Launches Data Hub: Leave Your Data Where It Is, Centralize Management
SAP Launches Data Hub: Leave Your Data Where It Is, Centralize Management
The SAP Data Hub allows enterprises to extract value from data in the cloud, on premises, or wherever it resides. LAS VEGAS -- SAP TechEd 2017 -- SAP says the old model of centralizing data in a single repository is broken. The staggering volume of data produced by the Internet of Things, customer interactions and other sources, makes it impossible to bring all of an enterprise's information into one place. Instead, businesses need to leave data where it is, and centralize management and extracting value.
That's the proposition for the SAP Data Hub introduced by SAP AG (NYSE/Frankfurt: SAP) Monday.
Data is "the new oil, the new currency -- but if you're not careful, it can become the corporate cholesterol for your business," Greg McStravick, SAP database and data management president, said at an event Monday in New York, streamed live to the SAP TechEd conference in Las Vegas.
The SAP Data Hub is designed to allow companies to build applications that extract value from data whether in the cloud, on premises, in a data lake, an enterprise data warehouse, in SAP and non-SAP systems. For example, data sources can include SAP HANA or non-SAP sources such as Apache Hadoop or Amazon S3 data stores.
The Data Hub can also access data outside the enterprise -- more than half of the data used by organizations doesn't belong to those organizations, so organizations need to be able to access data sets outside their four walls, McStravick says.
Figure 1: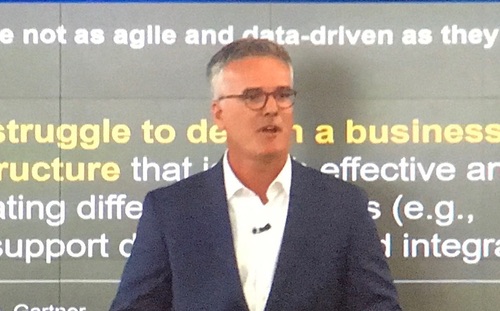 SAP's Greg McStravick.
Keep up with the latest enterprise cloud news and insights. Sign up for the weekly Enterprise Cloud News newsletter. The Data Hub can be deployed in the cloud, on premises, or in a hybrid environment. The platform permits governance, to give organizations visibility into who changed data, what was changed and who is accessing the data, SAP says. The software lets organizations create "data pipelines" for processing information from multiple sources, using libraries of computational and machine learning such as TensorFlow. Pipelines are executed fast by distributing computation to native environments where data resides. And the Data Hub provides data sharing between applications and across organizations. "You're moving from a world of centralizing the data into one location to centralizing the management of the data," McStravick says. "You're leaving the data where it resides. That's a fundamental proposition of the Data Dub." SAP customers took the stage to describe the value they anticipate from the Data Hub. Adam Fecadu, chief information architect for McKesson Corp., said the SAP technology can help resolve data conflicts. "Traditionally, having data scattered across multiple landscapes was difficult," he said. "It was difficult to trust which data you're getting." Data Hub can help provide "one source of truth." McKesson will be able to combine clinical data, lab results, and other information. "The ability to take all this information and align it will give us the opportunity to improve patient outcomes," he said. Mervin van der Spuy, chief data officer for ATB Financial, values the Data Hub's capability to maintain data in the best possible location. "What we like about the Data Hub is that you can leave your data exactly where it is" or move it where it's needed, he said. ATB Financial will also look to Data Hub to help secure data. "It is important to our customers to know data is safe and we can be trusted to look after their data," van der Spuy said. — Mitch Wagner




Editor, Enterprise Cloud News
Subscribe and receive the latest news from the industry.
Join 62,000+ members. Yes it's completely free.
You May Also Like
---