Oracle Cloud Revenue Bursts 44%
Oracle Cloud Revenue Bursts 44%
Cloud revenues rose 44% but Wall Street wasn't satisfied. Oracle reported total cloud revenues up 44% to $1.5 billion for the second quarter of its fiscal 2018. But that wasn't enough for Wall Street, as shares were down 3.43% in after-hours trading.
Oracle Corp. (Nasdaq: ORCL) reported cloud-software-as-a-service (SaaS) revenue was up a whopping 55% to $1.1 billion in the second quarter fiscal 2018, which the company reported Thursday afternoon. Cloud-platform-as-a-service (PaaS) plus infrastructure-as-a-service (IaaS) revenues were up 21% to $396 million.
"Overall cloud revenue growth of 44% drove our quarterly revenue and earnings higher," Oracle CEO Safra Catz said in a statement. "Our success in the quarter was based on the increasing scale and the gathering momentum in our cloud business. I expect the business to continue to grow and strengthen over the coming quarters."
Overall, Oracle reported up 6% to $9.6 billion, up 6% year-over-year. Cloud plus On-Premise Software revenues were up 9% to $78 billion.
Oracle reported non-GAAP net income up 16% to $3.0 billion, with non-GAAP earnings per share up 14% to $0.70.
Oracle traded at $46.89 after hours Thursday.
Cloud revenues lagged analyst estimates; the average analyst estimate was $1.56 billion, actual cloud revenue was $1.52 billion, according to Reuters.
Oracle plans to deliver its "self-driving database" next month, which executives said they expect will drive further cloud migration. The database, announced in October, "is fully automated and requires no human labor for administration. If a security vulnerability is detected, the database immediately patches itself while running. No other system can do anything like this. Best of all, we guarantee the price of running the Oracle Autonomous Database in the Oracle Cloud is less than half the cost of running a database in the Amazon Cloud," Oracle CTO Larry Ellison said in the company's earnings statement. (See Oracle's Ellison: We'll Beat Amazon Cloud Pricing by Half.)
Figure 1: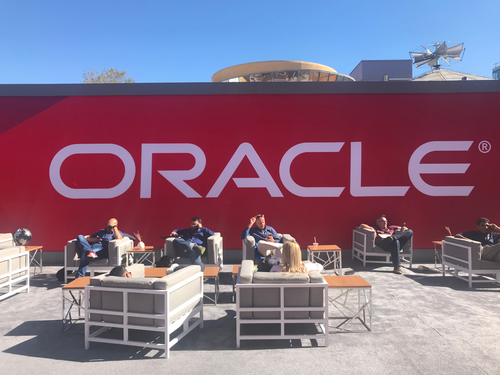 Relaxing during the Oracle OpenWorld conference in October.
The autonomous database is "going to be an enormous driver for customers to move their important workloads to the cloud," Catz said on the company's earnings call.
Ellison agreed. "The first big move of Oracle customer databases to the cloud will begin in January," he said on the earnings call. Previously, Oracle's customers haven't moved to the cloud at scale, not even Oracle's own cloud. But the economics of the autonomous database in the cloud will move customers "very, very rapidly," Ellison said.
On the call, Ellison engaged in his traditional competitor trash-talking. Asked by an analyst about reports that enterprises are moving off Oracle, Ellison retorted that Oracle's own competitors are doing business with the company, including Amazon.com Inc. (Nasdaq: AMZN), which signed a $50 million contract, as well as Salesforce.com Inc. , SAP AG (NYSE/Frankfurt: SAP) and SAP Ariba.
For the coming, third quarter, Oracle estimates cloud revenue will see 21% to 25% growth, total revenue 2% to 4%, with non-GAAP earnings per share of $0.68 to $0.70
Related posts:
— Mitch Wagner




Editor, Enterprise Cloud News
Subscribe and receive the latest news from the industry.
Join 62,000+ members. Yes it's completely free.
You May Also Like
---