Are Amazon & Salesforce Ditching Oracle?
Are Amazon & Salesforce Ditching Oracle?
Both Amazon and Salesforce are looking to get away from Oracle, according to a report from The Information. Mom always told us if you say mean things about the other children, they won't want to play with you. Larry Ellison, Oracle's feisty founder, is learning that lesson, if a report on The Information is true.
Oracle Corp. (Nasdaq: ORCL) trash-talked both Amazon.com Inc. (Nasdaq: AMZN) and Salesforce.com Inc. last year -- particularly Amazon -- and now both companies are looking to cut their extensive investment in Oracle databases, according to a report on The Information Tuesday, attributed to anonymous company insiders.
Ellison singled out Amazon in particular for verbal abuse last year, but Salesforce got its share. In an earnings call last month, Ellison said, "Amazon continues to buy Oracle technology to run their business," spending $50 million during the quarter. And Salesforce "runs entirely on Oracle," he said. (See Oracle Cloud Revenue Bursts 44%, Oracle's Ellison: We'll Beat Amazon Cloud Pricing by Half, 'No Facts, Wild Claims & Lots of Bluster'; Amazon Hits Back at Oracle's Ellison and Oracle's Ellison: Amazon & SAP Use Our Database Because We're Better.)
"But Mr. Ellison's comments about Amazon and Salesforce don't tell the whole story," notes The Information, in an article by Kevin McLaughlin. "In reality, both companies are actively working to replace Oracle software running on critical business systems with open-source database software alternatives, and have made significant progress toward getting off Oracle entirely, according to people familiar with the matter."
Figure 1: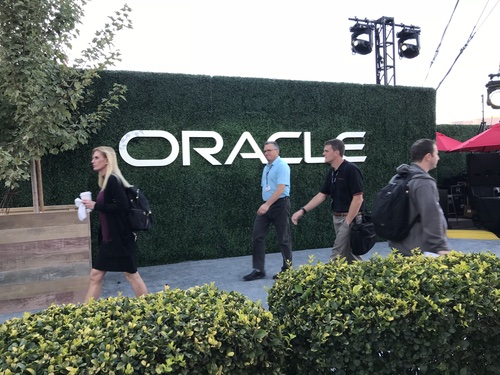 Keep up with the latest enterprise cloud news and insights. Sign up for the weekly Enterprise Cloud News newsletter. Amazon began exploring Oracle alternatives in the early 2000s. Its retail unit has switched two internal internal databases that power its ecommerce business from Oracle to NoSQL, McLaughlin says. Salesforce has been developing an Oracle database replacement, with the delicious code-name "Sayonara" (which is of course Japanese for "goodbye") and is ready to deploy it internally. Salesforce expects to be completely off Oracle in 2023, McLaughlin says. Oracle declined to comment, and Amazon did not respond to a query from Enterprise Cloud News. As for Salesforce: "We don't comment on rumors," a spokesperson said in email. "But I can tell you that Salesforce is focused on delivering the most trusted, reliable and resilient infrastructure available and we do that with a multi-vendor approach." Amazon and Salesforce may be motivated by cost, as Oracle is very expensive, and Oracle aggressively enforces licensing, which is confusing and easy to violate, McLaughlin notes. Larry Dignan, writing at Between the Lines, presents an alternate theory: that the two companies are tied to Oracle; they just want Ellison to shut up about it. And, indeed, the development efforts inside of Amazon and Salesforce could all just be a matter of getting leverage over Oracle. By preparing alternatives to Oracle -- and leaking news about it too -- Amazon and Salesforce could simply be building muscle to negotiate a better deal with the big red database provider. On the other hand: Amazon is stepping up its database service offerings to compete with Oracle, while Salesforce and Oracle compete on applications. Does it makes sense for two companies to rely on a competitor for vital infrastructure? (See Microsoft, Salesforce Dominating SaaS Market, Report Finds.) Related posts:
Oracle Buying Construction Specialist Aconex for $1.2B Oracle Cloud Revenue Bursts 44% AWS Draws Disney in as Cloud Customer Oracle OpenWorld: The View From the Show Floor – & Beyond — Mitch Wagner




Editor, Enterprise Cloud News
Subscribe and receive the latest news from the industry.
Join 62,000+ members. Yes it's completely free.
You May Also Like
---