 Ask most cable and telecom network operators about municipal broadband and there's a fair amount of eye rolling, usually followed by references to failed projects that cost taxpayers money and never delivered results. But despite industry skepticism -- and often outright antagonism -- a new crop of city executives is re-examining their role in broadband deployments.
Why? First, the national discussion around smart cities has evolved. It's not just about putting sensors on street lights and adding cameras to intersections anymore. There is growing recognition that network infrastructure is critical for enabling smart city initiatives at scale, and with that understanding has come the logical deduction that owning and/or controlling network assets is valuable.
"Infrastructure is the yellow brick road" for smart cities, says David Graham, deputy COO for the city of San Diego, who spoke this week at the Smart Cities Connect Conference & Expo in Kansas City.
And for the first time at this annual event, that sentiment was echoed by a significant number of city and technology leaders now working to implement smart city strategies.
Second, while most cities recognize that they can't do everything on their own, they're also becoming more aware of where they do have leverage with the private sector, as well as the potential consequences of not setting ground rules with partners today before the Internet of Things takes over.
A good example of this is the city of San Francisco. Mayor Mark Farrell has announced a new "Fiber for SF" initiative with the goal of getting fiber broadband to every home and business, and making free WiFi available in public spaces. According to Farrell, a team of folks from the city has been working behind the scenes on this project for four years, and after much research, he and his cohorts have decided that they want to create a public/private partnership to achieve their aims. However, a key tenet of that partnership will be that the city must own its network infrastructure.
"This is really what people wanted: publicly owned from day one; [an] open access network," says Farrell. And, "We want net neutrality back. We want consumer privacy protections."
Farrell says the plan is to sign a contract with a partner to run lit and dark fiber network services in the city for 15 years, all with provisions in place related to net neutrality, privacy, security and equity. That partner will build and operate a gigabit-speed fiber network, and then lease it out to retail service providers, earning a guaranteed percentage of the revenue generated.
So far, the city of San Francisco has released a Request for Qualifications regarding the project, and it is right now processing responses to that RFQ from potential partners. The hope is that the city will be able to draft a concrete proposal in the near future that it can put to voters for budget approval in November. If approval is granted, the city will then move to a Request for Proposal (RFP) process.
"In terms of owning the asset itself... to me it's critically important that the public owns it, especially as you think about the revenue opportunities down the road," says Farrell.
But he adds, "To be clear, we're going to have a large opposition campaign from the telcos... And we're ready for it."
Figure 1: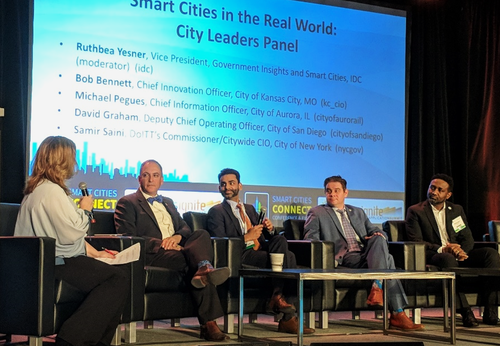 Pictured from left to right: IDC VP Ruthbea Yesner, Kansas City CIO Bob Bennett, New York CIO Samir Saini, San Diego Deputy COO David Graham and Aurora CIO Michael Pegues
Another example of network infrastructure leadership is coming from New York City. While CTO Miguel Gamiño, who has helped manage several projects including the LinkNYC kiosk rollout, is getting ready to leave his position, Samir Saini, the former CIO of Atlanta, has just relocated to New York as DoITT Commissioner and CIO.
Saini not only brings a wealth of expertise with him, but he's also gaining authority in his new NYC role with direct oversight of the city's telecom franchise agreements. Those franchise agreements are where the rubber meets the road for network infrastructure, and Saini is clear that he will pursue arrangements designed to make sure all of the city's residents benefit over the long term.
"The infrastructure stuff is not sexy, but it is really important," says Saini. "And I think the core foundational component to any city being a smart city, and however you want to define that, is a connected city. So it's that basic foundational broadband access for everybody in your city. It's the equitable and affordable distribution of high-speed broadband on every street, in every home, in every public facility across our cities."
You're invited to attend Light Reading's Big Communications Event -- the ONE event that delivers fresh perspective on the rapid transformation of the telecom industry and the road ahead. We'll see you May 14-16 in Austin -- communications service providers get in free!
In the latest wave of municipal interest in broadband network infrastructure, there is general consensus that cities and commercial operators are going to have to find new ways to partner. While a few communities are taking broadband entirely into their own hands, most are actively seeking help from the private sector, recognizing that particularly as the smart city movement gains momentum, local governments aren't best suited to handle the complexity of network operations and the rapid pace of technology change.
Network operators also seem to be coming to terms with the idea that they have to court communities if they want to form successful partnerships and put themselves in a position to make serious money from smart cities.
At the Smart Cities Connect event, service providers showed up in force this year, with AT&T Inc. (NYSE: T) and Sprint Corp. (NYSE: S) acting as sponsors, and Charter Communications Inc. , Cox Communications Inc. and Verizon Communications Inc. (NYSE: VZ) all making the rounds at panels and keynote sessions. These operators want to open a dialog with cities, and in many cases have already begun that process.
As the conversation continues, they'll just have to make sure not to underestimate the will of the current class of city leaders, or how informed and strategic about network infrastructure they are starting to become.
Related posts:
— Mari Silbey, Senior Editor, Light Reading
Subscribe and receive the latest news from the industry.
Join 62,000+ members. Yes it's completely free.
You May Also Like
---