 John Horn recalls his first encounter with RPMA (Random Phase Multiple Access) several years before he became CEO of On-Ramp Wireless, the company behind the wireless technology. "I was fascinated by what it brought to the table," he says. "It's the only technology designed from the ground up to meet the needs of machines without going through a human interface first."
Back then, Horn was still CEO of Raco Wireless, a managed services provider catering to the machine-to-machine (M2M) communications sector. But when rival KORE Wireless Group Inc. acquired Raco in late 2014, Horn wasted little time. "The first thing I did was to call a couple of Board members at On-Ramp, who had previously tried to recruit me, and say, 'I love your technology and I want to license it and build a network'."
Figure 1: Locking Horns With LPWA Rivals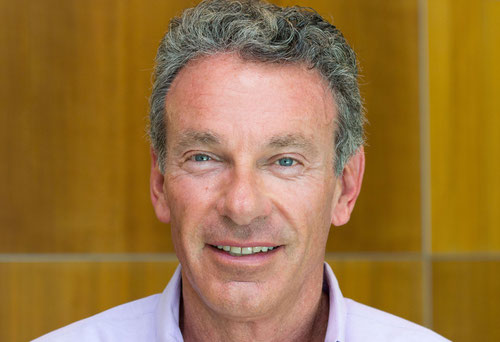 John Horn, Ingenu's CEO, makes a bold case for the RPMA technology his company has developed.
It's now almost one year since Horn took up the leadership role at On-Ramp, and the company has changed nearly beyond recognition in that period. Having originally focused on building private networks for utilities and municipalities, the San Diego-based firm has rebranded as Ingenu -- a name that means "simply genius," according to Horn -- and is now positioning itself as a key player in the fast-developing market for low-power, wide-area (LPWA) network technologies. "With the contracts we've signed we cover about three quarters of the world's population and so we are rapidly moving towards being a global standard," says Horn.
Like other purveyors of LPWA technologies, Ingenu relies on unlicensed spectrum and claims to be far more energy-efficient, and much better at supporting long-distance connections, than cellular. All of that makes it ideal for a range of emerging Internet of Things (IoT) applications, says Horn, including smart metering, asset tracking and fleet management. Organizations in 53 countries have now signed licensing deals with Ingenu, and the company is also building out a RPMA network in the US that it will operate itself.
So far, only a few of Ingenu's international partners have been revealed, but Horn insists this is because Ingenu does not want any publicity until licensees have launched at least one major application on RPMA technology. "There are some companies that are really good at announcing fluff and we want to announce meat," he tells Light Reading. "We literally have an announcement a week lined up for the next six months."
Lack of publicly announced deals notwithstanding, Ingenu's progress seems impressive. Sigfox , a French company with a similar technology and business model, is active in only 18 countries, even though it has been vigorously promoting itself for years. Scathing in his assessment of Sigfox's technology, Horn reckons the French player's relentless marketing has played into Ingenu's hands. "Sigfox is my greatest sales force right now," he says. "They are doing a great job of waking people up to the need and then turning around and not being able to deliver a viable product."
Next page: LPWA turf wars
LPWA turf wars
What makes Ingenu so much better, then? As Horn tells it, the biggest attraction of RPMA is the technology's wide-area capability. In a press release distributed earlier this month, Sigfox hinted at plans to build 230,000 sites across the US to provide nationwide coverage. Horn says it will not take this many sites for Ingenu to cover the entire planet. "Depending on topography, Sigfox has to put in between 18 and 40 times as many towers as we do," he boasts. "That affects profitability for licensees dramatically."
Figure 2: Ingenu Claims Access Point Advantage
Source: Ingenu
Sigfox also comes up short on its two-way communications capability, according to critics. Supporters of LoRa, another LPWA technology, have previously argued that Sigfox is unable to support downlink communications -- that is, from the network to the sensors -- as effectively, giving LoRa a much bigger addressable market. Horn goes even further, effectively castigating Sigfox as a one-way system. "When I sold Raco we had 1,600 customers in 71 countries supporting thousands of products and not one of those apps would work on the Sigfox network," he says. "With the small amount of [downlink] data they transfer, they are dead in the water."
Yet the LoRa Alliance , the association that represents LoRa technology, has also slammed Ingenu's technology for relying exclusively on 2.4GHz spectrum. While this means an Ingenu radio and device should work anywhere on the planet, the 2.4GHz band is used to support WiFi communications as well, making RPMA subject to interference and congestion, according to an Alliance spokesperson. In his view, Ingenu is "too late to the game" and the decision to focus on 2.4GHz is a "strategic mistake." (See LoRa Alliance Defends Tech Against Sigfox Slur.)
Figure 3: Spectrum Band Comparison, According to Ingenu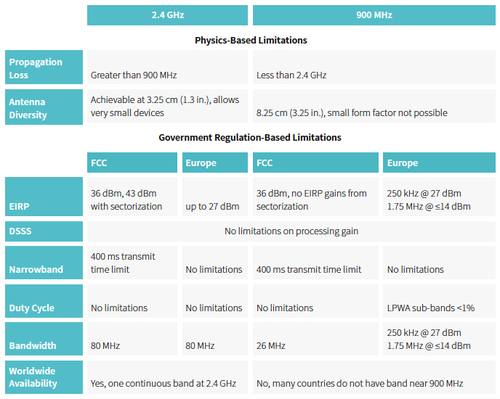 Source: Ingenu
"I'm happy they think that and hope they keep thinking that," responds Horn. "The secret sauce is how RPMA deals with this: We have networks running today in Los Angeles, Tokyo and Seoul where you could not get a more interference- and congestion-rich environment, and yet there are no problems."
It might help that Ingenu has been able to point to actual deployments of its technology in private networks. As On-Ramp, the organization deployed about 38 of these private networks on five continents, meaning prospective new customers do not usually have to go far to see RPMA in action. Private-network clients willing to share their stories have reported some major benefits. In Nigeria, for example, oil giant Shell says an $87,000 investment in RPMA, which it is using to cover the Niger river delta, saved it about $1 million in operating costs over the course of a year.
Details of such experiences should also help to persuade organizations that licensing arrangements with Ingenu will pay off. Under the company's model, a licensee is charged an upfront fee, giving it the exclusive right to build and operate an Ingenu network in a particular country, and puts money for hardware construction into escrow. Once the network is up and running, it pays an annual licensing fee for every access point on the tower and a separate fee for every device on the network. "It's not a revenue share and is very profitable for them," insists Horn.
Clearly, Ingenu is keen to distance itself from any comparison with Sigfox, whose growing pains may owe something to its own revenue-sharing demands. In late 2014, Sigfox was reported by Light Reading to be claiming as much as 40% of the service revenues its partners generate. A source close to the matter reckons Sigfox takes an even bigger cut. (See The Wolf at Sigfox's Door and Sigfox Plans Global IoT Network.)
Next page: Open or closed?
Open or closed?
Nevertheless, each company is pushing a proprietary technology, and RPMA is arguably even less "open" than Sigfox, which is licensed free of charge to a number of chipmakers. Critics say this is why they will not survive, at least in their current forms. "If you look back at the history of wireless communications there aren't any successful proprietary technologies," says William Webb, the CEO of the Weightless Special Interest Group, which is working on an open LPWA standard. "That is not by accident -- there are very strong reasons why people prefer open technologies." (See Weightless Aims to Exert Gravitational IoT Pull and IoT Will Have iPhone Moment – Weightless CEO.)
Horn's rejoinder is that the attractions of the RPMA set-up override any such concerns. Because Ingenu owns all the intellectual property "from soup to nuts," it can offer guarantees and commitments that other technology providers cannot match, he says. Its ecosystem is also growing: Under a deal announced last week, Taiwan's Compal Electronics Inc. is set to build a number of RPMA-compliant devices and modules. "We're speaking with hardware makers at every layer of this industry who have come to us and said what do you need us to build for you," says Horn.
Want to know more about the Internet of Things? Check out our dedicated IoT content channel here on Light Reading.
Yet if Ingenu were to fail, its control of intellectual property could leave licensees in the lurch. Right now, Ingenu is undoubtedly benefiting from the lack of viable, "open" alternatives in the LPWA community. While the LoRa Alliance has donned the mantle of openness, chipmaker Semtech Corp. (Nasdaq: SMTC) appears to own the intellectual property behind LoRa technology. Sigfox makes its technology freely available to chipmakers but fiercely guards other parts of the ecosystem. And Weightless has yet to gather momentum (at least publicly).
In the absence of an open technology, Horn's persuasive sales patter could be driving business towards Ingenu, which claims to have generated 2,000 "inbound leads" in April and to have averaged 1,000 a month during the past half year. Unable to disclose details of revenues and profitability, Horn boasts that his company generates more in a single day's sales than the $5 million Sigfox is reported to have made over the whole of 2015. "We've closed all fundraising and have no intention of raising more," he says. "We have enough cash to do what we need to do to cover the world."
Figure 4: What's in the Box?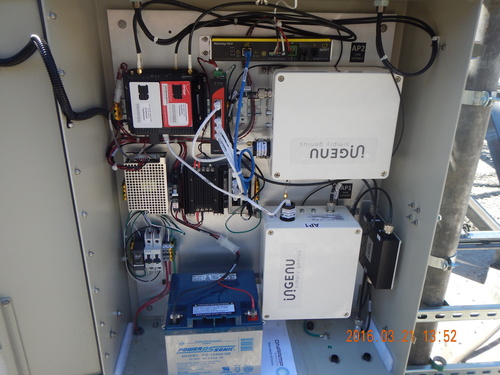 Source: Ingenu
The big challenge to Ingenu may come with the arrival of NB-IoT, an LPWA technology being developed by the cellular community that will use licensed spectrum. Indeed, one possibility is that operators use unlicensed-spectrum technologies as an LPWA stopgap until NB-IoT arrives. France's Orange (NYSE: FTE) has already suggested it is pursuing this approach. Other telcos, however, have thrown their full weight behind NB-IoT, arguing it entirely obviates the need for LPWA technologies based on unlicensed spectrum. "NB-IoT will crush Sigfox and LoRa because it means there will be no need for them," said Matt Beal, the director of innovation and architecture for Vodafone Group plc (NYSE: VOD), in a conversation with Light Reading at the operator's UK headquarters. (See Vodafone to 'Crush' LoRa, Sigfox With NB-IoT and LoRa May Not Be for Long Haul at Orange.)
Landon Garner, Ingenu's chief marketing officer, is relatively sanguine. "I think NB-IoT is going to be the eventual competitor that we have, but eventual is the key word," he says. "I don't think the standard is even written and it will be at least a couple of years before the platform is serviceable."
The NB-IoT Forum, which includes vendors and operators involved with the technology, is confident its standard will be finalized in the next couple of months as part of the 3GPP's Release 13. But forecasts that commercial NB-IoT networks will be deployed in the first half of 2017 look optimistic. In all likelihood, NB-IoT will not be around to mop up much of the business created by the "sun-setting" of 2G and 3G networks -- a process that is already underway in the US and a few other developed markets. If Ingenu can establish itself as the de facto LPWA standard in the meantime, it may ultimately prove hard to shift.
— Iain Morris,

, News Editor, Light Reading
Subscribe and receive the latest news from the industry.
Join 62,000+ members. Yes it's completely free.
You May Also Like
---