Big increases in carrier spending on Ethernet equipment are being forecast by Infonetics Research Inc., following surveys of service providers and vendors.

Infonetics conducted formal interviews with 27 infrastructure-owning carriers for its latest report, entitled "Service Provider Plans for Metro Optical and Ethernet," released yesterday (see Infonetics Surveys Ethernet Capex Plans).

The results indicate that nearly two thirds of carriers plan to roll out QOS-based services over Ethernet by next January. These services include packetized voice, bandwidth on demand, and private lines.

The survey also points to two significant swings in the market. First, retail has now overtaken wholesale as the main source of revenue for Ethernet services. Second, 63 percent of respondents now say they will use Resilient Packet Ring Technology technology in their networks after January 2005, twice as many as in 2003.

This is reflected in RPR equipment revenue forecasts. Infonetics says RPR revenues hit $323 million in 2003 and will triple to $967 million in 2007, a compound annual growth rate (CAGR) of 32 percent.

These figures were incorporated into forecasts for metro Ethernet equipment revenues released by Infonetics last week. It says vendor revenues totaled $2.9 billion in 2003, and this will rise to $7.5 billion in 2007, a CAGR of 27 percent. In terms of ports, it will rise from 1.1 million in 2003 to 5.8 million in 2007, a CAGR of 52 percent (see Metro Ethernet Equipment Tops $2.9B).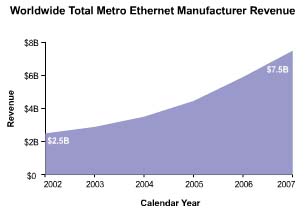 Table 1: CY2003 Worldwide Total Metro Ethernet Equipment Technology Share
Technologies
Market Share
Ethernet over fiber
66.7%
Ethernet over Sonet/SDH
20.9%
Ethernet over copper and cable
5.5%
RPR over fiber
3.5%
Ethernet over WDM
2.9%
Ethernet PON
0.4%
Total Revenue
100.0%
Source: Infonetics Research




Port shipments in 2003 were almost equally divided between provider equipment (PE), which accounted for 51 percent of sales, and customer located equipment (CLE), which made up the remaining 49 percent; but Infonetics expects a 20 percent shift towards CLE ports, with PE at 31 percent, by 2007.

"The shift is because Asia is quickly rolling out lots of VDSL, which gives 30 to 100 Mbit/s to customers over copper," says Michael Howard, founder and principal analyst of Infonetics. China, for example, has a goal of 75 million broadband users by the 2008 Olympics. As a result, service providers in the Asia/Pacific region continued to drive the global market last year, accounting for 41 percent of revenue.



— Nicole Willing, Reporter, Light Reading