9:10 AM -- Reuters reports that the Swiss tourism industry is trotting out the beefcake (or Rindfleischkuchen) in hopes of luring Fußball widows and other desperate housewives:


For women bored at the thought of this summer's World Cup soccer finals in Germany, neighbor Switzerland is offering an alternative packed with beefcake.

A cow-milking 'Mr. Switzerland' and other handsome men are featured in a new advertising campaign seeking to entice soccer widows to leave their sports-obsessed men behind.

"Dear girls," starts the television spot, to run in France, Germany and Switzerland beginning in May.

"Why not escape this summer's World Cup to a country where men spend less time on football, and more time on you?," the advertisement, says over images of a strapping farmhand, a sexy train conductor, a fit mountain climber, a dapper ferryman and a brawny lumberjack.
I believe they do a pretty mean version of "YMCA."

The video "ends with Renzo Blumenthal, Mr. Switzerland 2005, milking and then leaning up against a cow..."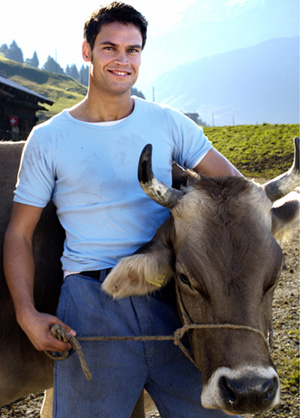 — Larry, Attack Monkey, Light Reading