Telcos Beware: Sidewalk Labs Is on the Move
Sidewalk Labs, the independent company owned by Alphabet, is pressing forward with an effort to create so-called living laboratories for urban development. After announcing back in May that it planned to develop a smart city "built from the Internet up," the company is now hunting for a Director of Public Realm Technology to help lead that and other pilot smart city initiatives.
In a blog post from June 30, Rohit Aggarwala, who is co-head of labs at Sidewalk Labs , promoted the job position at the end of a discussion about learning how to make the most of public spaces. The position is also highlighted on the Sidewalk Labs Twitter feed and listed alongside several other openings on the company's website.
A job posting on its own is a limited indication of where Sidewalk Labs is headed. But after its announcement two months ago about pursuing a "large-scale district" for smart city development, the company appears to be committing itself further to turning that strategic roadmap into reality.
Alphabet's ambitions matter
Sidewalk Labs is only one of the many companies and public sector organizations attempting to use next-generation communications networks to boost urban efficiencies in transportation, healthcare, education and more. However, because it has the backing of Google (Nasdaq: GOOG) parent Alphabet Inc. , the offshoot company's ambitions carry far more weight than the average startup, and even threaten to challenge incumbent service provider strategies for smart city development. That's because, whether or not Sidewalk Labs succeeds in its efforts, it has the power to set the pace and direction of the smart city movement much the way that Google Fiber Inc. initiated the spread of gigabit services in the consumer broadband market.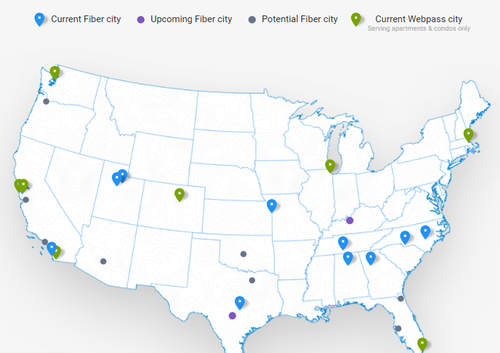 Today, Google Fiber's fiber-to-the-home gigabit services are only available in ten cities, and after pressing pause on broadband deployments nine months ago, the company's roadmap is still unclear. It appears the company plans to continue rolling out gigabit services in new locations using a combination of wired and wireless technologies, including the assets it acquired from Webpass in 2016. However, after several years on the market, Google Fiber clearly isn't a competitive national broadband provider, and if that was the company's goal, it hasn't succeeded. (See Google Fiber Hits Pause Button, Scales Back and Gigabites: Et Tu, Google Fiber?)
Yet in some ways, it barely matters.
When Google Fiber first started offering gigabit broadband in Kansas City in 2012, the number of other gigabit cities in the US amounted to no more than a handful, if that. Shortly after the Kansas City launch, however, AT&T Inc. (NYSE: T) began a massive effort to upgrade its infrastructure to offer gigabit services in several markets. Comcast Corp. (Nasdaq: CMCSA, CMCSK) also started an unprecedented push to deploy new fiber and introduced its first gigabit market in Atlanta in 2015. Other ISPs, both privately and municipally owned, followed suit.
Sidewalk Labs has the potential to be the same catalyst in the smart city space.
---
For more broadband market coverage and insights, check out our dedicated Gigabit/Broadband content channel here on Light Reading.
---
If you read through the company's website, Sidewalk Labs has lofty goals that it organizes around the principles of Build, Care, Manage and Model. The company wants to address housing affordability, healthcare challenges, how to use city data to improve civic operations and how to use data models to improve transportation, community sustainability and more.
But make no mistake, connectivity is at the heart of these goals, and Sidewalk Labs knows it. The company says point blank that "the foundation of a city built from the internet is ubiquitous connectivity." And that's why the telecom industry should be paying attention.
Sidewalk Labs leaves a clue
There is much that Sidewalk Labs hasn't revealed about its work, and the company declined the request for an interview for this article. However, the organization has one deployed project that indicates where its activities are overlapping with telco interests. The LinkNYC program in New York City is providing free WiFi services to city residents through kiosks placed throughout the five boroughs.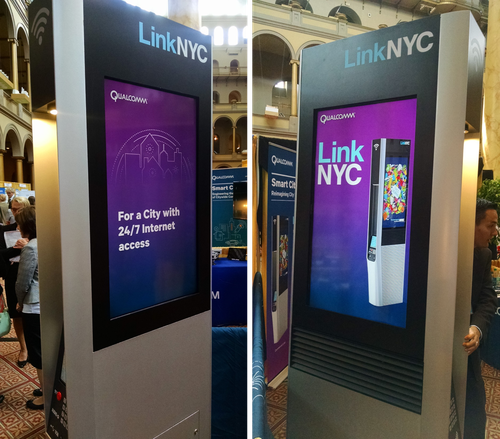 What is Sidewalk Labs' role? In a complicated chain of ownership, Sidewalk Labs (owned by Alphabet) has funded Intersection, which is one of the companies on the LinkNYC team. Intersection is delivering the WiFi services for LinkNYC in collaboration with Qualcomm Inc. (Nasdaq: QCOM) and using the city's own fiber infrastructure through a partnership with dark fiber provider ZenFi . Civiq Smartscapes is providing the physical kiosks. (See Civiq Smartscapes Builds 'iPhone for the Street' and ZenFi Brings Dense Dark Fiber to NYC.)
The Link model isn't only being deployed in New York City, however. The first InLinkUK kiosks started appearing in London last month. In that case, Intersection has taken a different tack than the one it's used in NYC. In London, Intersection has partnered with BT to offer WiFi services, showing that the company is open to different connectivity approaches depending on the circumstances of a particular city.
It's unclear if there will be substantial further Link deployments in the near future. But as with Google Fiber, the impact of the initiative still promises to ripple throughout the telecom industry. Intersection, a.k.a. Sidewalk Labs, a.k.a. Alphabet, is showing cities new ways to get connected. And those new ways could involve partnerships with existing ISPs, or they could not.
It may not be up to telcos to decide.
Related stories:
— Mari Silbey, Senior Editor, Cable/Video, Light Reading
UPCOMING LIVE EVENTS
June 6-8, 2023, Digital Symposium
June 21, 2023, Digital Symposium
December 6-7, 2023, New York City
All Upcoming Live Events
PARTNER PERSPECTIVES
- content from our sponsors