Cloudflare Protects Data With Lava Lamps

Comment (4)
Cloudflare is using a wall of lava lamps in its San Francisco office as a random-number generator, which is essential to secure encryption.
Groovy.
Encryption requires random numbers to work, and those turn out to be difficult to come by when you're dealing with computers, which are non-random and predictable by design. "You don't want to have your computer do something different every time you turn it on," Matthew Prince, Cloudflare Inc. CEO and co-founder, tells Light Reading.
To solve that problem, computers take measurements of the world around them, which is decidedly random and unpredictable. Mobile devices can use phone accelerometers, and desktops can take measurements from the microphone, or time between keystrokes, or ambient or CPU temperature. Servers have hardware random-number generating modules.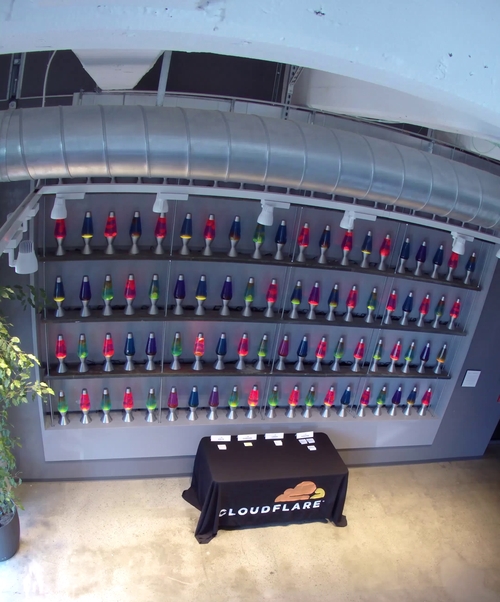 ---
The fundamentals of network security are being redefined -- don't get left in the dark by a DDoS attack! Join us in Austin from May 14-16 at the fifth annual Big Communications Event. There's still time to register and communications service providers get in free!
---
To generate its own random numbers, Cloudflare decided to use a camera trained on a bank of lava lamps in its San Francisco office, and measure the motion of the fluid in the lamps.
"Obviously we can do this in ways that are less flashy, but sometimes when you have a company that is deep infrastructure, like Cloudflare, you have to explain in easy ways what you are doing," Prince says.
Cloudflare has more information on its blog.
Cloudflare provides encryption and other security services for web applications; it claims 10% of web requests flow through its service, running out of 150 data centers worldwide. The privately held company claims more than $100 million annual revenue. This week, it launched Spectrum, a service that goes beyond web traffic to secure any Internet data, including legacy and Internet of Things applications. (See Cloudflare Wants to Protect the Whole Internet – Legacy Apps, IoT, the Works.)
Cloudflare also has dual pendulums in its London office, and a Geiger counter in Singapore, to generate random numbers. But the lava lamps are more, well, psychedelic.
Related posts:
— Mitch Wagner




Editor, Enterprise Cloud, Light Reading
PARTNER PERSPECTIVES
- content from our sponsors
GUEST PERSPECTIVES
- curated contributions