Cisco Declares a New Era of Intent-Based Networking

6/20/2017

Comment (5)

SAN FRANCISCO -- Cisco is taking the plunge into intent-based networking, a philosophy that redefines how the network operates, turning all those switches and routers into one automated, intelligent system.
Intent-based networking has been discussed around the industry for some time, but having Cisco Systems Inc. (Nasdaq: CSCO) describe the technology as "redefining the network for the next 30 years," as CEO Chuck Robbins said during a launch event here today, is significant. This could be a major step toward making the network smarter -- both in terms of automating network configuration and making the network smart enough to respond to real-time changes.
We'll define "intent" more specifically below, but here's the gist. The intuitive network, as Cisco calls it, is a radical departure that makes the network smarter and, maybe more importantly, easier to operate.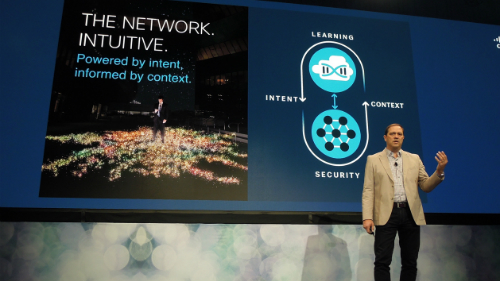 "We have to drive ruthless simplicity" in order to accommodate a world of mobility and IoT, Robbins said. Specifically, large enterprises "need to turn the entire infrastructure into a single system."
To make this work, intent-based networking will be paired with telemetry and machine learning -- a feedback loop that lets the network take context into account.
DNA, catalysts and a "new" IOS
The intuitive network is not being rolled out to Cisco's whole portfolio yet. Today's announcements were confined to a few new products, although they've got implications for the rest of the enterprise portfolio. Here's what Cisco announced:
The DNA Center. A descendant of Cisco's Digital Network Architecture, the DNA Center will be the command center that communicates intent to the network devices and also receives and interprets telemetry from around the network. This is the key new element that will run Cisco's intent-based networking.
Catalyst 9000 switches. These are new systems based on new, programmable ASICs -- "programmable" to the point that the chips can house other vendors' applications.
That means "the cloud can be extended all the way down to the edge of the network," Senior Vice President David Goeckeler said. "If I have IoT devices, and I want to learn more about those devices at the edge of my network, I can run the applications right on these platforms."
Catalyst 9000 represents a refresh of the entire Catalyst portfolio. For example, the Catalyst 9300, a fixed-form switch, is the next generation of the Catalyst 3000 line. The Catalyst 9400 is the successor to the entire 4000 line. And so on. All of these boxes are powered by...
A "rebuilt" IOS. In today's presentation, Goeckeler noted that Cisco's venerable network operating system has been rewritten to be to be open, modular, and API-driven. Sounds like a huge undertaking, right? It turns out, he's just talking about IOS XE, which is nearly a decade old.
Some new elements of IOS XE are in play, though. Container support has been added, along with the ability to program the OS through APIs. IOS XE was built with APIs in mind, but not all of those hooks for that support were in place until now, Prashanth Shenoy, VP of Enterprise Networks, IoT and Developer Platforms, told Light Reading at the event. IOS XE, in its new form, will be programmable by users and, like the ASICs, can host third-party applications, Shenoy said.
Encrypted traffic analytics. This part doesn't directly drive the "intent" stuff, but it's clever: Cisco claims it's able to spot malware inside encrypted traffic. The traffic doesn't have to be decrypted -- meaning Cisco is providing this security feature while still maintaining privacy.
Robbins said 75,000 organizations are conducting field trials of the intuitive network, and the Catalyst 9000 models are orderable as of now.
The intent of "intent"
Under intent-based networking, the network configures itself based on what outcome the user or operator wants. Today, to get the network to do anything requires configuring machines. The intent of "intent" is that a network operator could issue a command -- "prevent Department A from accessing anything in Finance," for instance -- and the network would configure itself to make that happen.
Intent-based networking could be a relief for anybody who's daunted by Cisco's famous command-line interface, but this isn't just about convenience. Networks are reaching unprecedented scale and complexity thanks to trends such as cloud computing and the early incarnations of the Internet of Things (IoT). Configuring boxes one by one, or even manually configuring them in large groups, isn't going to cut it.
Cisco is not the first company to talk about intent-based networking (which can also be called policy-based networking). It isn't the first company to implement these ideas; some of them are already at work in other vendors' security products. Heck, the Catalyst 9000 switches aren't even the first intent-based products within Cisco; the ACI architecture for software-defined networking is policy-based and arguably counts as intent-driven networking.
One interesting note: At a time when openness and open source sharing are in vogue, Cisco's intent-based networking is a home-grown recipe, created just for Cisco's portfolio.
Related posts:
— Craig Matsumoto, Editor-in-Chief,
Light Reading

(5) |