Microsoft & Walmart Heat Up Amazon War

Comment (0)
Walmart and Microsoft are expanding their cloud partnership to beef up their competitive games against their common Amazon enemy.
The initial focus will be moving Walmart's thousand of internal business applications to Microsoft Azure, Microsoft said in a blog posted Monday morning. The two companies will also work on developing new applications using emerging technologies such as Internet of Things, AI and chatbots.
Walmart is expanding its Austin, Texas, technology center -- which it calls a "cloud factory," because that's a fancier name. The goal is to transform how its employees work, and how its customers shop, Microsoft says. (Walmart calls its employees "associates," because that's more posh.)
"About 30 technologists, including engineers from both Walmart and Microsoft, will work together side by side in the cloud factory, expected to open in early 2019 as an extension to a strategic partnership announced in July," Microsoft says. "The factory will be an expansion of Walmart's innovation hub, a vibrant workplace opened earlier this year in the center of Austin's growing technology scene." The team is known internally as 4.co, for its location at Fourth and Colorado streets.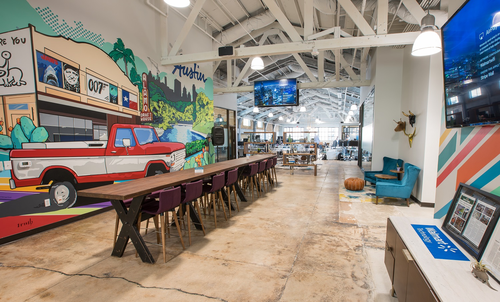 ---
Now entering its fifth year, the 2020 Vision Executive Summit is an exclusive meeting of global CSP executives focused on navigating the disruptive forces at work in telecom today. Join us in Lisbon on December 4-6 to meet with fellow experts as we define the future of next-gen communications and how to make it profitable.
---
Walmart named Microsoft as its "preferred and strategic cloud provider" in July, part of a five-year agreement to transform its retail business and make shopping faster and easier for customers using machine learning, AI and other cloud technologies. (See Walmart Teams With Microsoft Against Common Amazon Enemy.)
The collaboration is part of a multi-year transition to modernize Walmart's enterprise applications, creating more efficient business processes and decrease operational costs associated with legacy architecture, Microsoft says.
The work includes thousands of IoT sensors on HVAC and refrigeration systems that process a billion daily messages from stores worldwide, to help Walmart save energy and prevent product loss, Microsoft says. Walmart is also deploying internal chatbots to help employees with benefits, finding mentors and better manage supplier engagement. The retailer is also deploying a natural language processing platform capable of processing 40 terabytes of unstructured and providing near real-time insights.
Additionally, Walmart plans to make use of Microsoft's AI and Cognitive Services in Azure, beginning with applying natural language processing to post-payment auditing.
"Microsoft's going to get to see stuff at a scale they've never seen before," Clay Johnson, Walmart executive vice president and enterprise CIO, says on the Microsoft blog. Walmart has 11,200 global stores and 2.2 million employees.
At the Microsoft Ignite conference in September, company CEO Satya Nadella shook a scolding finger at Amazon. Nadella didn't name Amazon directly, but he was clearly giving AWS the side-eye when he said it was a "strategic mistake" to depend on a provider "who is providing you [with] a commodity on one end only to compete with you on the other end." (See Microsoft: We're Not Bullies Anymore! We're Nice!)
Several software and cloud services companies at the Ignite conference said they're seeing retailers moving cloud workloads from AWS, put off by competition from Amazon's own retail business. These were companies doing business with both Microsoft and AWS. Although several vendors and at least one analyst say they're seeing no such migration. (See Are Retailers Leaving Amazon Cloud?)
— Mitch Wagner




Executive Editor, Light Reading
PARTNER PERSPECTIVES
- content from our sponsors
GUEST PERSPECTIVES
- curated contributions