It's been a good month for VMware.
Following its official partnership with Amazon Web Services at its VMworld conference in Las Vegas, the company headed to Europe to detail additional cloud agreements with a number of other providers, including Vodafone. (See Following Amazon Partnership, VMware Is a Cloud Company Now.)
At the show, Sanjay Poonen, VMware's chief operating officer, sat down with Enterprise Cloud News contributor Pablo Valerio to talk about the AWS deal, containers and Kubernetes, mobile device and cloud management, as well as the company's expansion into the telecom market.
ECN: During VMworld US and now here in VMworld Europe you are making several announcements about new technologies and partnerships. What are the technologies and competition that VMware considers a threat?
Sanjay Poonen: Two years ago the threats to VMware were the public cloud and the world of containers. We have made a lot of progress there. We have a cloud strategy now that I think is second to none, we have [established] relationships with IBM Cloud, with AWS; we just announced Horizon Cloud on Microsoft Azure, and PKS with Google Cloud, the four biggest public clouds.
Containers, too. It was a big threat to us in the last years, and I would say we have clarified that strategy with the announcement two weeks ago of PKS embracing Kubernetes... People thought that everything was going to be Docker, but Kubernetes has done a much better job, and the benefit [to us] of waiting is that we have been able to see Kubernetes take off.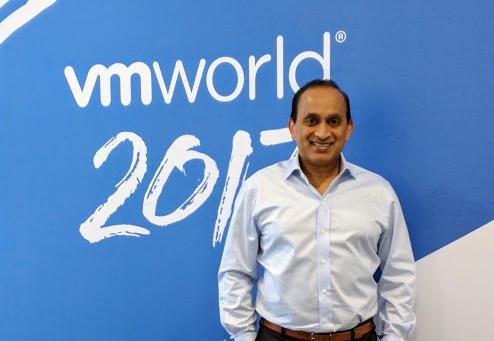 I feel those were the two challenges in the last two years that we changed into opportunities. We had to change them from a head wind to a tail wind. Now we have to execute.

ECN: Some of the announcements, such as the Vodafone deal, are related to business with telcos and cellular carriers. How important is that business for VMware?

SP: Telcos and cell providers are one of our top three verticals. In other words, of all our customers (over 500,000) one of the top three is telcos. Those customers spend a lot of money in VMware. We talked about Vodafone, we had Swisscom on stage with me. We have in the same sector Liberty Global, which is more of a broadband provider.

So our goal is to become the de facto standard for software-defined virtualization on the IT side and the networking side of telcos.

Network -- NFV -- is very important. We have made a commitment to that and we want several of these customers, not just one, to become more successful. We have created a telco business unit to create the products and solutions on the network side.

And we happen to be the leading mobile security solution after we brought AirWatch. Many of these telcos partner with us to resell the mobile security solution -- AirWatch and Workspace One -- to their customers. AT&T in the US does a lot of that, along with Vodafone, Verizon, Telefonica, Orange, T-Mobile, NTT. All the top 50 carriers in the world we want them to resell our mobile security solutions so they can protect the most number of devices, and one of the best paths to market is through the telco.

ECN: In most organizations, some changes in the market make new businesses compete within the organization. What is the effect of new technologies in the VMware business?

SP: If you look at the last quarter, all of our products grew; the first time in the history [of the company]: Compute, management, end user computing, vSAN, NSX -- all five. We want to have innovative new business, but it should pull the core [business], as opposed to core declining because of new businesses.

One example is vSAN. Why is vSAN a win against Nutanix? Because it's the most, best integrated solution of vSphere.

Many of these new, emerging, technologies pull the core, and we want to see that happening. And some of the new services they will take the core in different direction. For example, VMware cloud on AWS moves the core to the cloud.

I think that, in time, the definition of what's core, what's emerging, what's new services, will change. Our goal is to make the entire house, VMware, become bigger. Everything should grow.

ECN: How do you see the relationship with Amazon AWS going?

SP: It is great… the CEO of AWS is a close friend, he is a classmate of mine from school, so I know him very well. Many partnerships go well because you have a friendship, too. Pat [Gelsinger], Raghu [Raghuram], and myself are very involved in setting up the deal. We have regular discussions with AWS. We have close relationships with them, and we have built this like almost a joint engineering effort. It is like we put a team inside AWS and they put a team inside VMware. We jointly built the solution, it is not just a press release.

There is deep engineering work, that always makes a difference to a customer, and we are both very driven by customers, what customers want.

But if customers want something different, for example, they ask for VDI solutions, Horizon Cloud, they asked it to run on Microsoft Azure, we will make that happen. We announced it on February this year, it will ship in Q4.

Most of our cloud traction will be AWS.

There are, however, differences in markets. At VMworld US, the star of the show was AWS. In Barcelona, the star of the show is IBM Cloud, and in day two the star of the show is Google. All of them need VMware, it is a good thing for us.
---
Keep up with the latest enterprise cloud news and insights. Sign up for the weekly Enterprise Cloud News newsletter.
---
ECN: In the past two years, AirWatch and Workspace One have become the de facto standard in MDM, and basically they have little competition. Do you think there will be a newcomer that can threaten that leadership?
SP: Yes, always will be, if I was saying no, I'd be stupid. What is the kind of thing that will keep me up at night? Some company that is in a garage today that wants to be the next VMware.
You have to live with that fear, not a fear that you're scared, but it keeps you hungry. How is Messi keep being the best? Because there is going to be a young Messi coming up saying, "I'm going to better than him." So Messi has to prove he is not old, that he can deliver.
We have to stay hungry, right? Sometimes we can buy those companies too, so we don't have to always innovate by building. We acquired Nicira, which brought us NSX. We acquired AirWatch that brought us the end user computing mobility story. So, we make acquisitions at the right time.
Sometimes we can buy companies, sometimes we can directly compete, and other times we can partner with them.
Before a small technology becomes a threat we embrace it, like we did with Kubernetes, which belongs to Google, and it's free.
Often small companies, which could be seen as competitors, want to partner with VMware -- look there are 11,000 people here, and in the US there were 25,000 people at the show -- and they can be extremely successful.
Our tent is big. We want everybody to come here.
Some of them we compete with, for example with Nutanix, and we want to win. And sometimes competition is good, as with the game [Barcelona vs. Juventus] tonight. We like competition, it makes our products better.
So, in our universe, we first try if we can partner, sometimes we compete and sometimes we acquire. That's the way we think about it.
Related posts:
— Pablo Valerio is a technology writer and consultant working out of his hometown of Barcelona, Catalonia. Follow him on Twitter @Pabl0Valerio.