WiCipedia: Art makes tech less 'boring' for kids
WiCipedia: Art makes tech less 'boring' for kids
This week in our WiC roundup: Working from home has career progression downsides; the FCC makes gender equality waves; social media potentially a bright spot for women in tech; and more. This week in our WiCipedia roundup: Working from home has career progression downsides; the FCC makes gender equality waves; social media potentially a bright spot for women in tech; and more.
A Miami non-profit is using innovative approaches to get girls interested in tech. The Miami Herald explains that Code/Art combines teaching coding skills with "the creative possibilities of computer programming," integrating the colorful art (and famous Art Basel event) that Miami is known for. The idea was created to address the issue of girls seeing coding as boring, a statistic taken from a study by Google, the article says. Code/Art uses hands-on techniques to expose girls to coding, while also incorporating teacher training and pitch competitions. "I think that we are more relevant than ever with the Miami tech movement," Amy Renshaw, founder of Code/Art, said. "We really want the tech talent pool to be locally grown so the people that are already here can participate in the movement." (See WiCipedia: STEM Barbies glamorize tech careers for kids.)
Figure 1: Art Basel meets Big Tech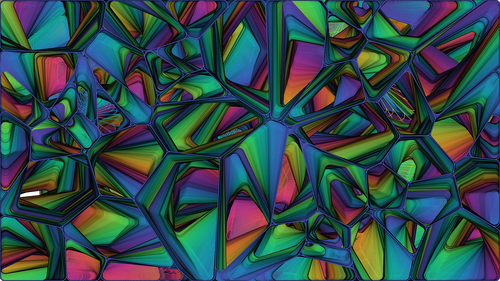 (Source: Pixabay)
Think working from home is all fuzzy slippers and Netflix? Not so, says an article in Silicon Republic, which explains that telecommuting can often mean sacrificing promotions and pay raises. When everyone is at home, crucial upskilling experiences are often overlooked, which can mean getting stuck in the same low-paying position year after year. The article says, "Tech workers are worried about advancing their careers while working from home, with women in tech particularly badly affected. [Research] found that more than one-third (39pc) of the tech workforce surveyed said they believe that flexible working limits career development, but that belief varies greatly depending on how senior they are in the industry." Interestingly, women are more likely to retrain for tech roles than men, according to an article in Computer Weekly. (See WiCipedia: Working from home isn't for everyone.) Despite all of the women who have left jobs during the pandemic, CNBC reports that a whopping two out of three report wanting to come back to work, specifically to careers in STEM. The range of reasons that women were pushed out of the industry over the past year and a half are varied, though most are temporary. From caretaking responsibilities to sickness, many are seeing a light at the end of the tunnel, which may include heading back to work. Yet women are looking for different career perks after so much time away, and those include a more flexible work-life balance, time off and career progression possibilities. These are things that STEM can often provide, though for women without a background in the industry, it can be difficult to know where to start. "We need to ensure that women are inspired and empowered to grow their career by addressing what companies can do to support women at this pivotal moment," said Susan Podlogar, MetLife's executive vice president and chief human resources officer, in a statement. (See WiCipedia: Women leave workforce in droves due to pandemic and burnout.) In a big move for gender equality in the telecom industry, Yahoo reports that Jessica Rosenworcel could be the first female chair of the FCC. While President Biden has nominated Rosenworcel for the position, she needs to be confirmed, as does Gigi Sohn for the vacant FCC commissioner post. Sohn would be the "first openly LGBTIQ+ commissioner in the FCC's history," another groundbreaking moment. In the old, white, male-dominated world of telecom, these nominations are major steps in the right direction. (See Biden announces long-awaited nominees for vacant FCC and NTIA posts.) YouTube may not be the first place to come to mind when you think of women in tech, but maybe it should be. Techzimo profiled six female YouTubers in tech with huge, influential followings. From accounts that describe "arcane subjects" in understandable language to those that compare one tech buy to another, "social media is providing a space for women to help bridge the gap between women and technology," states the article. Check out the article for the full list of movers and shakers in the online video tech space. (See WiCipedia: How women are mansplained into silence on social media.) — Eryn Leavens, Special Features & Copy Editor, Light Reading. Follow us on Twitter @LR_WiC and contact Eryn directly at [email protected]
Subscribe and receive the latest news from the industry.
Join 62,000+ members. Yes it's completely free.
You May Also Like
---