2:00 PM -- Some selections from the CES PR archives. CES 1998
HDTV is coming! "Dallas Parcells of Sharp Electronics gets her first glimpse of HDTV today at the Consumer Electronics Show in Las Vegas," said the press release accompanying the following photo. "HDTV also promises new kinds of interactivity and more programming options making it the hottest thing to hit TV since color."

Look closely. Those ain't plasmas.


CES 1999
Sony unveils the world's smallest Mini Disc recorder/player -- a device that cost $350. And how did it die? Let's all say it together: M-P-3.


CES 2001
Panasonic unveils a TV for your desk. It has a 15-inch LCD screen, a built in progressive scan DVD, and surround sound with Dolby Digital. The price? Only $3,000!

Now that's an expensive paper weight.


CES 2002
Sharp makes a big splash (har!) with an over-the-top booth honoring its flat panel AQUOS Liquid Crystal TVs. In its PR materials, the company actually made the following claim: "This is the first pool ever on display at the CES show."

Well, then it must be a good TV!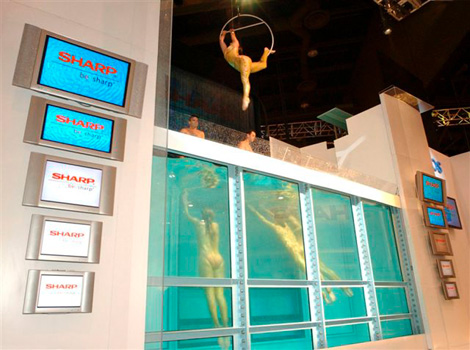 CES 2003
Morgan Fairchild (center) is sandwhiched uncomfortably between Pinnacle Foods CEO Dean Metropoulos (left) and CES CEO Gary Shapiro as the three kicked off CES 2003 by celebrating the 50th Anniversary of the Swanson TV Dinner. "CES couldn't be a more appropriate place for Swanson to celebrate its longstanding association with television and entertainment," the press release roared, no doubt with its mouth full.


Also in 2003
While not exactly related to CES, the Las Vegas Rio Hotel had a famously goofy idea: "BevErtainment!"


This is, a press release stated, "an innovative marriage of two of Las Vegas' most familiar icons: the cocktail server and the entertainer. The Rio has nearly 100 glamorous entertainers on its casino floor that not only take drink orders, but periodically grace strategically-placed stages for 90-second live performances. Some sing, some dance -- but they all have one thing in common: serving beverages swiftly, and with a smile."

Does Vegas get any more... I don't know... Vegas, than during CES?

— Phil Harvey, Oy Vegas Editor, Light Reading