Carriers at Risk
Some well-known carriers have spent so much on long-haul buildouts that nothing's left over to make them profitable. As a result, they've put themselves, and their suppliers, at considerable risk.
That's one finding of "The New Carrier Landscape," a report published in
The Optical Oracle
, a new subscription-based service from
Light Reading.
"It's a classic case. When times are good, companies overspend," says report author and analyst Chris Bulkey. "Many carriers overspent — now the bubble has burst."
Carrier capital spending will continue to dwindle over the next few months, the report says, as a complex set of market conditions forces carriers to scale back on long-haul buildouts and to seek ways of gleaning revenue from increased utilization of their networks.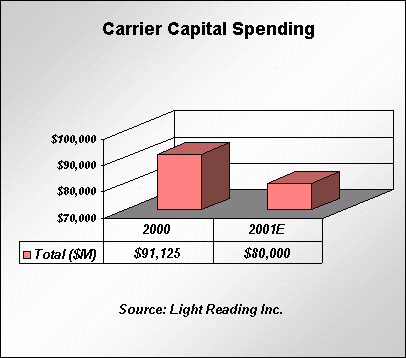 How bad is the problem? Right now, many carriers face unused capacity of 30 to 40 percent, and some see 70 percent of their bandwidth lying fallow, the report says. What's more, carriers who've committed to completing massive networks without focusing on metro revenue opportunities are virtually bleeding to death.
As these carriers struggle to complete projects that oversupply the market with unneeded long-haul DWDM channels, their failure will bring even more bandwidth to existing service providers — at fire-sale prices.
Who's at risk, and who's not? "The New Carrier Landscape" ranks 14 leading carriers in terms of their viability, based on a detailed examination of their financials and the technologies in which they've invested. The top two on the list are
Qwest Communications International Corp.
(NYSE: Q) and
Broadwing Communications Inc.
(NYSE: BRW).
The June report also examines several technology trends. For example, the current focus of service providers on access networks and metropolitan POPs means it will be sometime before there is a recovery in prices for core network bandwidth. The report concludes that pricing for wholesale transport services becomes increasingly commoditized and doesn't recover as quickly as other areas.
Those carriers that combine tenuous financials with lagging technology risk finding themselves "consolidated" out of the market within the next few months, according to the report.
"The New Carrier Landscape" also examines the viability of carrier suppliers, according to their ability to keep pace with key trends, such as metro Ethernet and DWDM, thereby enabling them to keep profitable service providers as customers.
The report says carriers like Qwest and a handful of others — which have managed to carefully reduce capex while selectively spending in the "right" areas — will spearhead a new era of spending, albeit with fewer players and at a reduced overall level.
The report is available as part of the new subscription service from
Light Reading
at
www.opticaloracle.com
.
- Mary Jander, Senior Editor,
Light Reading
http://www.lightreading.com
Editor's Note:
Light Reading is not affiliated with Oracle Corporation.
PARTNER PERSPECTIVES
- content from our sponsors