As good encryption has become a commodity that is easily bought or leased, ransomware attacks have become easier and more lucrative. That's why ransomware attacks represent the most common type of malware, factoring into 39% of data breaches, according to Verizon's 2018 Data Breach Investigation Report, released today.
Cybercriminals are just like you and me, says Gabe Bassett, risk expert at Verizon Enterprise Solutions and one of the report authors. They want to make the best use of their time.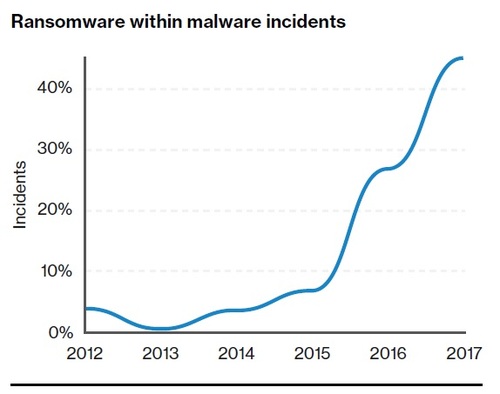 "Right now, ransomware is a great value proposition -- it is a low investment, you don't have to do a lot of targeting or heavy involvement," he says. "It's also a very low-risk system, it is unlikely you will be caught. The hardest part of it up until a few years ago was writing good encryption, good crypto is hard. But that has become commoditized."
Verizon Enterprise Solutions conducts the DBIR annually. This year's edition included data from 67 contributing organizations, with analysis on over 53,000 incidents and 2,216 breaches from 65 countries.
Another trend Bassett highlights is what he calls automated attacks, which often target web applications or involve botnets breaching companies. The DBIR is recording tens of thousands of these attacks, versus hundreds in the past.
---
The fundamentals of network security are being redefined — don't get left in the dark by a DDoS attack! Join us in Austin from May 14-16 at the fifth-annual Big Communications Event. There's still time to register and communications service providers get in free!
---
"And I don't know if that is because malware is starting to track those things so they are getting reported better or because it truly grows," he says. "It is a new trend in our data. Malicious stuff is always going on in the internet so any system you put onto the internet needs to withstand the internet background radiation."
Bassett had a lot more to say about what enterprises need to do to protect themselves, including a new trend toward protecting paths in this report on our sister site, Security Now.
— Carol Wilson, Editor-at-Large, Light Reading