For all that the cable industry has been wary of Google's encroachment on pay-TV territory, the popularity of the company's Android TV platform continues to grow.
Today, Evolution Digital LLC added to that momentum with the announcement of a new set-top dubbed the eSTREAM 4K, powered by Android TV. The set-top, as its name suggests, supports 4K Ultra HD content, but also comes with embedded 802.11ac WiFi and a voice-controlled remote. It can take advantage of both the HEVC and VP9 codecs, and is Energy Star-rated with a standby mode feature. (See Evolution Digital Launches eStream 4K Device .)
The new eSTREAM box is specifically designed for the operator market, where Evolution Digital is already a well-established vendor to tier-two and tier-three providers. Traditionally, however, Evolution Digital has partnered with TiVo Inc. (Nasdaq: TIVO) to deliver set-top solutions to those customers. In fact, the two companies have been highly successful in addressing that market, in large part through an agreement with the National Cable Television Cooperative Inc. (NCTC) . (See Evolution Digital eVUE-TV Customers Grow to 23.)
The eSTREAM set-top offers a different proposition. Instead of drawing operator customers into the Tivo ecosystem, it links them more closely to Google (Nasdaq: GOOG) properties, and specifically the Google Play Store. Pay-TV providers can deliver their traditional services on an all-IP platform, but also link to streaming apps via Google, much the way wireless providers host Google Play applications on their Android mobile devices.
There is still flexibility in how operators present the various over-the-top streaming options. While the eSTREAM product comes with its own "graphic-rich interactive" interface, Evolution Digital says it can boot up other managed software services like the company's own eVUE-NOW! offering. (See Evolution Pitches OTT Apps for Smaller Ops.)
In other words, while operator customers can go all in on the Android TV environment, they can also customize the experience to their own needs and still use the eSTREAM set-top to offer access to Android apps.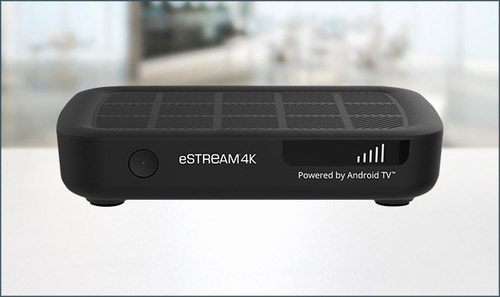 There are both positives and negatives to adopting the Android operating system on set-tops. On the one hand, it has the potential to shift on-demand video revenue away from operators and toward Google and other third-party services. On the other hand, it gives operators an easy way to offer access to the online applications subscribers want.
That flexibility is a large part of why Android TV has persisted, even while the earlier Google TV platform faded away. Note that there were only 1.2 million shipments of Android TV set-tops in 2016 according to the Kagan research arm of S&P Global Market Intelligence, but the firm predicts that number will jump to nearly 12 million by 2021. (See also Survey Says Future's Bright for Android TV.)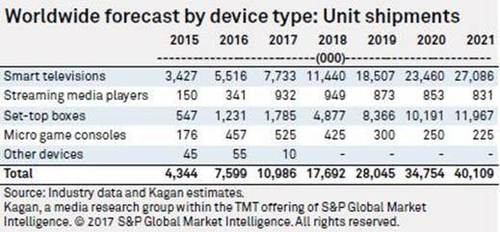 Evolution Digital isn't the only company taking advantage of Android TV's popularity. Ericsson AB (Nasdaq: ERIC) and Arris Group Inc. (Nasdaq: ARRS) have also announced solutions paired with the Android TV platform over the last 18 months. (See Ericsson & Google Do TV Together and Arris Presents New 4K Android STBs at IBC.)
— Mari Silbey, Senior Editor, Cable/Video, Light Reading