Survey Says Future's Bright for Android TV
Survey Says Future's Bright for Android TV
Ovum reports clear skies for Android, surprising success with RDK and ominous signs for Roku. In a world of closed set-tops, it's pretty remarkable to see video service providers look to Android for the future. But according to a report by written by analyst firm Ovum and sponsored by content security specialist Irdeto, that's exactly where the TV industry is headed.
The Ovum Ltd. report is based on a survey of more than 300 industry professionals -- including pay-TV providers, OTT providers and other network operators -- and finds that 72% of respondents are considering an Android platform for future set-top rollouts. That includes both Android TV and the Android Open Source Platform (AOSP). A full 63% say that Android is the operating system they're most likely to choose for upcoming deployments.
What's equally interesting, however, are some of the other statistics that Ovum cites. Notably, the RDK platform -- which was originally designed by Comcast Corp. (Nasdaq: CMCSA, CMCSK) before being handed over to the RDK Management group led by Comcast, Time Warner Cable (now Charter Communications Inc. ) and Liberty Global Inc. (Nasdaq: LBTY) -- fared well with the industry audience. Some 11% of respondents in mature pay-TV markets said that RDK is the platform they're most likely to use for upcoming set-top deployments, although only 2% responded likewise in developing markets. Those numbers may not sound impressive, but in mature markets, RDK was only beaten by Android and Hybrid Broadcast Broadband TV (HbbTV), a platform seldom used in the US. Only 6% of respondents in mature markets said they are planning to move forward next with a proprietary middleware system, while 1% listed "other" as an answer.
Figure 1: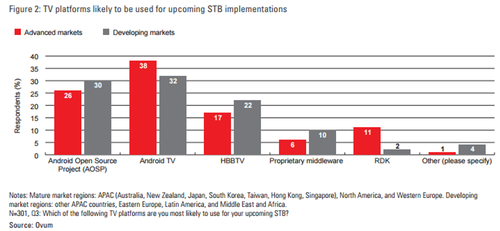 The report makes no mention of other specific video middleware systems like Ericsson AB (Nasdaq: ERIC)'s Mediaroom and MediaFirst platforms or TiVo Inc. (Nasdaq: TIVO)'s set-top platform. In Ericsson's case, the company has already announced a partnership with Google (Nasdaq: GOOG) to layer MediaFirst on top of Android TV, so perhaps its platform can be accounted for within the Android category. However, Ericsson has also notably struggled to gain traction with its video business, which may mean that the lack of recognition in the Ovum survey has other origins. (See Ericsson & Google Do TV Together and Ericsson Tightens Focus, Warns of $1.7B Q1 Hit.)
In Tivo's case, the absence from Ovum's report is more surprising. With a presence in more than 25 million households and growing momentum in the Tier 2 cable market, it would make sense for Tivo to have a spot on operators' set-top roadmaps. The fact that it doesn't could be an issue of how Ovum has categorized platforms. Light Reading has reached out to Ovum for further details. (See Meet the New TiVo.)
Want to know more about video and TV market trends? Check out our dedicated video services content channel here on Light Reading. The other very interesting note in the Ovum report is how respondents expressed their perception of unmanaged device platforms, e.g. media streaming boxes, mobile devices and smart TVs. When asked which platform for unmanaged devices they think will be most important to their business going forward, respondents overwhelmingly cited Android (75%), iOS (66%) and IP-only smart TVs (66%) as their top picks. Not too far below those choices came Google's Chromecast, Apple TV, game consoles, Amazon Fire and standard broadcast TVs. However, at the very bottom of the pack, Roku garnered only 17% of the responses. Figure 2: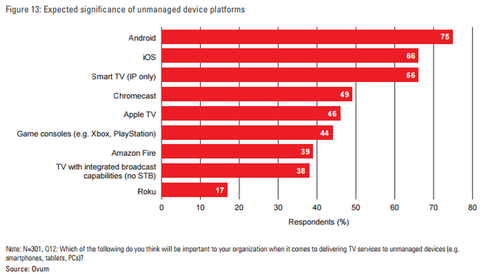 That finding could have significant implications for Roku Inc. if the perception bears out in the marketplace. What the industry seems to be saying is that it doesn't see much of a future for a standalone platform without a massive ecosystem already bundled in. The counter argument is that Roku offers an independent distribution channel without its own competitive over-the-top service, and certainly several pay-TV providers have already created apps to run on Roku devices. (See Comcast Brings Xfinity TV to Roku Boxes and New Charter Spectrum App Goes Live.) But at least in the Ovum survey, industry executives don't seem to be giving that argument much weight in Roku's future. — Mari Silbey, Senior Editor, Cable/Video, Light Reading
Subscribe and receive the latest news from the industry.
Join 62,000+ members. Yes it's completely free.
You May Also Like
---