With 83,000 DAA nodes deployed, Comcast's 10G network upgrade remains on track
DENVER – CABLE NEXT GEN 2023 – According to Elad Nafshi, Comcast's EVP and chief network officer, the company remains on track in its efforts to dramatically upgrade its customers' Internet speeds. Specifically, he said the company has so far deployed 83,000 new nodes into its network – that represents an improvement from the 50,000 the company counted last fall.
And Nafshi said Comcast continues to work to upgrade its remaining nodes at the rate of 1,000 to 2,000 per week.
"We've been busy. We've been really busy," he said during a presentation here. "We're running as quick as we can."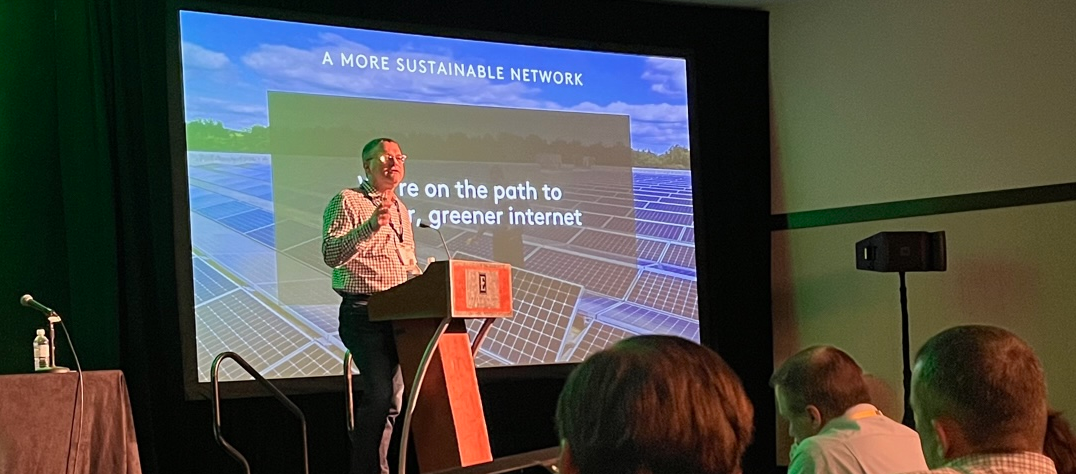 Nafshi said Comcast now offers its new networking platform across 11 million homes, with its ultimate goal to cover 50 million by 2025. That network-upgrade project centers on Comcast's plans to offer multi-gig symmetrical speeds via an upgrade to DOCSIS 4.0. Inside Comcast's network, that will in part involve a "mid-split" that dedicates more spectrum to the upstream, the use of a virtual cable modem termination system (vCMTS), and the deployment of the remote PHY option of a distributed access architecture (DAA).
Comcast recently began broadly advertising its efforts via its "Xfinity 10G Network" campaign that kicked off with an ad that debuted in local Comcast markets during the recent Super Bowl.
During his presentation here, Nafshi said Comcast's network upgrade efforts have resulted in test speeds up to 9 Gbit/s downstream and 5 Gbit/s upstream in Denver. "That's where we're headed," he said. "That's a technology that will cover all of our subscribers."
Nafshi described the effort as Comcast's "brilliant network" vision.
Real time monitoring
Nafshi said that a major part of Comcast's network upgrade includes technologies that will allow the company to monitor its operations in real time. Specifically, he said the company's new XMF platform allows Comcast to identify distributions in its core fiber backbone within seconds, and then automatically dispatch a technician to fix the situation. And then, Nafshi said Comcast can use that information to alert customers of the problem and advise them when the network will be fixed.
"If I have all this brilliant information, why not let the customer know?" he said. "They truly appreciate it ... the customer satisfaction with us is massively better."
In its home broadband business, Comcast is working to compete against a range of new market developments. In the fiber arena, companies including AT&T, Frontier Communications, Lumen Technologies have pledged to dramatically expand the reach of their offerings in a move that likely will threaten Comcast and others. And in the fixed wireless arena, companies like T-Mobile and Verizon have been directly challenging cable companies like Comcast with wireless-powered in-home broadband services. However, both fiber providers and fixed wireless providers have faced challenges in expanding their networks.
Comcast's Nafshi argued that the company's overall network-upgrade program – with anticipated gross costs of less than $200 per household passed – will position Comcast to both hold onto existing customers and face the challenges from fiber and fixed wireless providers.
Related posts:

— Mike Dano, Editorial Director, 5G & Mobile Strategies, Light Reading | @mikeddano
PARTNER PERSPECTIVES
- content from our sponsors